Amazing Keystone Colorado
by George F. Karioris
photography by Charles "Chuck" Deem
Standing atop Keystone's pristine mountain peaks at over 12,000 feet elevation, I stared in awe at the surrounding scenery. I've been to Colorado many times before and each time it takes me a while to ratchet-up my Midwestern sensibilities for the Rockies . At first the sapphire blue skies and the impossibly white snow of the mountain shocked and thrilled me. I had been at altitude for a full day already and was ready, breathing almost normally, for a full day of skiing at Keystone.
My lodging for this trip was a cozy condo in Frisco, Colorado . We had only a short 15 minute drive to Keystone's Montezuma parking lot at the base of the River Run village. It was the Tuesday following a busy Presidents' Day Holiday , and the lot didn't seem too crowded at 8:30 in the morning. We trundled our group over to Keystone Sports where the manager, Chris, set us up with some skis for the day. The mountain was riding firm and Chris recommended a set of 174cm K2-Apache-Sport skis. That proved to be an excellent choice; they held well and ran fast on the groomers, and felt lively and nimble in the bumps. Chris told me that if it turned powdery he'd swap me into a pair of wider powder skis. The conditions stayed pretty much the same for a couple days, so I didn't get to try out his powder ski choice. While passing through River Run village a day or two later, I did stop in to Keystone Sports to say hi. As we talked skis for a bit, Chris had Tony, one of the ski techs, put a fresh coat of wax on my skis. I love a service organization.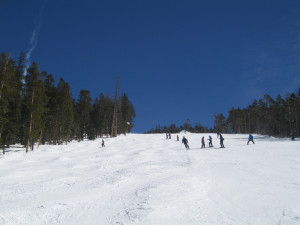 At the base of River Run there are two lifts servicing the main face of the mountain. The River Run gondola and the Summit Express high speed quad lift. Early in the morning the wait for the gondola can be a bit long, that day it was only about 5 minutes. But there was absolutely no wait for the quad, so we boarded that and headed up. The peak of Dercum Mountain (11,640 feet elevation) is a busy place; six different lifts/gondolas all reach this point. Here also is the Summit House a large building with amenities and facilities for skiers needing food, rest or a bio-break.
As we prepared for the day on Tuesday I got a chance to meet some folks from the Keystone Resort. We ran into Lindsey Fussenegger the Media Coordinator and Spencer Wagner an expert mountain guide at the ubiquitous Starbucks coffee shop. I talked with Lindsey & Spencer for a while as the other members of my group were getting their lift passes and rental skis. They were understandably animated in their attitude toward "their mountain." Lindsey spoke excitedly about the fantastic programs (ski school, "Play-it-Safe", Betty Fest, etc.) and was particularly proud of the world class chefs running Keystone's high-end restaurants. They both offered to ski with our group for the morning, and I couldn't turn down the chance to get an insider's perspective. When the rest of my group got there we gathered our equipment and headed for the lifts.
640 feet elevation) is a busy place; six different lifts/gondolas all reach this point. Here also is the Summit House a large building with amenities and facilities for skiers needing food, rest or a bio-break. We followed Spencer's lead and set out on a blue groomer called The Flying Dutchman. Even with the modest crowds this run sees a lot of traffic. We got warmed up a bit and part way down on the right we saw a barricade of blaze orange snow fence set up apparently blocking the run which cut off to the right. Spencer stopped on the run and told us that the fencing indicated an entry to a ski school run called Ripperoo's Road. Almost obscured at the tree line, at the high end of the fence was an opening gap about 10-feet wide. Spencer gave us our first lesson for the day: Snow fences can be skied around legally, roped-off runs cannot.
We followed Spencer through the gap and ended up shortly afterwards on another blue groomer called Whipsaw. We skied this run for a bit and then Spencer stopped us to talk for a moment. "What's different about the conditions here," he asked. None of us could identify how this run was unlike the last. Spencer explained that this side of the front face was used heavily for the ski school and that the runs here had been double-groomed. The snow-cat drivers set their grooming blades extra deep for a pass, and then make one more grooming run with their blades at regular depth. The result is a groomed run that skis almost like a freshly snowed run. At the bottom we boarded the quad lift again and retraced out our first run, adding a bit more speed and taking fewer stops.
Spencer and Lindsey wanted to get us a good overview of Keystone in a short time. With that in mind, we began to head toward the Outback area. The most expedient route there began from Summit House down a long run called Mozart. Mozart is (from my rough estimate of using a trail map) something just over 2 miles long. It's like the interstate highway for traversing Keystone by skis. We let our boards run somewhat free and finished Mozart in about the time needed to play the first allegro of Mozart's own famous clarinet concerto.
We found ourselves at the bottom the Santiago Express lift, boarded it and rode to the top. Here at North Peak the elevation is 11,660. We were now effectively zig-zagging our way up and down toward the Outback. The views continued to be spectacular from the lifts and the runs. Not quite to the Outback yet, we dropped into a run called Anticipation as we began our final approach to the Outback. Anticipation was running half mogul and half groomer this day, and I really enjoyed the opportunity to get into the open rollers and try out my knees. By now the sun was higher in the sky and providing that amazing radiant warmth that only exists in Colorado on sunny winter days.
At the bottom of Anticipation, we found ourselves poised to ride the Outback Express lift. From 11,980 feet elevation the choices at the top of the Outback lift are daunting. To my left and far-right are a plethora of black-diamond runs offering bumps, groomed steeps, and tree skiing. These include the Black Forest runs of Bushwhacker and The Grizz as well as Pica, Wolverine, and Wildfire. Immediately at the step-off point of the lift is a selection of blue runs which includes Oh Bob, Elk Run, Bighorn, and Porcupine. In between Porcupine and Pica is an amazing forest of tall pines that provide an awe inspiring playground. On the days I skied Keystone this no-man's land was riding boot deep in pristine powder which the trees were protecting, apparently just for me. From the top of the Outback, Spencer pointed out that we could clearly see the lateral peaks and the many descending ski runs of Breckenridge resort. At this point, clearly miles removed from our starting point at Keystone's River Run, we were much closer to the town of Breckenridge.
Spencer and Lindsey left us as we explored the Outback. The area offers so many options and, although serviced only by a single high-speed quad, there were no lift lines! Out there, we skied almost non-stop, completely unimpeded, and un-harried. It's hard to imagine a ski day being much better than this one. Clearly it's among my memorable and favorite ski days.
After a multitude of runs in the Outback we stopped for lunch at North Peak at the top of the Wayback quad fixed-speed lift. A well deserved break was in order but we still had some gas for the rest of the day. Working North Peak 's front face we skied several blue and black runs including Star Fire, Last Alamo, Bullet, and Ambush. The afternoon sun had warmed us but the snow was still holding firm and light; we didn't encounter any icy or bare faces. La Bonte's cabin at the bottom of the Santiago Express provided a venue for some afternoon fun and relaxation. There was volleyball net set up, as well as a horseshoe court complete with steel posts. Neon pink colored horse-shoes helped brighten the game. We worked our way towards River Run village via the Ruby Express lift back to Dercum Mountain. It was nearly 4 pm when we crossed the bridge into the village, and jumped out of our ski equipment. We were pretty much running on empty but had enjoyed an amazing day on Keystone's mountain.
There are several nice après ski places in River Run, but the one we picked was Parrot Eyes, a Jimmy Buffet-themed margarita and burritos hot spot. The place was packed with people who had spent the day on the mountain and were looking for a drink and some nachos. They specialize in tropical frosty drinks, but were more than willing to bring me a hot-cocoa laced with peppermint schnapps, my traditional après ski libation. That day at Parrot Eyes there was a guy running a karaoke setup, and singers both good and bad were eagerly participating. I was particularly entertained when two 12-year-old girls began belting out Joan Jett's rock anthem "I Love Rock-n-Roll". If there had been a "guitar hero" nearby, I'm sure that others would have joined in too. Paying a respectable homage to Jett's 1981 vinyl-released tour de force, they did a nice job keeping on pitch and on rhythm.
Keystone is a wonderful ski venue that hosts almost a million visitors each year. They have an excellent ski school and run some very interesting programs including Betty Fest, Keystone's women's-only skiing program; one of the first programs in the industry to cater exclusively to women with specific training techniques, women's-specific equipment workshops and pink boas. They also host a "Play it Safe" program which is designed to communicate, educate and enforce the basics of responsible, courteous skiing and snowboarding as outlined in The Skier's Responsibility Code and the Colorado Skier Safety Act. They host other fun events like The River Run Mardi Gras Street Party and Parade (Feb. 5), The Blues and BBQ Festival (Mar. 29), The Volcom Peanut Butter and Rail Jam (Apr. 12), and other events throughout the season.
Keystone also gets the nod for having the best night skiing in North America . Your daily pass can keep you on the mountain until 9pm daily depending on the season. And as of the 2006 season there is amazing back country skiing available in Keystone's Independence bowl. Day access to this expert-only skiing terrain is by snow-cat. While it's a remote feeling venue, a day of back country cat-skiing comes complete with powder skis, a 4-star chef prepared lunch, and a mountain guide. Keystone's family reputation is well earned and well kept, but there's really something here for everyone from the rank beginner to the most experienced expert.
Statistics
Elevations: Base Elevation: 9,300 ft., Summit Elevation: 12,408 ft., Vertical: 3,128 ft.
Snow: Snowmaking: 684 acres, Average Yearly Snowfall: 230 inches
Acreage
Total Acreage: 3,148 acres, Number of Trails: 121, Number of Night Skiing Trails: 15, Number of Terrain Parks: 2, Number of Pipes: 2, Miles of Trails Available: 81, Nordic Trails Available: 16 km groomed/57 km packed
Terrain Difficulty     Total     KeystoneMountain     NorthPeak     The Outback
Easiest     19%     32%     27%     0%
More Difficult     32%     51%     52%     20%
Most Difficult     49%     17%     21%     80%
Lifts:
Lifts: 20, High-Speed Gondolas: 2, High-Speed Six-Person Chairlift: 1, High-Speed Quad Chairs: 5, Quad Chairlift: 1, Triple Chairlift: 1, Double Chairlifts: 3, Surface Lifts: 1, Carpets: 6
Resort Statistics: Lodging Units – 1,500, Restaurants – 34, Shops – 30, Golf Courses – 2,
Grocery Stores – 2, Liquor Stores – 3, Microbreweries – 1, Adventure Passport Activities: 13

Published March 2008