CYCLING
[ezcol_4fifth]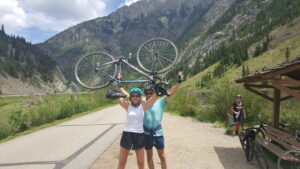 Big Kids on Bikes
The inevitable process of growing older does not absolutely necessitate the process of "growing up". In fact, we as humans strive to hang onto our youth with an iron grip as tightly as we can. We look for activities that are timeless and what some folks are calling "life sports". And what transports us back to the idyllic days of our youth?… carefree mornings and afternoons gliding under our own power on two wheels.
Lots of people ask me if there's one can't-miss bike ride in Summit County.  Answering that questions requires absolutely no thought or waffling. The can't-miss, must-do, gotta-get-there, Mac-daddy of all bike rides is the ride down Vail Pass to Frisco.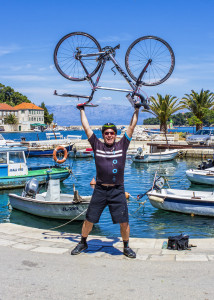 Croatian Colors
The first rays of the rising sun magically changed the scenery from monochrome grays and browns to a kaleidoscope of brightly mixed colors. I watched with awe as the sea was transformed from a black void into a radiant nearly-transparent aquamarine liquid gemstone. A long journey from the United States had brought me here to this beautiful place and I was overwhelmed with colors and light.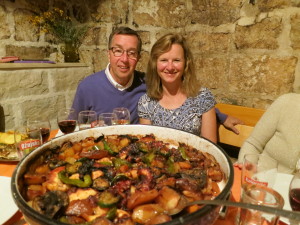 Croatian Foodie
If I close my eyes I can still recall the enchanting scent of the sea mingled with sun kissed rosemary and herbs on the breezes. Scenery resplendent with verdant rows of grapevines, olive groves and meticulously cared for vegetable gardens greeted us around every corner. Rocky harbors filled with fishermen skillfully maneuvering boats into the dock stuffed with the day's fresh catch. Ah, the sights and scents of Croatia.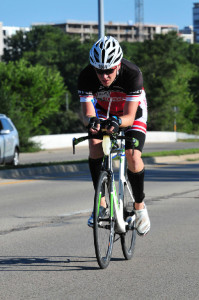 Ironman – An Amazing and Exhausting Day
I made it, I completed the self-induced insanity of the ironman Triathlon.  I completed this feat in 13:59:00, which is 3 hrs 1 minute before the cutoff time.  1:27:30 for the 2.4 mile swim, 6:17:05 for the 112 mile bike ride, and 5:53:11 for the 26.2 mile run.  The run I fell apart due to pain in my feet with every step and consistent nauseous for the first 7 miles.  I was successful in finishing this before the magic time of 17 hrs 00 minutes …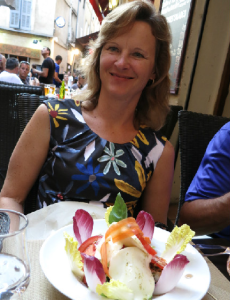 Culinary Excursion Through Provence / "Cycle Touring for Good Eats"
Time for a confession: A good deal of my excitement when I prepared to travel to France was the prospect of sampling French fare.  I am a self-professed "foodie", or perhaps, more accurately, an "Eatie".  Touring the countryside by bicycle allowed me to eat to my heart's content and still permitted me to fit in my airline seat without a seatbelt extender on the way home.  My trip to Provence provided the means to explore:  bicycles, guides, maps, and insight regarding best places to eat.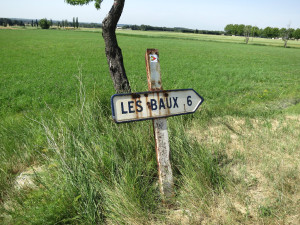 French Kiss – Biking in Provence
In the weeks preceding out trip we had read about the day we would face the road up to Les Beaux.  We knew it was steep, twisty, and unrelenting.  Our springtime weather in Wisconsin had been abysmally cold and rainy which really shorted our training rides.  But here we were, trained or not, ready to start our ascent.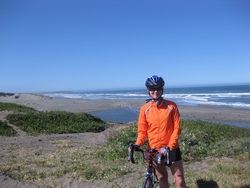 California Dreaming – Cycling California Wine Country
On a recent trip to Sonoma, California, our guide directed us to the "extra ride", of course my group couldn't stop there; we needed the "extra, extra ride".  The additional miles included a scenic jaunt down Sonoma Mountain Road.  My inner biking voice quietly wondered about a ride on a stretch of pavement that included the word "mountain".  Was this really going to be a good idea?  Sonoma Mountain Road turned out to be as challenging as its name suggested.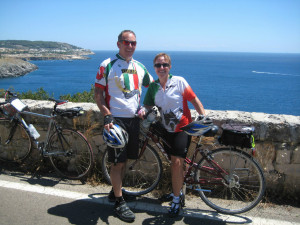 Pedal with Your Heart – An Amazing Cycle Tour of Italy's Puglia Region
The air was perfumed with a rich scent of jasmine and oleander on this hot and sunny day in southern Italy.  Breathing hard, I pedaled steeply uphill on a roadway overlooking the beautiful blue Ionian Sea.  As I rounded a corner I found myself at a point where the land extended sharply like a stone spike into the sea.  The view from this high overlook exploded with a wonderful panorama of colors.  Far below, the water sparkled and shone with a thousand shades of blue ranging from iridescent turquoise to deep sapphire.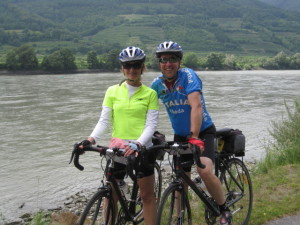 Biking Adventures in Germany and Austria
The bike trail along the Danube winds peacefully adjacent to the river and veers off into picturesque towns lined with bright earthen-toned stone houses draped with flowering vines and stunning fuchsia and blue hydrangeas.  I meandered over one of the many bridges, gazed at the swiftly moving river and admired the stately Baroque church silhouetted on a hillside while standing with one foot in Austria and one foot in Germany.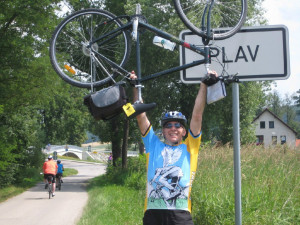 Baroque Bells and Biking in the Czech Republic
The air was alive with clanging bells from atop copper clad baroque church towers.  Throughout the day their bronze voices sang resilient songs of victory and freedom.  Now deep behind what had been the Soviet iron curtain until 1989 stirs the Czech Republic, formerly Czechoslovakia.  Restless from decades of colorless oppression and anxious to appear hospitable, the Czechs have so much to offer visitors.
[/ezcol_4fifth]
.
[ezcol_1fifth_end]
Here are a couple cycle videos from YouTube that we thought you'd enjoy…