SKI
[ezcol_4fifth]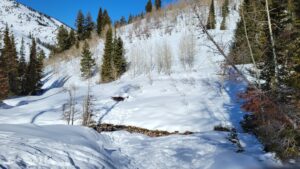 The Pulse at PowMow (Powder Mountain, Utah)
What makes a great ski mountain?  There's a delicate harmony of attributes like songs composed of varying melodic threads and compelling lyrics.  Each mountain has its own vibe. Each has its own personality. Its own pulse and charisma.  I've been to many other ski mountains and resorts, and this one is different and very special. The size and scale of the skiable terrain compare well with many large ski resort destinations. But Powder Mountain has a very personal, natural, skier-based vibe which is totally unique and amazing.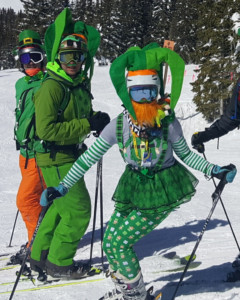 St. Patrick's Day at Vail
While I am about as Irish as a glass of Ouzo in Athens, the saying goes that "on St. Patrick's' Day everyone is Irish." So, for a day – a beautiful day – I'd be Irish in Vail Colorado. This was my first day back to Vail in several years and truthfully, I was a bit apprehensive. I was leaning a wee bit on the Luck O' the Irish to get my skis under me. Spoiler alert: the day turned out to be one of the most fantastic and glorious days of my life on skis!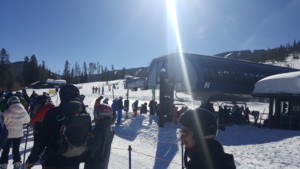 High in Colorado!
Clearly, I am talking about the Colorado Rocky Mountains; What were you thinking? Breckenridge Resort boasts the honor of being one of the highest places in North America to ski. In fact, the Imperial Express chair lift is the highest chair lift in the continent.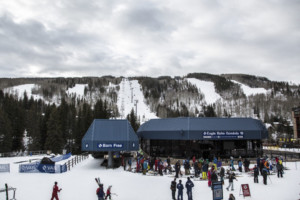 Born Free in Vail
The lifts open at 8:30am; you are clearly looking for a fantastic start to the day and need to be heading downhill as quickly as possible. Want to find a great place to start your day in Vail?  Just as the sun starts glistening off the mountain tops The Born Free Express lift does not have any wait lines and you will be up the mountain in 7 minutes.
Vail by the Numbers
Recent adventure travel has taken me back to Vail Colorado for a week of springtime skiing in the Rocky Mountains. I can't begin to count the ways that Vail impresses and affects me emotionally, physically, mentally, and deep into my personal core. But by using a little bit of FirstLightSports numerology I hope to capture and convey some of the elements that made this trip so completely awesome.
.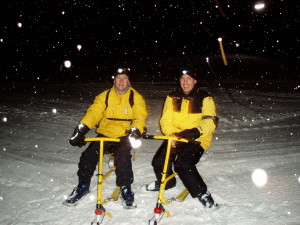 Ski Biking at Vail
At Eagle's Nest Adventure Ridge you can rent the ski bikes during the daylight hours or take a guided tour with the bikes in the evening. Wanting to get the full ski biking experience we choose the guided tour. Our guide Jeramiah set us up with the equipment, provided a short lesson in ski bike steering and dynamics, and we were off.
.
Keeping Current with Ski Equipment
I've been skiing for many years, my first equipment was wooden skis fitted with bear trap bindings and stiff, leather lace-ups.   Nowadays shiny buckled boots, shaped skis and helmets are de rigueur.  Ski equipment for everyone can be the latest and the greatest; just one of the many advantages of renting.
.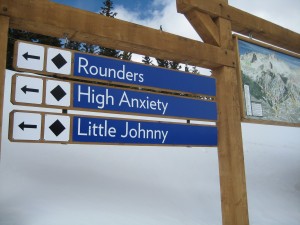 Breck turns 50 !! Spring Break at Breck
Newly turning fifty this year, Breckenridge could certainly be regarded as the "Grande Dame" of North American ski resorts.  She radiates grace, poise, and a spirited maturity earned over her five decade history while retaining an ever-youthful vitality. An alluring amalgam of old and new, traditional and ultramodern, Breck herself is perhaps a bit more sensuous cougar (Grrrrrr…!) than stately lady.
.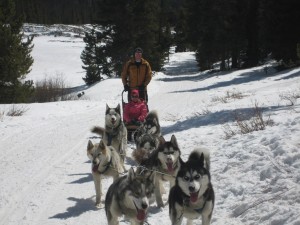 Snowmobiles and Dogsleds
It was hard to decide which activity to do first:  snowmobiling or dog sledding? What a wonderful conundrum!  Luckily Good Times Adventure Tours, located just a short drive from downtown Breckenridge, offers both. We heard the sled-dogs yelping, but the powerful growl from the machines drew us in and we opted for engines first.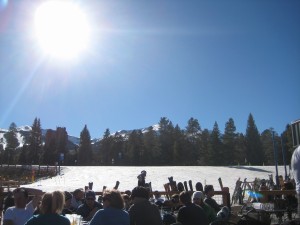 12 Reasons fo Rent your skis
I have been skiing for many years and for most of those years I have owned, maintained, and hauled my own ski equipment.  In the past few years, however, I have made the psychological and pragmatic jump to renting equipment wherever I go.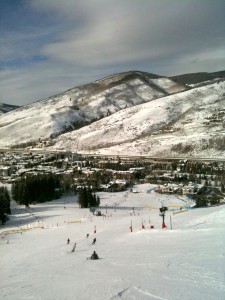 Top Ten High Altitude Health Tips
If you're headed up the the high country for some skiing, boarding, biking, or hiking you should be prepared for the altitude.  Those of us who live the bulk of our lives as flat-landers will need some time to acclimate to the thin dry air of the mountains.  Here's a quick list that may help you avoid the nasty effects of altitude sickness, and get you onto the activities you really want to do.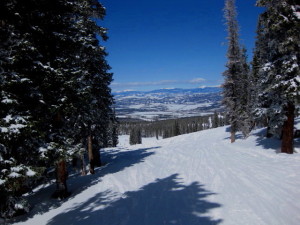 Wonderland in Winter Park
The message board at the top of Super Gauge Express read:  "Couldn't get much better than this!"  What an understatement!  At the top of Mary Jane we decided to check out the fantastic fresh snow on a black diamond mogul run called "Trestle".  New snow and shoulder high moguls surrounded on both sides by gorgeous pines were dusted in white.  The brilliant Colorado sun warmed our faces and gave us grins the entire (really long thigh burner) way down.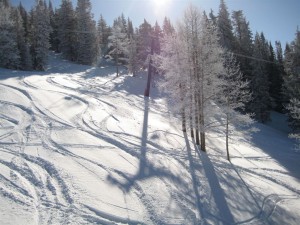 Springilicious Steamboat
The weather in the mountains can be a bit unpredictable in spring.  On this day we had hoped for sun and blue skies we were, instead, greeted by gray ski and blustery  winds.The winds were so gusty that the gondola and Storm Peak Express lifts were closed.  Neither the weather nor the lift issues dampened our spirits.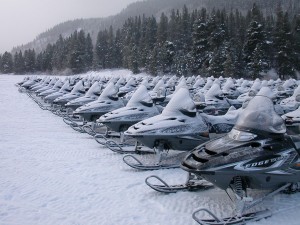 Snowy day on Machine-Gun Ridge
Tucked away quietly high in the Colorado Rockies is Camp Hale, the historic site of the WW II home training base for the famed 10th Army division.  On the afternoon I arrived, a wispy gray vapor of inversion hung over the dish shaped basin.  Long retired from military service, Camp Hale now functions as the base of operations for Nova Guides.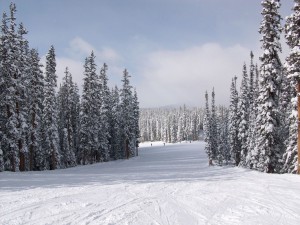 Vail's Snowy Vistas
The sky was a mottle of steely gray and watery turquoise by the time we reached Belle's Camp at the top of Blue Sky Basin.  The Skyline Express lift had brought us here, as the last leg of a wandering trek which began on Vail's famous Eagle Bahn gondola in Lionshead village.  I had prepared all year for this trip to Vail and was anxious to set my skis on the white firmament of this snowy paradise.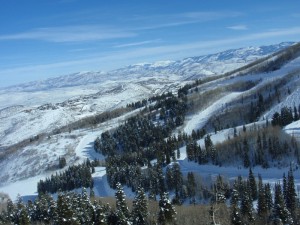 Perfectly Park City
Park City's 15 ski lifts proved to be fast and efficient at moving skiers up the mountain so I was able to spend less time sitting on my bottom and more time shushing down the slopes.  The views of the Wasatch Range of the Rocky Mountains is a majestic reminder of the seven peaks  and nine bowls with 108 trails starting at a base elevation  of 6900 feet and rising to the summit at 10,000 feet.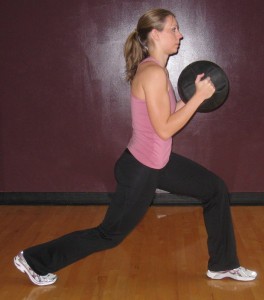 Ski Training 101
Downhill skiing and snowboarding is a very strenuous activity.   It is important to prepare for any extended ski trip by getting physically fit.  A day on the slopes will be much longer, safer, and fun if you are prepared.  These six exercises will help you build your strength and endurance.  Whether you want to ride the deep powder, carve perfect S's on groomed corduroy, or bang moguls you'll need to be in top condition.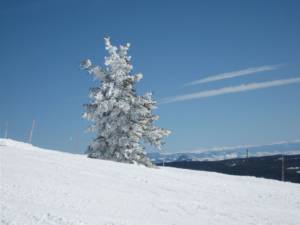 Steamboat – Powder and Trees
Traveling to the mountains is always a blessing for me.  I live in the beautiful rolling hills of Wisconsin, but both winter and summer my heart tugs me toward the soaring peaks of the Colorado Rockies…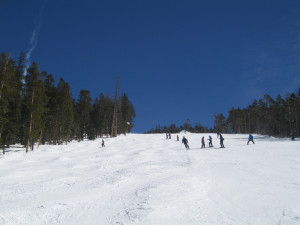 Amazing Keystone Colorado
Standing atop Keystone's pristine mountain peaks at over 12,000 feet elevation, I stared in awe at the surrounding scenery. I've been to Colorado many times before and each time it takes me a while to ratchet-up my Midwestern sensibilities for the Rockies . At first the sapphire blue skies and the impossibly white snow of the mountain shocked and thrilled me. I had been at altitude for a full day already and was ready, breathing almost normally, for a full day of skiing at Keystone.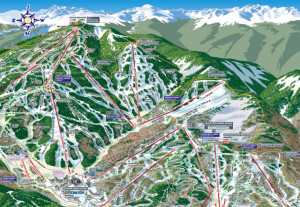 Euphoria at Beaver Creek
Without a doubt fear plays a role in my personal happiness when taking to the slopes. Perhaps it is the approach-avoidance reflex that tells me that hanging high in the air from a mile-long, 2-inch cable along with hundreds of others just doesn't seem like it can work…
Sunshine on Vail
The ancient Norsemen believed that if they lived an honorable and heroic life they would be rewarded with eternal live in Valhalla after they died. Since I'm only a Nordic wannabe, and certainly not dead yet, I chose another form of Nordic heaven. This piece of the sky is the ski paradise called Vail, Colorado. Oh, sure some day I'll pass on beyond the physical bonds of this life, but when I do, I hope that my Valhalla looks (and skis) like Vail…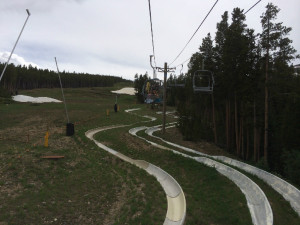 Summer at Breckenridge
While my skis are gathering dust and rust in the basement I'm going half-crazy with downhill withdrawal.  It seems that I can't do much about my beautiful ski edges slowly crusting over, but getting downhill? Well that's a different story…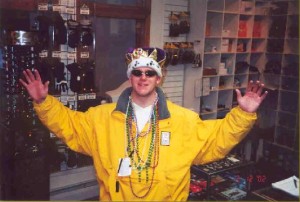 Mardi Gras at Beaver Creek
Mardi Gras otherwise known as Fat Tuesday is the high water mark of the calendar for partying, fun, and gaudy beads. While many may think New Orleans is the optimal place and holy ground to celebrate this pseudo-pagan holiday, I chose a higher ground, literally.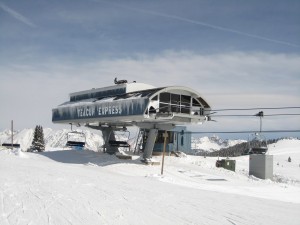 Vail Valley Winter
The clear cobalt blue sky and the incredibly white powdery snow seemed to form an unrealistic theater set. But this was no theater, and I was surely not playing the lead in any Gilbert & Sullivan musical. I was perched atop a Volkswagen sized mogul on a black-diamond run called Wow high in the Rockies. Goggles askew, skis scattered, dusted head to toe with powder, and with one horseshoe shaped ski pole I slowly realized that this was a moment for contemplation…
.
[/ezcol_4fifth] [ezcol_1fifth_end]