A Day at the Beach – Whistling Straits Irish Course
by John Schneider
Today I played the challenging and scenic Irish Course at Whistling Straits.  What  day!  While I had a lot of fun, I was also frustrated.  I was frustrated by both my golf game and impact of the high Lake Michigan winds on that game.  This was my first time playing at the picturesque Whistling Straits complex of golf courses.  Twice before I had the opportunity to walk the flagship Straits course.  The first time was during the 2007 PGA (won by Vijay Singh in a playoff; www.pga.com/pgachampionship/2004) and then again during the 2010 PGA (won by Martin Kaymer; www.pga.com/pgachampionship/2010).  The Straits and Irish courses make up Herb Kohler's Whistling Straits complex.  The two courses are laid out adjacent to each other with many holes running side by side.  The Straits course has more name recognition, but the Irish course is rated more difficult because it is filled with lots of trouble in the form of forced carries, long rough, ponds, streams, and bunkers.
Given the name," The Irish Course", this Pete Dye design resembles many courses from Ireland.  The trademark hills, dunes, and mounds are everywhere.  Pete Dye was extremely generous with the frequency and placement of large and small sand traps throughout the course.  Each hole seems to have dozens of traps everywhere you look – way too many traps on the course to begin to count.  Keeping with the Ireland feel the greens are large, undulating, and fast.  Even the clubhouse is built to look like an old country farmhouse in the Irish countryside.  The Irish course at Whistling Straits was ranked #35 in Golf Digest's ranking of America's 100 Greatest Public Golf Courses for 2011/2012.  In 2005 The Irish course was the site of the Palmer Cup.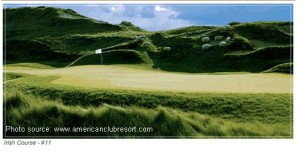 .
What a beautiful venue for golf in Wisconsin.  Running along Lake Michigan with views of water and prairies as far as the eye can see.   The Irish is not a golf course that you can find in too many places around America.  Pete Dye is quoted on the course's scorecards saying "There's nothing in the United States that has the look and feel of this course" and I think everyone who plays here will agree.
If you want to play the tips you need to bring your "A" game, plus a little more.  The tips run 7201 yards with a slope of 146 and a rating of 75.6.  Scratch players should be the only ones teeing up on the black tees.  The blue tees, for single digit handicappers, run 6750 yards with a slope/rating of 141/73.5.  People with 13 handicaps, like me, should play the green tees which run 6366 yards and have a slope/rating of 137/72.0.  The course also offers white and red tees that give you the full enjoyment of the course, without the excessive length.
Located about an hour drive north of Milwaukee in Kohler Wisconsin (home of the Kohler bathroom faucets and toilets found worldwide), Whistling Straits (http://whistlingstraits.com; 1-800-618-5535) is a terrific venue for a long golf weekend.  The associated five diamond American Club Resort (http://www.americanclubresort.com; 1-800-618-5535) offers many different types of accommodations and golf packages.  Players are allowed to walk or take carts on the course.  Caddy and forecaddie services, with very knowledgeable individuals, are also available to further improve your golfing experience.  Golf is pretty expensive here, but how often, if ever, do you get to play on courses that hosted past majors and the future 2015 PGA and the future 2020 Ryder Cup?
As I mentioned earlier, today the wind was really whipping.  While normally there is breeze when you are this close to Lake Michigan, today was a special day – lucky me.  Winds were gusting at 20-30mph and it seemed that playing into and out of the course's myriad of traps was a given.  Hitting out of 11 sand traps in one round might be a record for me.  It was definitely a day at the beach for me.  Even though my scorecard, unfortunately, suffered some serious injury I look forward to a return trip on a calmer day to claim my glory.
Here at First Light Sports we strongly recommend that if you are in the area you should play this premier golf course.  The golf holes, view, lake, and yes, even the sand traps, at Whistling Straits Irish Course will be a memory that will not soon be lost.

Published May 2011