Newly turning fifty this year, Breckenridge could certainly be regarded as the "Grande Dame" of North American ski resorts.  She radiates grace, poise, and a spirited maturity earned over her five decade history while retaining an ever-youthful vitality.  This mountain resort and the community that surrounds her pulse with charged and palpable life energies.  An alluring amalgam of old and new, traditional and ultramodern, Breck herself is perhaps a bit more sensuous cougar (Grrrrrr…!) than stately lady.
.
George and Amy celebrating Breck's 50th birthdaySpringtime weather in the Colorado Rockies while often unpredictable is always fickle.  We arrived in Breckenridge on St. Patrick's Day and were greeted by day-to-day climate changes blowing on the whim of March breezes.  On a sunny and warm morning we had an easy drive to the high country from Denver's airport.  For fun, diversion, and some great chow we Sunlight at Breck, a perfect daystopped for lunch in the Lilliputian town of Idaho Springs.  Within a heartbeat of the I-70 roadway we sat down at the Tommyknocker Brewery & Pub to a mixed bag of lunch entrees including bison burgers and corned-beef and cabbage.  Every active vacation trip, whether it be skiing, biking, hiking or climbing should include fresh delicious food.  I have a friend who has been an on-again/off-again dieter even though she maintains an athletic and enviable physique.   Her motto for a food and activity equilibrium is "A ski day is a free day."  With a fresh load of yummy food in our bellies we struck out uphill in our car toward the Eisenhower tunnel and onto Breckenridge.
.
Beautiful Colorado viewsThe town of Breckenridge is the epitome of an American ski burg.  Its main street and the surrounding blocks are home to a plethora of kitschy stores, restaurants, art galleries, and bars.  In the warm sunlit early afternoon the sidewalks were alive with people dressed in brightly colored (BTW: neon green seems to be the color for the year) ski clothes on their way to lunch and shopping.  At the southern end of town we stopped at The Village area to get our rental ski equipment organized.  The good folks at Christy Sports got us measured, fitted, and into some excellent demo skis for the week.  With our equipment loaded in the car and some of the trip's logistics accomplished we left Breck for our condo a short drive away in the town of Frisco.  Later that same St. Patrick's day we returned to Breck to lift a pint or two at Napper Tandy's Irish Pub,  the  local's favorite Irish Maggie and Tim celebrating Breck's birthdaygathering place in the area.  Fortunately for me there were a couple of tournament quality foosball tables ready and waiting for players.  Being an "old-school" foosballer going back to my college days, an open table is a nearly irresistible temptation.  I got to play a number of games; winning most and losing a few before my traveling companions dragged me away from my foosball obsession.  With a full day of travel, errands, meals, drinks, and foosball behind us we were all ready for a good night's rest in preparation for skiing the next day.  Rocketing from nearly sea level to elevations in excess of 9,000 ft. in one short day can sometimes cause flatlanders some issues.  While some symptoms of altitude sickness can be minor, they should be addressed so that everyone can enjoy their day in the mountains.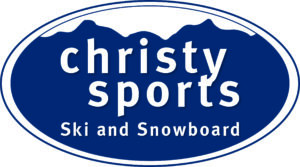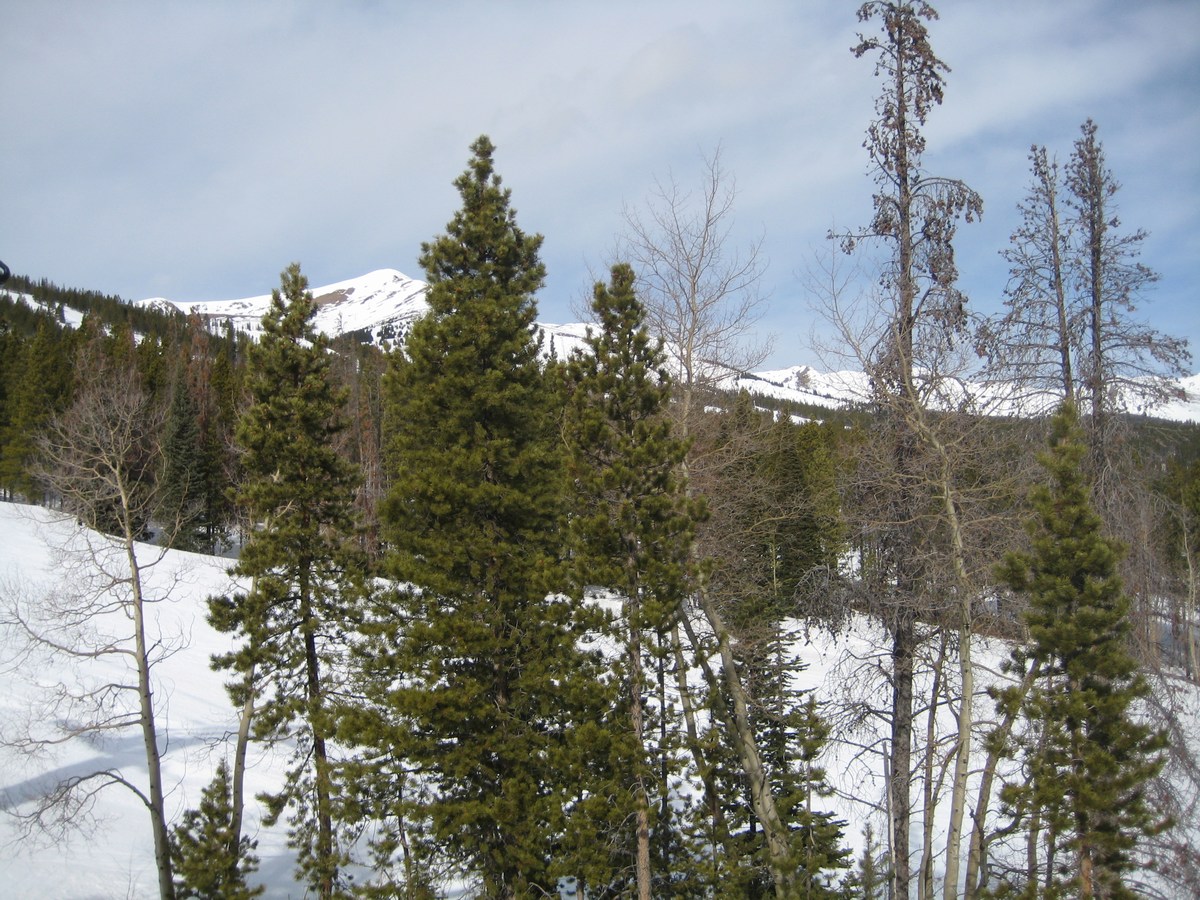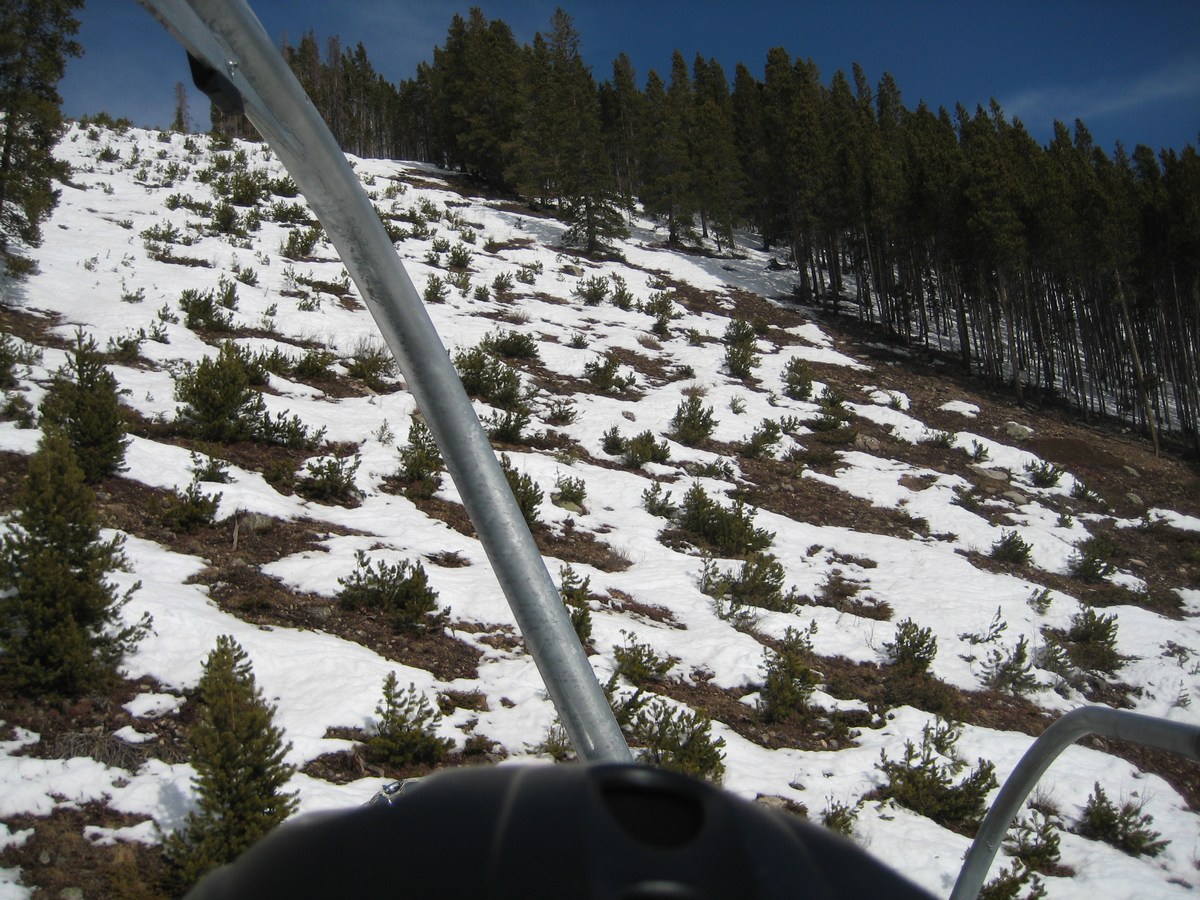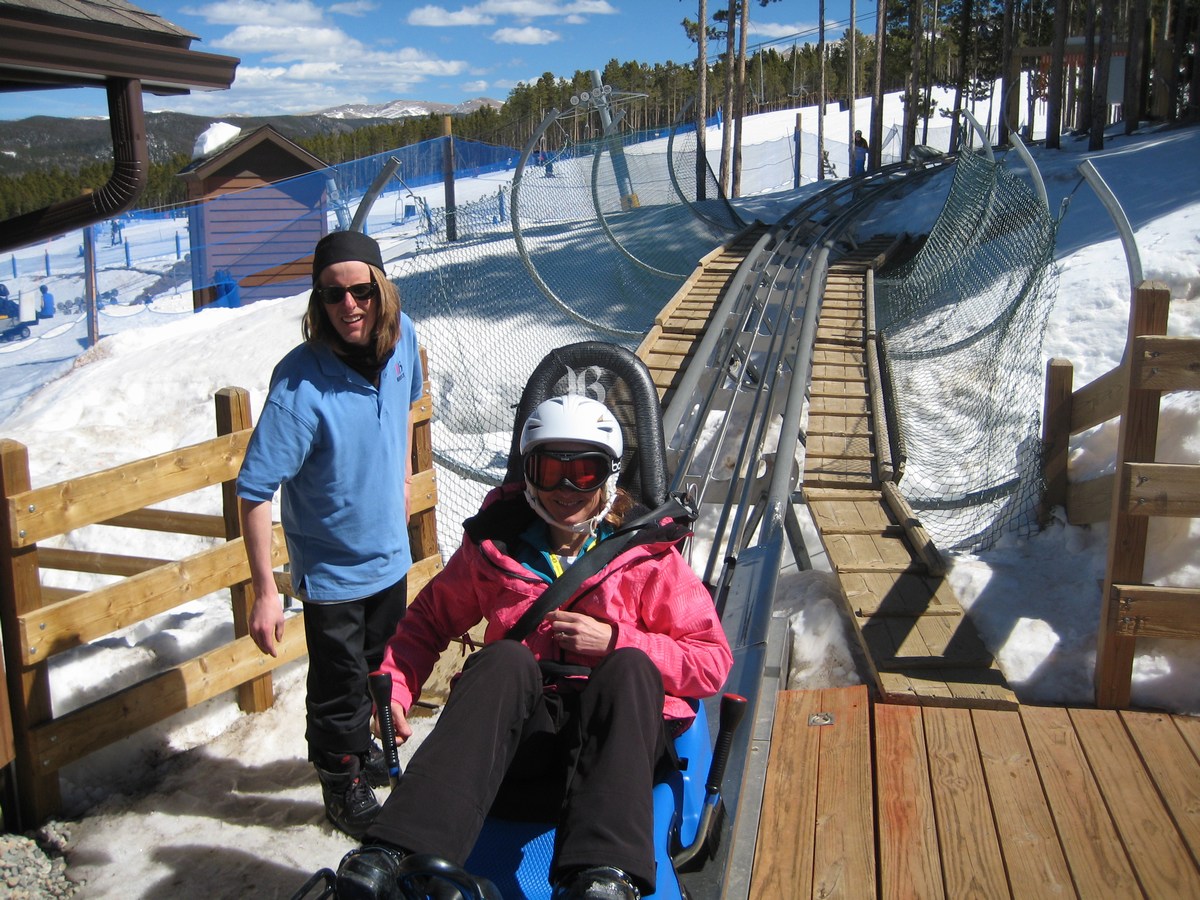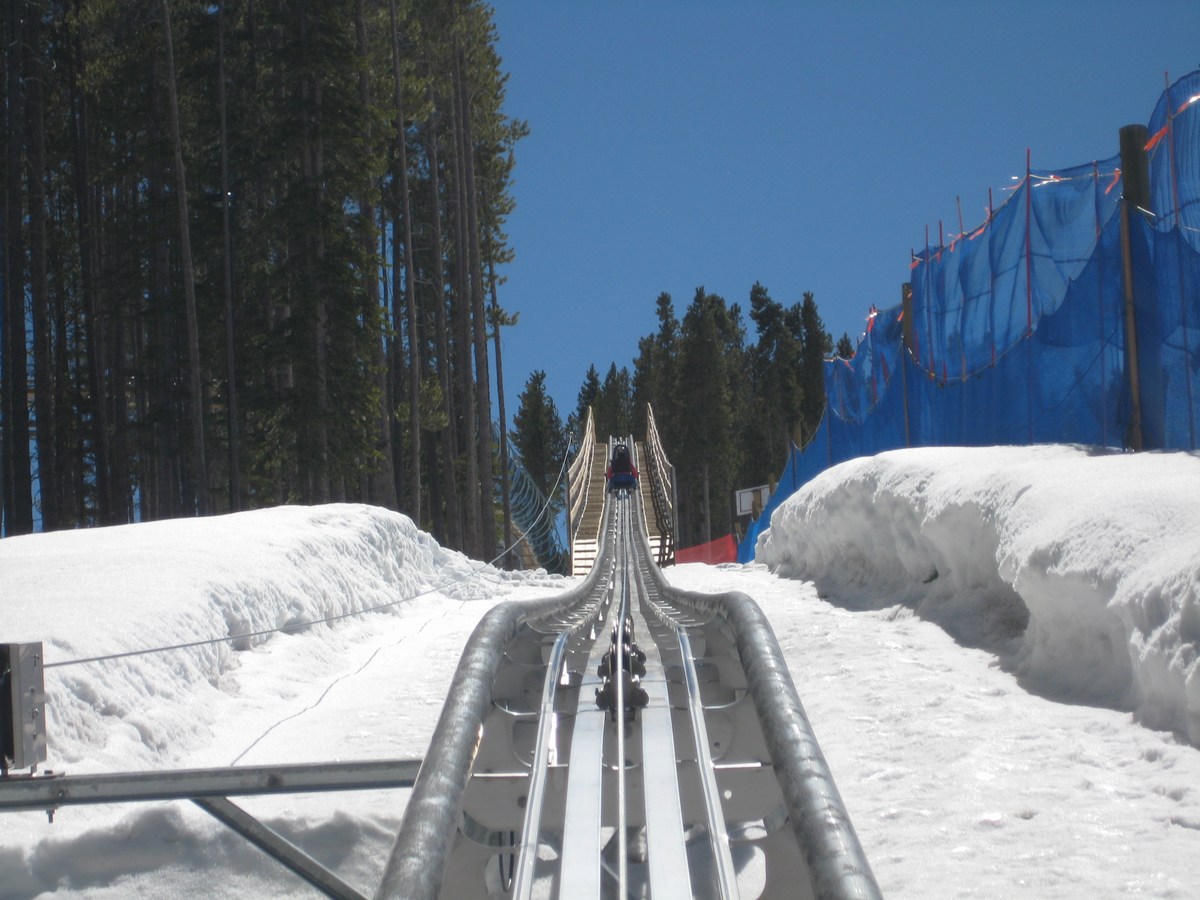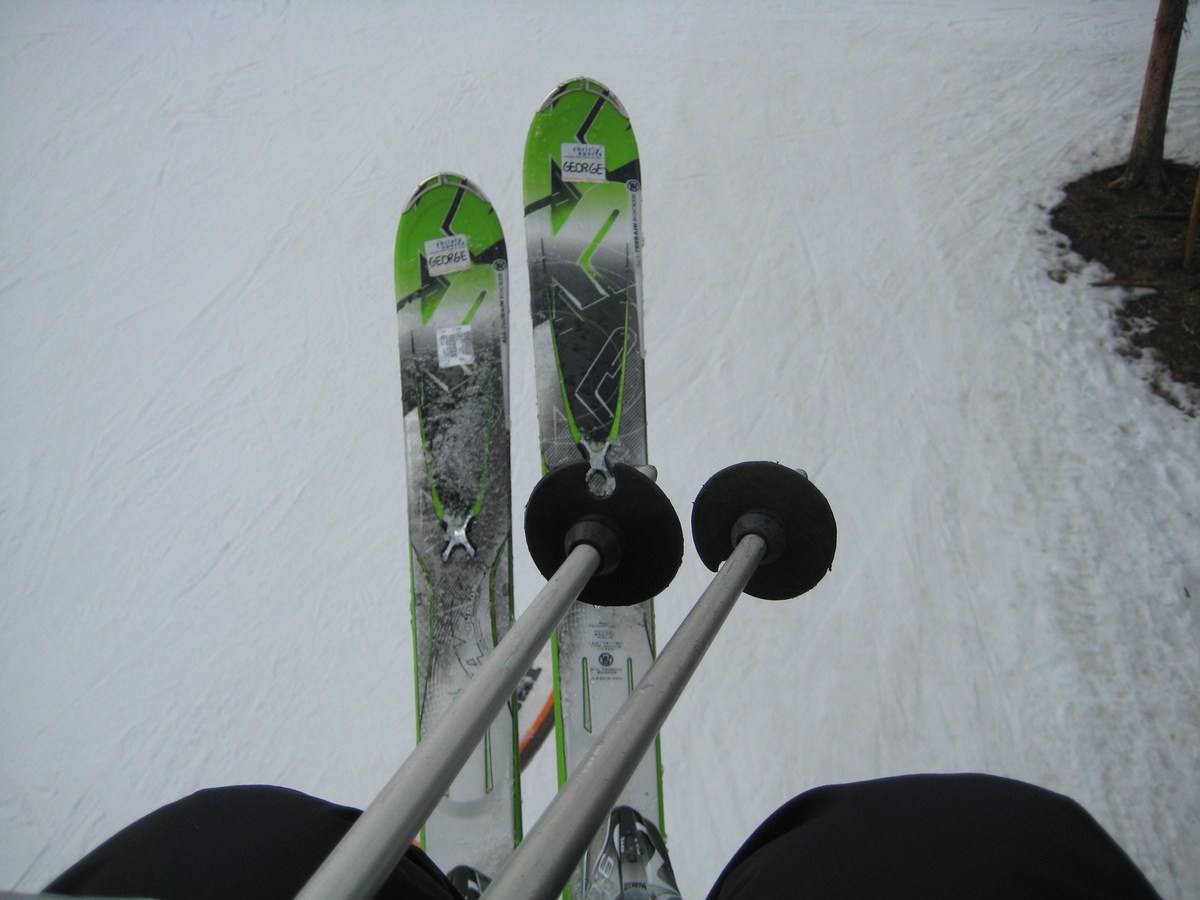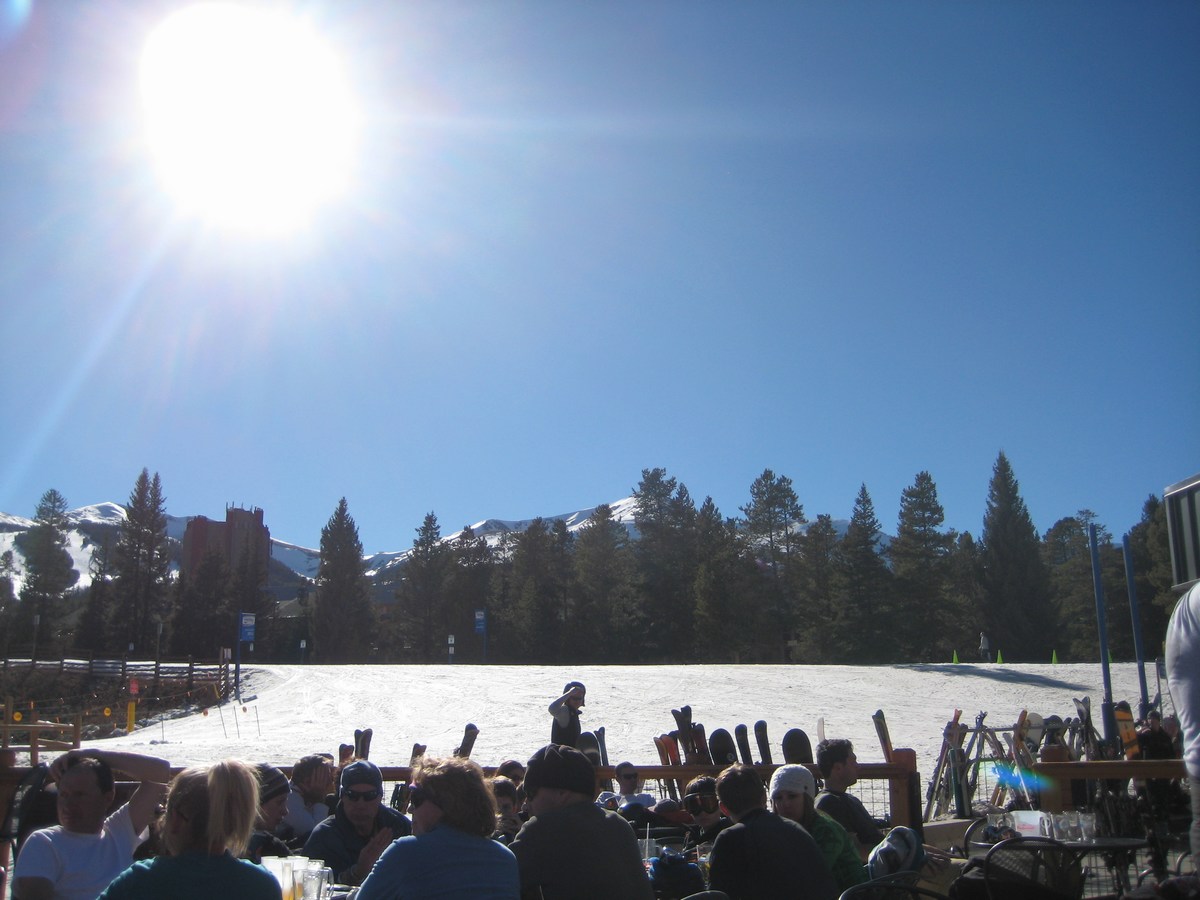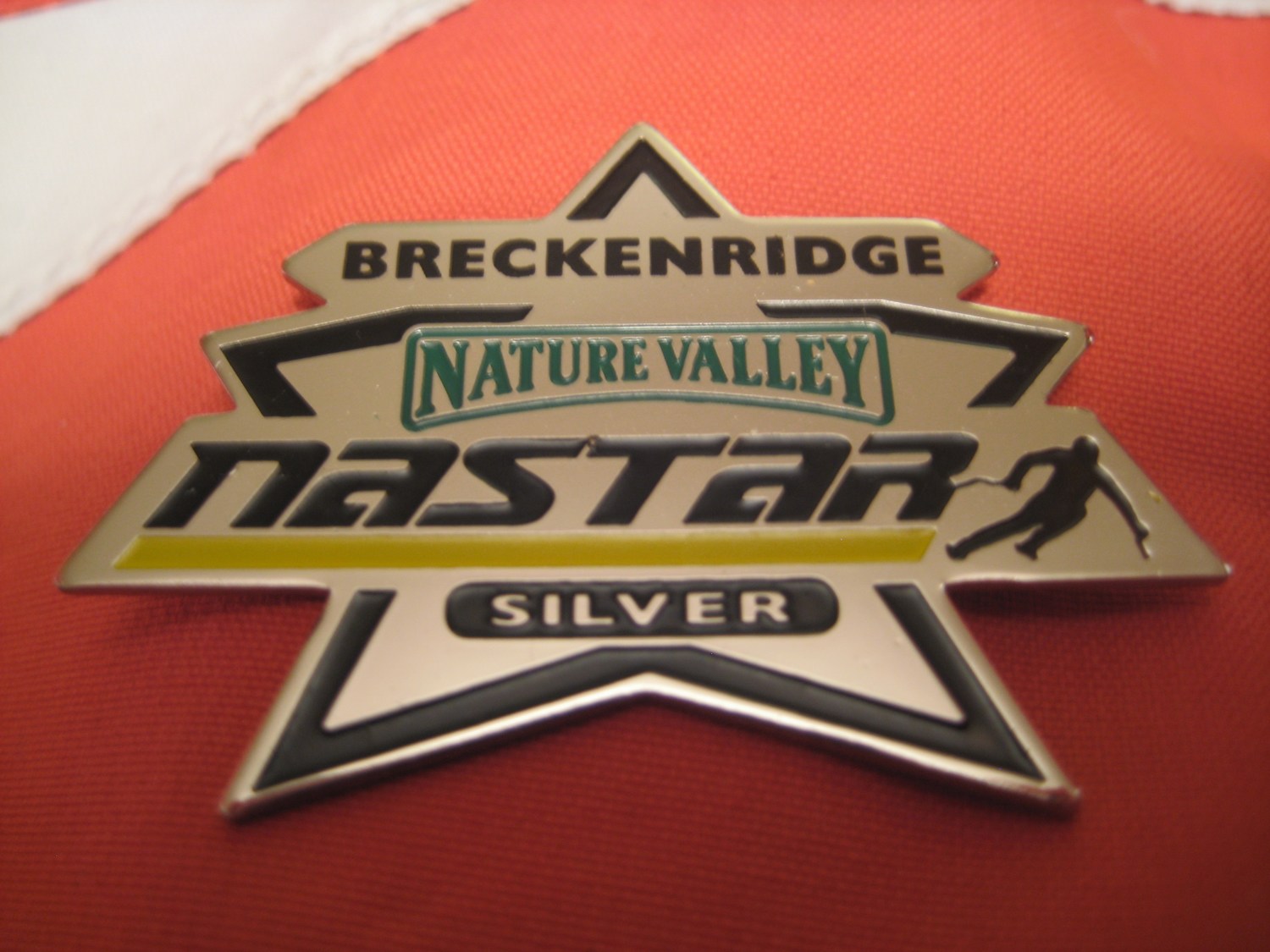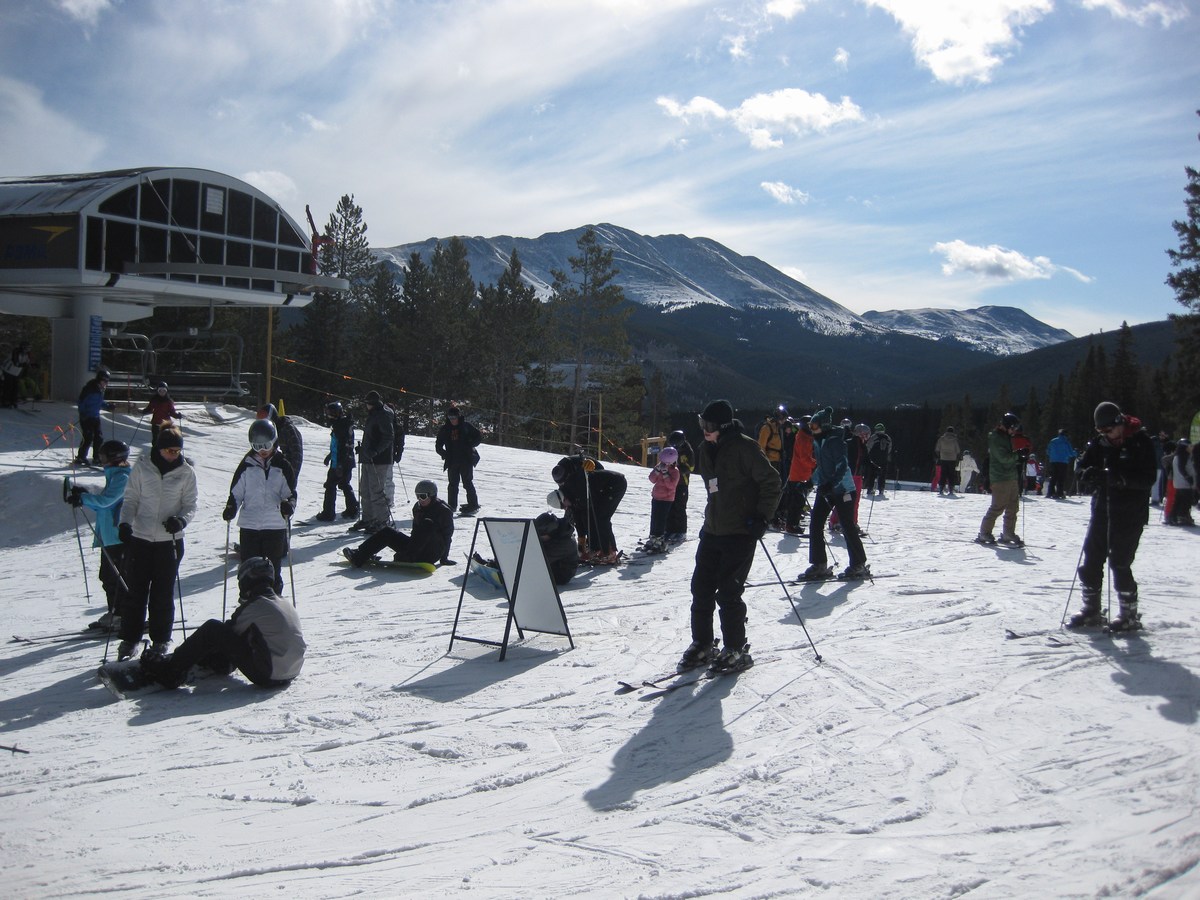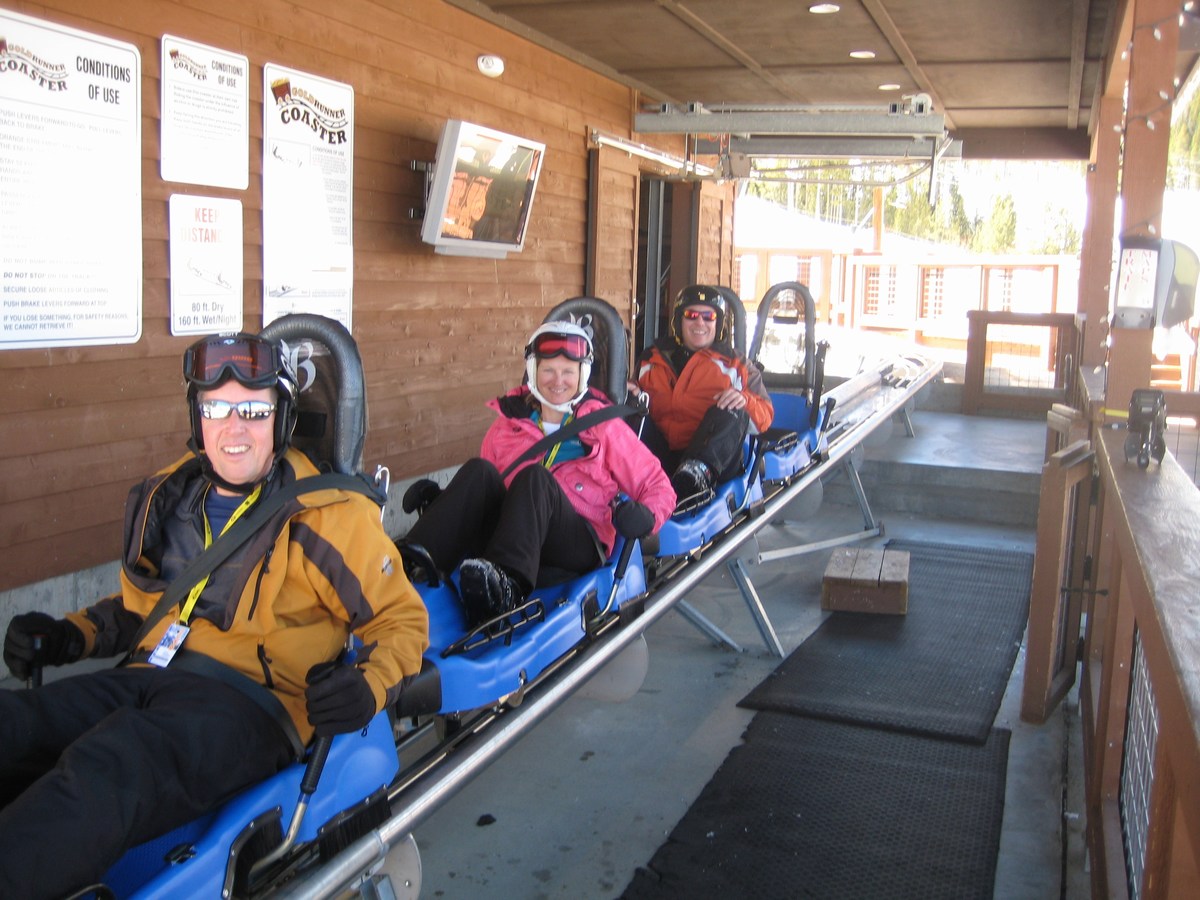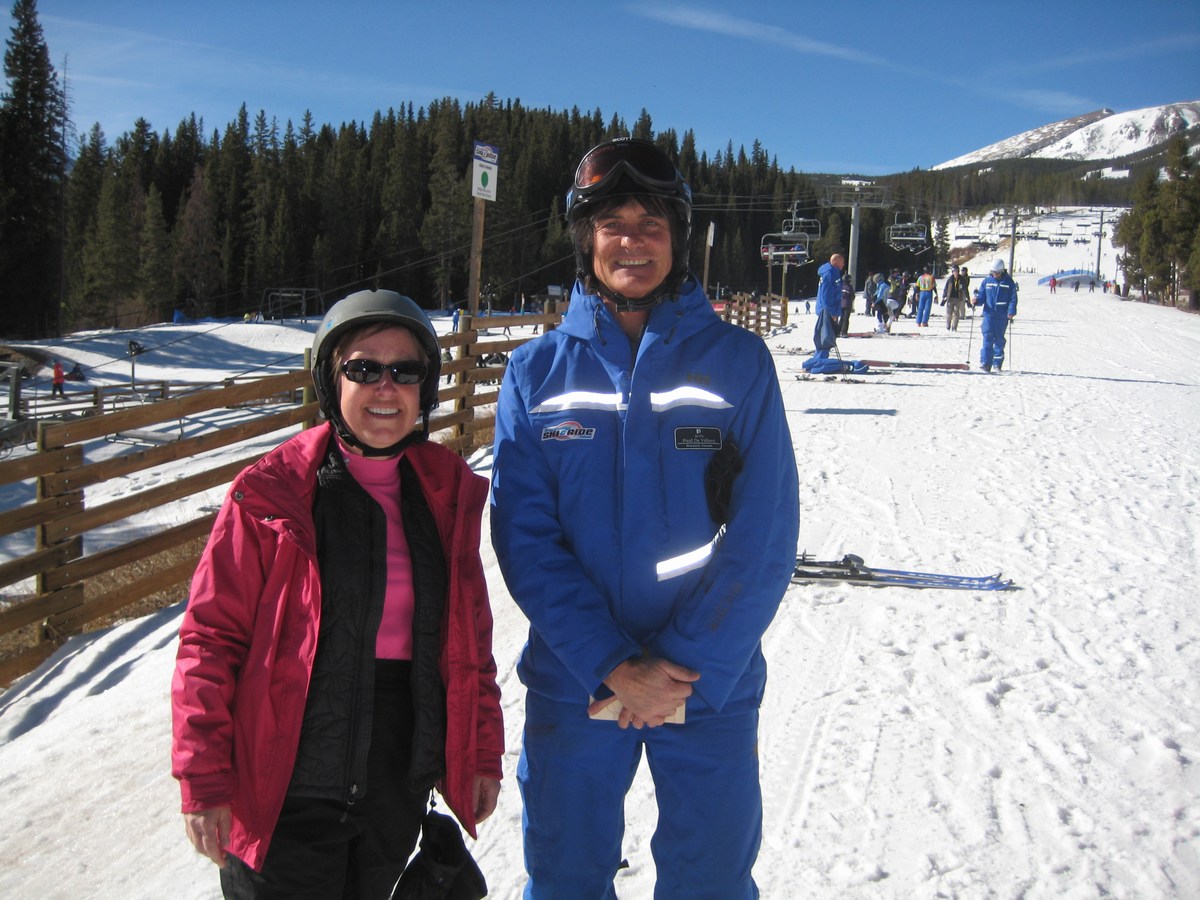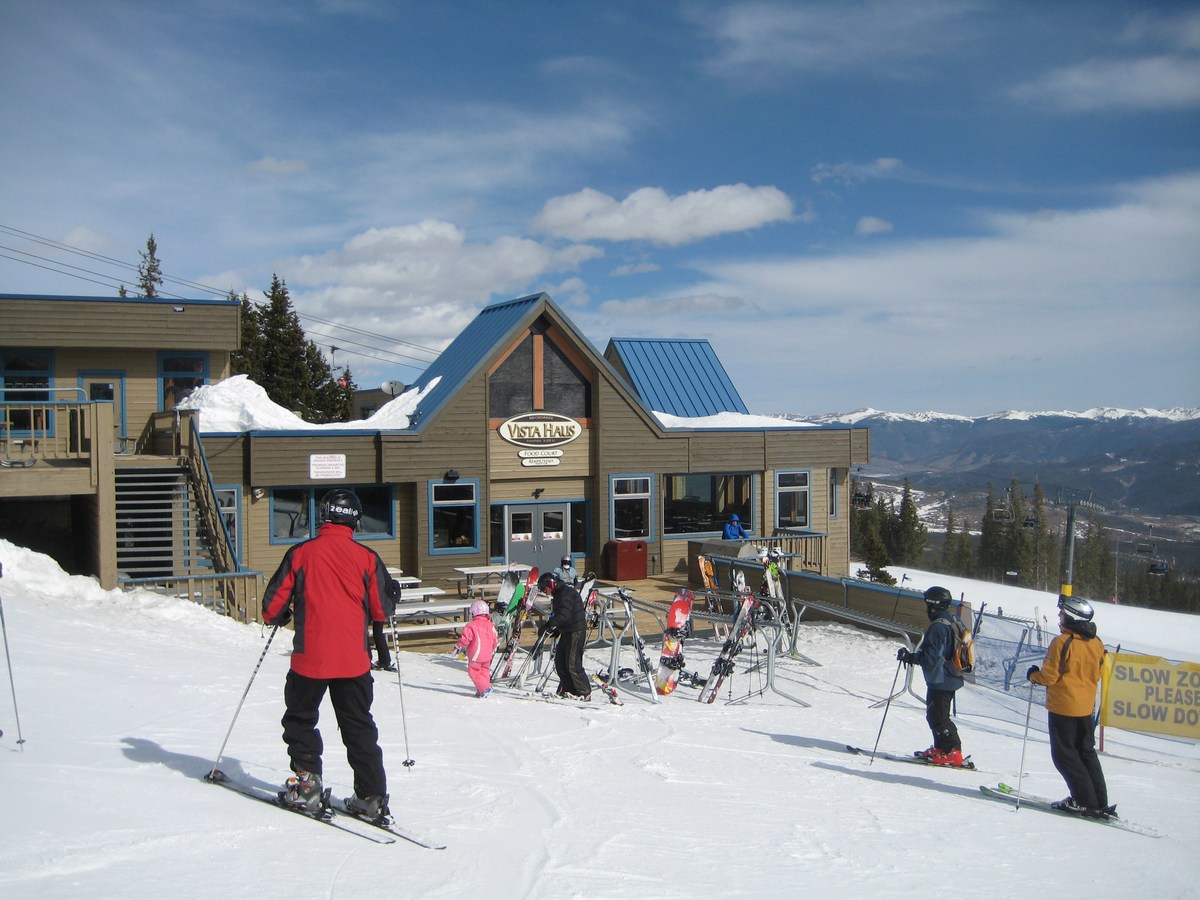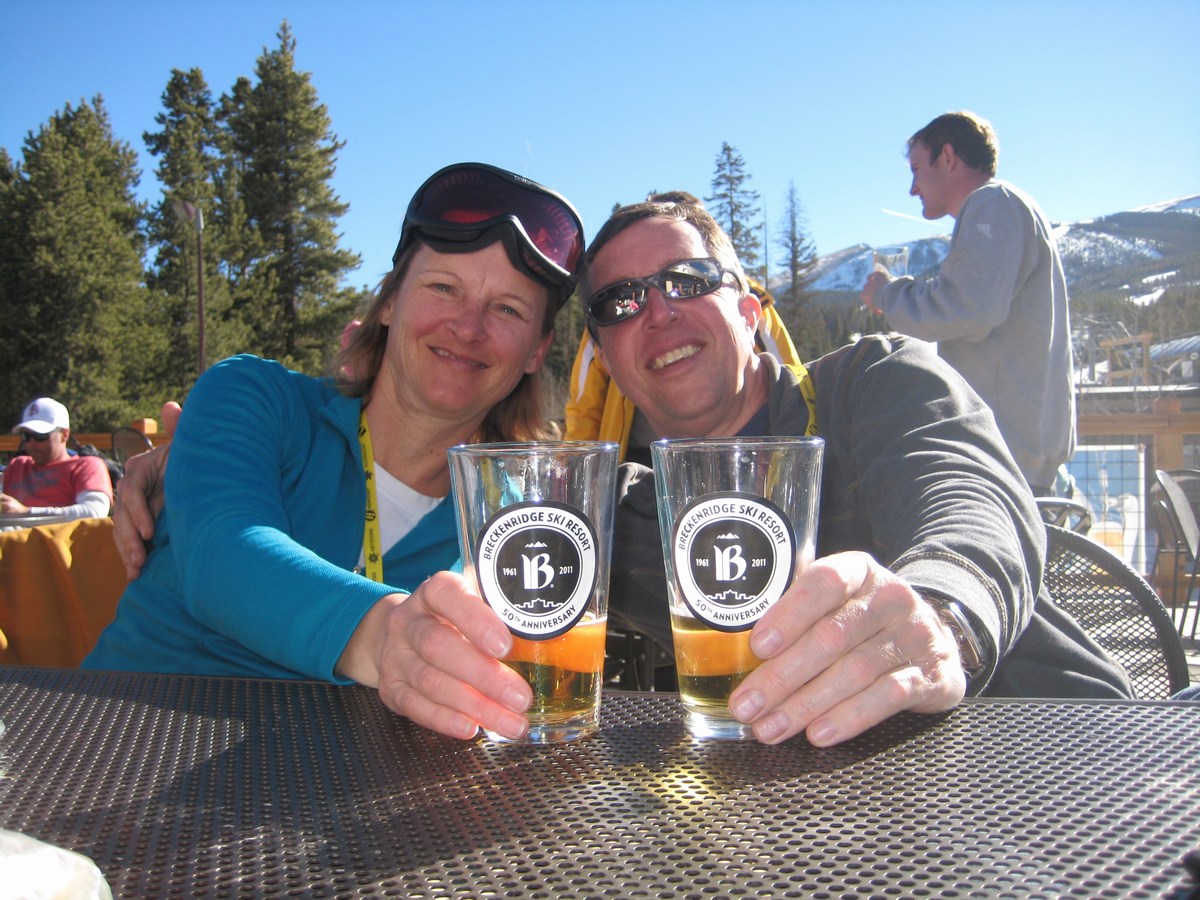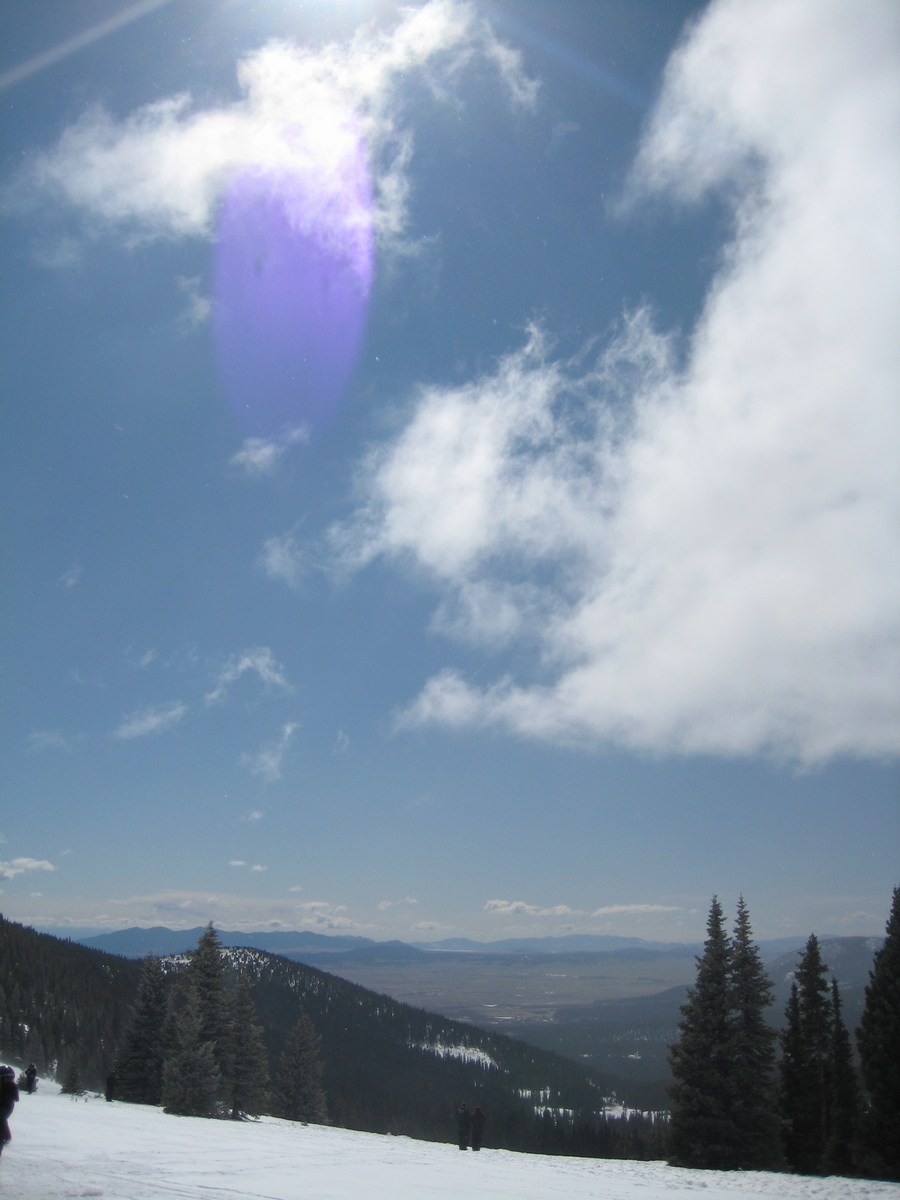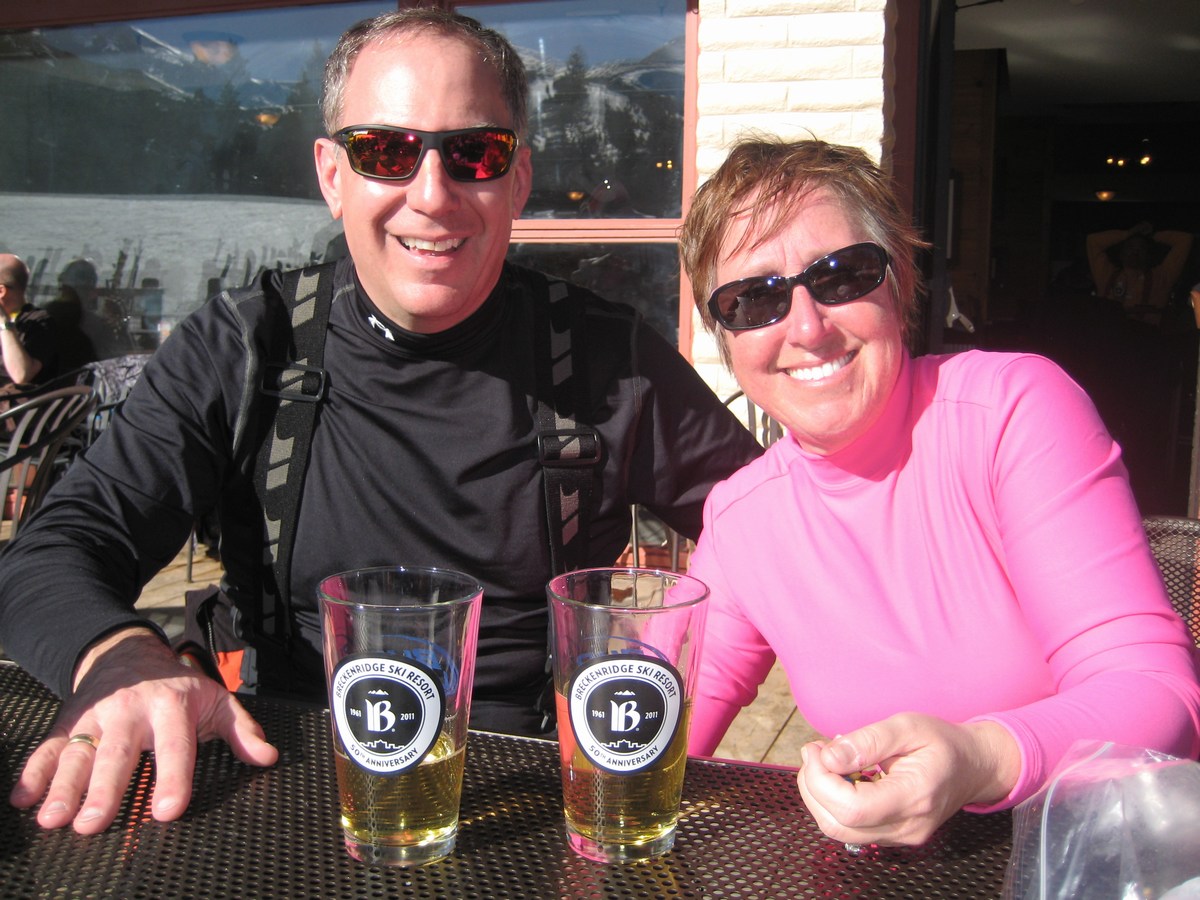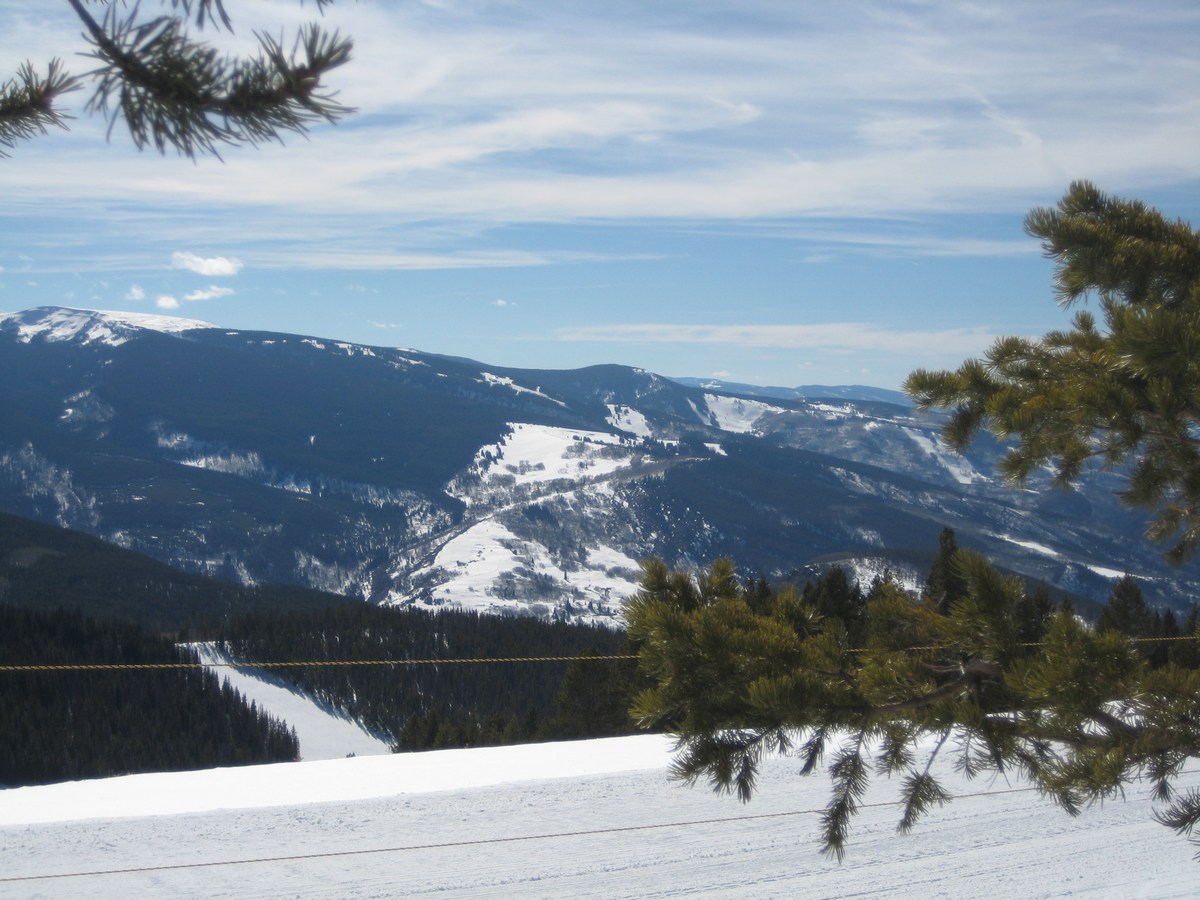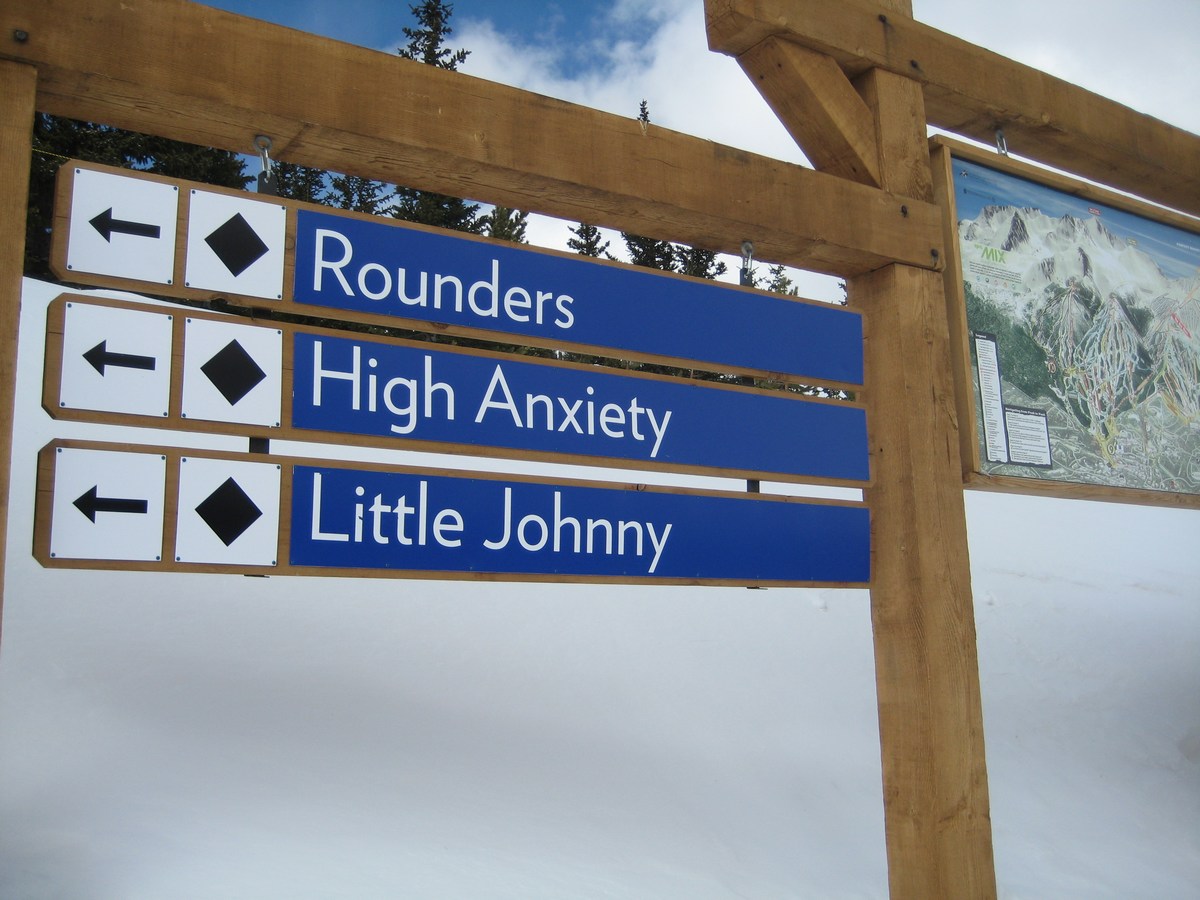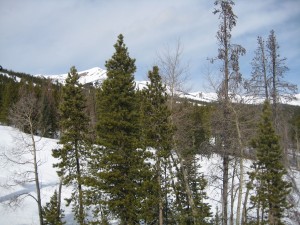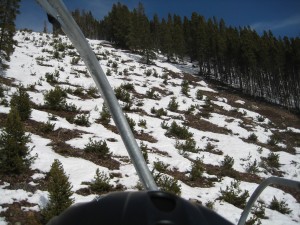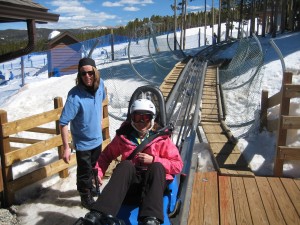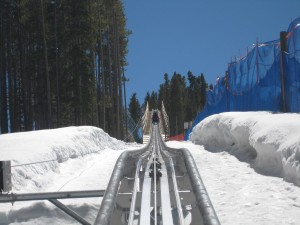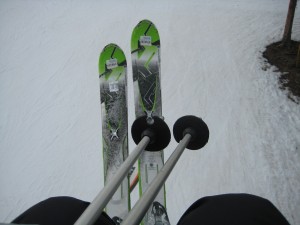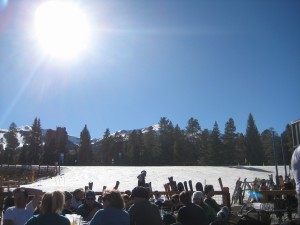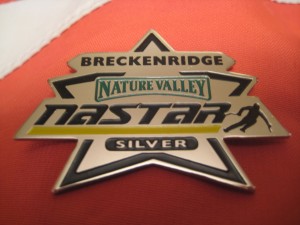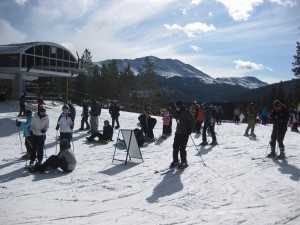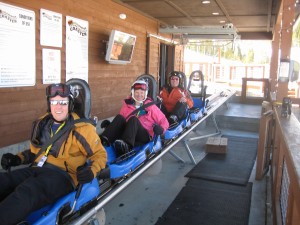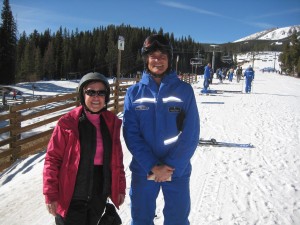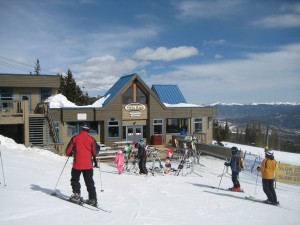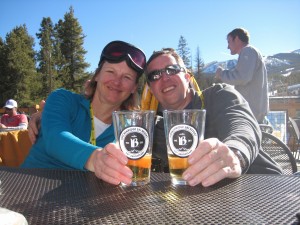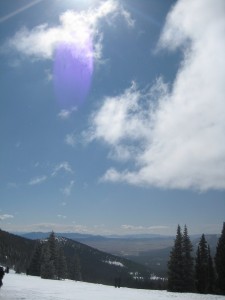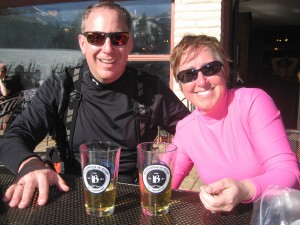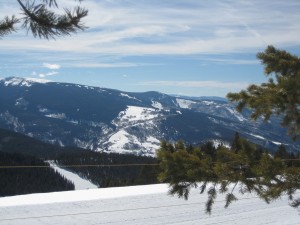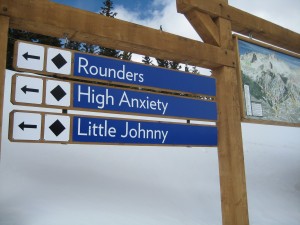 .
Springtime melting made this a Green run at Breckenridge  For the rest of the week we let Breckenridge lead us around to beautiful runs of all hues; green, blue and black.  We were all entranced by the spell she cast, and by the clarion call of her welcoming slopes.  For those of us who have had the opportunity to travel and ski we know that every ski mountain has its own unique and identifiable personality.  With her 2,358 skiable acres, pine trees, and comfortable amenities Breck openly presents herself as graceful and approachable paramour.  It's hard to find any faults at all, she just does everything right.  World class skiing and well-maintained runs are just the beginning of her charms.  The high-capacity high-speed ski lifts, the working end of the mountain, can move over 40,000 skiers up the mountain every hour if run Priceless vistas from high at Breckat top capacity.  We were unusually fortunate the week we visited Breckenridge; the lift lines were almost nonexistent.    The winter of 2011/2012 had not delivered on the early promises of huge precipitation, and by mid-March the snow-cover had languished a bit.  The springtime weather had turned sunny and warm, but each morning when we arrived to ski the snow on the slopes had been meticulously groomed to a corduroy perfection by the overnight maintenance staff.  We navigated around the mountain finding wonderfully soft springtime conditions.  In the afternoons we would navigate to some of the upper regions of the mountain finding runs that kept their cool or were somewhat better protected from the sun.  Overall, the conditions were great and we happily maneuvered our way around Breck's extensive terrain for a joyful week.
.
Amy with instructor Paul at BreckMy lovely wife, Amy (yes, that's how I actually refer to her) who had not been on skis in almost 30 years, skittishly acquiesced to participate in my annual pilgrimage to ski country.  I can't truly identify who was more nervous about this; her or me.  Clearly if she had a bad experience it would reflect negatively on the whole group's experience and mine in particular (which had the potential to be both severe, acute, and painful).  Amy's skill set for the slopes was unvarnished at best, while her anxiety level was, in a word, intense.  In order to allay any possibility of a personal or marital catastrophe; we all agreed that professional ski lessons were at least part of the solution.  My expectations were about to be totally blown out of the water, in a positive and wonderful way.  Amy signed up for a one day of never-ever group ski lesson, it was a package deal consisting of all day instruction plus a limited lift pass.  Instructors donning head-to-toe blue Breckenridge uniforms greeted students at the base of the lift.  Paul, the instructor for Amy's small level-zero group was an affable and confidence evoking Top of the lift at BreckCanadian (by way of South Africa).
We left Amy in Paul's capable hands.  Her first day's lesson had gone so well largely due to Paul's keen understanding of her learning patterns and body language.  On our last day in Colorado she wanted to spend the day in lessons with Paul again, but sadly, that was to be his day off.  We called him at his home that morning, and he agreed to suit up (an inside joke sometime calls this Smurfed-up because of the blue uniform) and be Amy's instructor again that day at Breck.  Hurray and huzzah, the rejoicing could be heard throughout Summit County.  By the end of Amy's third lesson day, she was effectively skiing blue runs with measured turns and confidence.  The whole professional ski instruction scenario was a 110% success, and we can recommend it without hesitation to any one just starting out, needing a skills tune-up, or confidence boost.
.
Looking uphill on the Gold CoasterEveryone needs a break from skiing or boarding once in a while.  While Breckenridge has provided a wide variety of recreational ski runs for fifty years, she's got something new to offer also.  Located near the base of Peak-8 is the loading area for Breck's newest adrenaline rush, the Gold Runner Coaster.  Skiers and non-skiers alike are able to ride this open seat roller coaster down more than 2,500 ft of Tim, Maggie, and George loaded onto the Gold Coasterelevated steel track.  But before racing down, riders will go up, up, up… Seated atop a high-tech blue sled, riders are treated to scenic views of the mountain as they are pulled steadily and steeply upward to the zenith of the coaster tracks.  Once at the top and just past the crest, the whole flavor of the experience immediately changes.  The sled noses down and begins a free fall acceleration into twisting, snaky banked turns through pines and spruces.  There are brakes for those who wish to control and slow their ride downward.  But who wants to fight gravity?  Not me.  The Gold Runner is a separate ticket, but not financially painful.  Breck really keeps herself new and fresh.  She added this new outlet of fun and another color of added excitement to the spectrum on the mountain.
.
Here in Colorado's high country the runs are long and wide, they often meander as tree lined pathways with infinite options on downhill routings.  Pick a path; go left, go right, stay in the bumps, escape to the flats, or mix it all up and go whichever way the wind blows.  There was only one exception to that free-form scenario during our week at Breck: The Nastar race course.  There are days when the mountain operates a closed course slalom raceway.  For a mere $10 paid at a registration house at the top of the course, amateur racers, like me and my brother-in-law Tim, get two runs thru the gates.  What fun!  The two of us stood at the tandem starting gates and waited with skis cantilevered into the thin air over the initial slope while our names were announced over the PA system.  Then buzzzz, and we were off like a shot careening at top speed (for us, anyway) left, right, left… zigging and zagging around the slalom flags. We reached the finish line breathing a bit rapidly but still upright on our skis.  Tim had beaten me to the finish by a few seconds, but we both did well enough to rank Silver Medals for the day, pretty cool for 50-something guys from Wisconsin.  Thanks Breck, one more ego boost and another shot of high altitude adrenaline.
Appealing and approachable, Breckenridge celebrated her 50th birthday this season.  She's fantastic and versatile, and gets better each season. Extending her open arms to visitors from all over the globe she warmly embraces all visitors. Happy birthday Breck!
---
Breckenridge  Quick Statistics
————————————————–
Total Skier/Snowboarder Visits
2006-2007: 1,650,321
2005-2006: 1,619,043
2004-2005: 1,470,961
2003-2004: 1,402,055
2002-2003: 1,424,770
2001-2002: 1,468,518
2000-2001: 1,422,783
1999-2000: 1,444,365
Elevations
Base Elevation: 9,600 ft.
Summit Elevation: 12,998 ft.
Vertical Rise: 3,398 ft.
Snow
Snowmaking: 565 acres
Avg. Annual Snowfall: 300 inches
Acreage
Total Skiable Area: 2,358 acres
Miles east-west: 2.9 miles
Miles north-south: 2.3 miles
Trail Classification (Total Mountain Acreage)
36% Expert (Black)
31%Advanced (Blue)
33% Intermediate (Green & Blue)
15% Beginner (Green)
Conventional Trails: 155
Longest Run: Four O'Clock at 3.5 miles/5.6 km
Terrain Parks: 5
Halfpipes: 2
Bowls: 772 acres
Lifts
Total Number of Lifts: 29
Gondola: 1
Six-passenger high-speed lift: 2
High-speed quad: 7
Fixed-grip quad: 0
Triple chair: 1
Double chair: 6
T-Bars: 1
Ropes: 1
Platters: 2
Magic Carpets: 8
Total Uphill Capacity/Hour: 40,680
Climate (Temperatures in Fahrenheit)
Winter Temperatures: 28 degrees daytime, 15 degrees nighttime
Summer Temperatures: 70-80 degrees daytime, 50 degrees nighttime
Town of Breckenridge
Population
Breckenridge: 3,182
Summit County: 23,548
Town Size:
* 7 miles long, 2 miles wide, 5.3 square miles
* 2,200 developed acres /1,100 undeveloped acres
* 30% open space (Town also has interest in 1,200 acres of open space outside town limits)
* 400 acres of parks, historic sites and recreation areas
Tourism Statistics:
* Restaurants and bars: 80
* Shops/Boutiques: 180
* Liquor/Grocery Stores: 11
* Historic District Structures: 249 Structures
* Hotels/Inns/Bed & Breakfasts: 501 Properties
* Hotels/Inns/Bed & Breakfast units/bedrooms: 499
* Number of pillows: 20,002
* Condo units: 2,745
* Condo beds: 5,000
* Hotel units/bedrooms: 436
* Hotel beds: 800
Additional Amenities:
* Dentists: 5
* Medical clinics: 5
* Pharmacies: 2
* Golf courses (public): 1
* Parks: 2
* Skating rinks (public): 1 year-round / 3 winter
* Tennis court facilities (public): 2 indoor / 12 outdoor (summer)
* Museums, art galleries: 16
* Library: 1
* Fitness facilities: 3
* Ball fields: 3
* Soccer fields: 2
* Public Parking lots: 13

Published Spring 2012