California Dreaming – Cycling Through California Wine Country
by Maggie Rentmeester
Glossy brochures brimming with photographs of spectacular scenery, smiling people, and lush accommodations arrive tauntingly in the mail.  A longing to jump in the picture pulls at you.  You mention to your spouse, partner, friend; "We should go on one of these trips!"  You feel like an antsy kid in a candy store; which one should we pick?  They all look so inviting!  But, you hem, you haw, a quiet voice in your head says "Maybe we're not like those people.  What if I can't ride that far?  I don't want to get embarrassed.  I'm not up for these group things."  The brochure gets shuffled about gathering dust while its colors begin to fade.  Later it uneventfully migrates to a lost strata beneath under a glacier of discarded magazines.  Eventually it ends up in the recycle bin.  It seems like a tragic waste, a really sad story.
This article is not by any means a sad story.  Instead it is a hopeful, positive and enlightening look at group travel and cycling adventures.  The cycle and travel company of choice for FirstLightSports is Vermont Bike Tours (VBT).  They are the premier organizers to ventures in the USA and around the world.  A trip with VBT is an experience of a lifetime and I want to tell you why the next time the brochure arrives, you need to book a trip!
























































Argument # 1:  "I don't think I'm that athletic, I'm not sure I can bike that far."  All VBT trips are rated easy, easy/moderate, or moderate with an explanation describing how that designation is made.  If you're concerned about your athletic ability, choose an "easy" trip first.  My husband and I have been on several VBT trips with a wide variety of athletically gifted (and non-gifted) folks.  Your guides will always give you an option to bike less or more than the standard ride for the day.  Many folks opt to "van" for part of the ride particularly if the section involves hills.  My riding partners tend to look for the optional extra miles.  On a recent trip to Sonoma, California, our guides Jonathan and Daniel directed us to the "extra ride", of course my group couldn't stop there; we needed the "extra, extra ride".
The additional miles included a scenic jaunt down Sonoma Mountain Road.  My inner biking voice quietly wondered about a ride on a stretch of pavement that included the word "mountain".  Was this really going to be a good idea?  Sonoma Mountain Road turned out to be as challenging as its name suggested, however.  The opportunity to view verdant fields of ripening grape vines carpeting the hills and valleys while navigating the twisting path was not to be missed.   Besides, I had absolutely no guilt that night when enjoying creamy panna cotta with fresh raspberries for dessert!
.
Argument # 2:  "I could do that trip without VBT support and save money."  This was my husband's favorite spiel "Why do we need them?  We could map the route ourselves, book our own hotels, and it would cost less."  Okay, you might be able to save a few bucks if you took on this undertaking yourself, but there are so many advantages for booking with through a bike touring company.  When we talk about real value, you cannot beat VBT.  On our latest trip to the California wine country our first lodging stop was at MacArthur Place in Sonoma, a luxurious, historic country inn and spa.  Did I mention the word luxurious?  I sure did, and I mean real luxury. Located on the former Burris-Good estate this property has maintained some of the original architecture with lovely cottages surrounded by gorgeous gardens, pools, and quiet nooks to while the time away.  Our room was "rock star" lavish; full wet bar, fireplace, leather seating, cloudlike bedding, and a walk-in shower.  After taking a few minutes to unpack and settle into our palatial room, we meandered outside under the arbors and through the extensive sculpture gardens.  We found our way to the heated pool and heavenly whirlpool where we soaked away the pains from our mountain adventure road surrounded by fragrant jasmine.
.
Later we strolled to the library building for a complimentary wine and cheese reception, there we chatted with our newfound bicycle friends on a shaded patio festooned with glorious blooming flowers.  Dinner that evening was at Saddles Steakhouse, located right on the grounds of MacArthur Place.  Whimsical saddles are lined up and ready to mount in the lobby for adventurous guests enjoying a pre-dinner cocktail.  Smoky seared filets with roasted shallots and wild mushrooms (who doesn't love mushrooms!) paired with garlic mashed potatoes and market vegetables tantalized our taste buds.
.
Our group leaders gave us a brief overview of the week and we all had a chance to chat and start with introductions.  We finished the day with excellent biking, fabulous accommodations, delicious food, and more plans for fun.
.
Okay, we talked about saving money "doing it yourself".  My husband and I have done lots of travel in our lives we are experienced in planning trips near and far.  I really don't think that we could come up with a plan as good as VBT's for the same cost.  Certainly we couldn't match their organization, amazing logistics, and attention to detail.  VBT takes great pains to choose the highest quality accommodations, restaurants, and tours.  The big kicker is the phenomenal guides that lead their trips; there's no way to match that doing it on your own.  I know that there is no way that I could individually set up a trip of my own with the same excellence and care with every detail that VBT does with all of their trips.
.
Argument # 3:  The definition of vacation is, "freedom or release from duty, business, or activity".  How many vacations have you been on that have left you stressed out and feeling like you needed another vacation?  When you travel with VBT, you truly get a break from all of the hassles that often accompany travel.  We rode new Fuji bicycles on our California trip and could choose a road or hybrid bike.  Tour leaders had the bikes tuned, sized, oiled, and all ready to go for us.  They thought of everything; iced water with lemon in bottles, travel bags with tissues, garbage bags and locks fitted on the back, tires pumped and gears tuned.  We took a quick spin around the grounds for a fine tuning ride allowed everyone to have their seat heights and handlebar angles tweaked to their personal preferences.  Every morning the bikes were lined up and ready to ride, any mechanical issues from the prior day (including flat tires, brake replacement, pedal repair, cable replacement, etc) had been completely addressed.  There was no searching for a bike shop hoping they carried a required part and no need to get hands dirty changing a flat or un-kinking a chain.  Any mechanical bike trouble just involved calling your guide on a cell phone and likity split the problem solved.
.
Tour leaders scout out routes and plan for the least traveled, most scenic areas for cycling.  They'll even adjust a ride at the last minute for unscheduled road construction.  Detailed directions along with maps and points of interest are handed out each day and at least one guide accompanies riders while another provides van support for the day.  A history of the area's highlights is even included with your map. Rest stops every ten miles or so included water refills, luscious fresh fruit, tasty local snacks, and bike adjustments. Those van stops also provided an excellent moment to chat with the other riders, and maybe switch riding partners for the next stretch of  road.
.
A sample day from our VBT California Wine Country trip had us waking up in Bodega Bay which was the site of Alfred Hitchcock's film The Birds.  From there we pedaled 10 miles along the Pacific Coast Highway enjoying spectacular views of the rocky cliffs along the shoreline.  Bright sunny skies electrified the myriad of colors sparkling in the churning water.  After taking multiple photos, we turned inland and cruised along the Russian River into the Armstrong Redwoods State Natural Reserve.  Towering redwoods fragrant in the slotted and filtered sunlight lined the paved path as we glided to our meeting place.  Gone was the sound of civilization, replaced here by the quiet found only in the forest blanketed with leaves and bark.  Some of the oldest coastal redwoods remaining in California are located here; the oldest tree is more than 1,400 years old…crazy!  An enticing aroma of grilled delectables beckoned us as we approached the site of our mid-day picnic lunch.  Tables set with lovely crunchy vegetable salads and succulent fruit awaited hungry bikers.  Freshly grilled sandwiches (hamburgers, cheeseburgers, and sausages) were served under the shade provided by the giant coastals.  Toasty s'mores pie for dessert rounded off our picnic lunch, yummy!  Good thing we pedaled onward after lunch, easily working off all of the wonderful calories.
.
Our cycling continued through the redwood forest and through the vineyards of the Russian River Valley.  Row upon row of manicured grapevines blanketed the gently rolling hillsides along our route as we made our way to Healdsburg and the h2 Hotel.  There were 36 eco-chic rooms above a lobby edged by cantina doors open to the sidewalk.  The eco friendly LEED Gold green certified hotel located just a block off historic Healdsburg square was our comfortable home for two nights.  The luggage fairies (our guides: Jonathan and Daniel, God bless them and their strong backs!) again worked their magic and had all of our baggage up in our rooms; all we needed to do was say hello to the friendly front desk staff and get our room key.
.
Your guides bend over backwards to take care of all of the details.  You don't have to plan a thing: transfers are arranged (they even tip the drivers!), reservations are made, routes mapped, and just the right mix of socialization is included—you are free to enjoy.
Argument # 4:  "I don't want to go on a tour and get herded around and have to follow a schedule.  I want freedom to do my own thing."  Let me explain how a typical tour day works with VBT.  Leaders hold a "route rap" every day typically around 8:30-9:00 a.m.  The day's route is explained, points of interest highlighted, and maps with detailed directions are handed out.  A sample day on our Wine Country tour looked like this:  wake up to a leisurely full breakfast of ripe, local fruit accompanied by yeasty warm rolls, house made granola, and freshly roasted coffee. Following breakfast mount up for a 14-mile ride through scenic Sonoma valley ending at Figone's of California.  They are a local organic olive oil producer that mills, blends and bottles all of their magnificent oils on site.  This family-owned and operated facility includes more than 4,000 olive trees including seven different Tuscan varietals, they are considered a pioneer in the California olive oil industry.  We tasted eight delightful varieties of oil infused with flavors including garlic, truffle, lemon, lime, and blood orange.  Samples of balsamic vinegars (raspberry was our favorite) were sipped like fine aperitifs followed by a picnic lunch in a shady glen on the Figone property.  Jonathan and Daniel with the assistance of Colin and David (guide trainees) outdid themselves making delectable salads featuring our host's delicious oils and vinegars.  After lunch we took a short ride over to the Chateau St. Jean Winery.  There we strolled through lovely Mediterranean-style gardens inspired by rustic, rural Italian villas and were tantalized by a "reserve" tasting of wines while enjoying conversation on an open air patio with our newfound biking friends.   The allure of fine food, wine, sunshine, and cycling through beautiful scenery will bring us back to do more rides like this.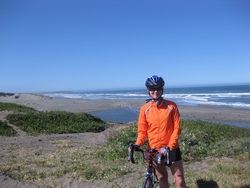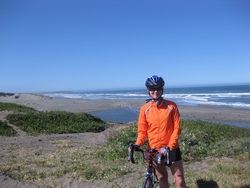 VBT guides describe the plan for the day and give riders a general timeframe, usually they are quite generous, providing time for; photo stops, van breaks, and generally absorbing the brilliant surroundings.  Guests are always welcome to opt-out of any or all of the day's activities.  Several times during our week folks eschewed a ride, lunch, or dinner to do their own thing.  Guides emphasize that the trip is about you and this is your vacation, whatever makes you happy is the goal.  There were a couple of times that we needed to be at a specific place or had a time commitment, a scheduled bus transfer, or reservation.  However, after spending a day riding through the gentle slopes of lush, green vines, savoring award winning oils and vinegars, picnicking outdoors, and relishing delectable premier wines I'm more than happy to be with the flock!
Top notch biking equipment provided and outstanding support. Lovely tantalizing food at every turn, you'll never go hungry with VBT!  Exquisite scenery and planned cycling routes.  Beautiful Five-Star accommodations.  Excellent side excursions all set up by friendly, helpful guides.   Ahhh…That's what I call a vacation!  All you need to do is show up with a spirit of adventure, let yourself get caught up in the fun, and let the experts do their thing.  That, my friends, is priceless.  Go book your trip.
Published October 2012