Bike Touring in the Czech Republic
By George F. Karioris
The air was alive with clanging bells from atop copper clad baroque church towers.  Throughout the day their bronze voices sang resilient songs of victory and freedom.  Now deep behind what had been the Soviet iron curtain until 1989 stirs the Czech Republic, formerly Czechoslovakia.  Restless from decades of colorless oppression and anxious to appear hospitable, the Czechs have so much to offer visitors.
We began our foray into the deep and near past of central Europe in the historic city of Prague.  Its castles, churches, and town squares bristle with life and a new world attitude.  Our little group of six had three days to spend there, walking the seemingly endless cobblestone walkways and streets.  Fantastically varied in their design and shape the mosaic patterns of the cobbles throughout Prague are a study in geometric art. Our elegant hotel, The Barceló, was just steps from Prague's old town square and its eccentrically interesting shopping district.  Our group consisted of Meg & Chuck, Maggie & Tim, my beautiful wife Amy, and me (George; cyclist, computer-programmer, writer, and editor for FirstLightSports.com).  All of the major attractions in the city are well within walking distance from our fabulous lodgings. Foremost on any visitor list would certainly be the Prague Castle and St. Vitus cathedral high above the Vltava River.  Ridiculously huge and imposing in their size and scale they can be seen from anywhere in town.  Prague's Old Town square adjacent to our hotel is the heart of the city with its medieval Astronomical clock keeping the city's pulse alive since the year 1410.  The Jewish quarter section of Prague is yet another key to understanding the deep roots of this historic city.  Emotionally moving and poignant, this area adds complexity and depth to the patina of experiencing Prague.  And then there were the bells… ringing, clanging, singing.  They always brought me to a stop for just a moment each time I heard them.  I tried to remember and associate the place, the emotion, and the moment, with those antique voices throughout the trip.




































There is so much to see and do in this city a few short days to see it hardly seemed enough.  Three short days after arriving in eastern Europe we had re-synched out jetlagged sleep cycles, eaten pork knuckle (more than once!), and seen the city's major attractions.  We were ready for a week of biking and itching for a chance to get onto two wheels.  If our trip was a sandwich, Prague was the top piece of flavorful exotic bread.  The center meat was a scheduled week of biking through the Czech, German, and Austrian countryside.  Following the week on bikes, we had a three day visit to Vienna, Austria which would serve as the wonderful bottom-bread to our vacation sandwich.  It was late June and we had been planning this trip since the previous Christmas.  As the excursion approached we were bolstered by new excitement and anticipation.  Our logistics and arrangements were made through the good folks at Vermont Bike Tours,VBT (www.VBT.com).
Following our third night at The Barceló we gathered in the lobby to start the biking phase of the trip.  We met the rest of our VBT group, a total of 19 people as we boarded a tour bus headed for the picturesque village of Český Krumlov.  In this amazingly preserved baroque town we met Andy and Zuzanna, our two VBT guides who would be with us throughout the week.  Both young and athletic they were instantly warm and likable.  Zuzanna is blue eyed ethnic Czech who grew up in Canada before returning to the Czech Republic.  She has a ready smile and a propensity to laugh easily and often.  She speaks unaccented English and (apparently) perfect Czech too.  Andy is tall and willowy; a lilting Austrian accent combined with his soft spoken demeanor make him both personally disarming and confidently trustful.  He grew up near Saltsburg speaking German and studied English in school. As the trip progressed we were continually impressed with their skills, caring attitude, and most of all their impressive (damn near) perfect ability to keep 19 one-time strangers entertained, engaged, and smiling.
We arrived in Český Krumlov and checked into The Rose hotel, formerly a Jesuit monastery.   Certainly more eccentric than Prague's Barceló, The Rose sits perched on a main street overlooking the Vltava River as it snakes sinuously through the center of the village.  It was in the Rose's courtyard that we first met our bikes.  Based on our heights and bike types Andy and Zuzanna had done the initial setup for each of us.  I prefer to bike with clip-in shoes and had brought my own pedals from home.  When I got to my bike Andy or Zuzanna had already installed the pedals. For this trip most of the riders, including me, had chosen to ride hybrid bikes with only four riders on road bikes.  The gearing on both styles was identical; a triple chain wheel configuration up front at the crank and a wide-ranging 7-gear cluster at the back hub. The hybrids were setup with lightly treaded 35mm tires and the road bikes were configured with slim 23mm semi-smooth units.  Some of the bikes had seat shocks, but all were equipped with a comfortable seat, rear-looking mirror, a thumb actuated bell, a generous rear pack, and a handlebar mounted map compartment.  The bikes have a custom configuration created and utilized by VBT for all their tours worldwide.  Not nearly as light as the carbon-fiber Cannondale Six13 I ride back home, my VBT bike was solid and dependable.  Prior to the trip I had purchased a couple inexpensive bike computers on EBay. I mounted one of the computers on my bike in a few minutes, and was glad to have it throughout the week.  In an orientation meeting discussing cycle protocol in-and-around town, Zuzanna also introduced us to the daily route sheet.  The route sheet contains turn-by-turn directions and mileage (in Kilometers, of course) for each day's ride.  So with a new understanding of VBT's shorthand directions and a fresh route sheet, we headed out on our first ride.
Our first day's outing was a warm-up and tuning ride of only 10 or 12 miles.  I was unsure of how the newly formed overall group would proceed.  Would we all ride together in a pack, or string out individually?  Would the quicker riders slow for the more moderate ones?  In the end, as the week progressed the ride patterns changes somewhat, but the daily riding pack had fast riders out front, followed by a varied string of more restrained riders, and always Zuzanna or Andy riding the clean-up slot at the end.  Our warm-up ride took us directly through the heart of Český Krumlov's cobbled streets and walkways quickly out to the Czech countryside.  For many miles of this ride we were, I thought at first, on a wonderfully smooth and paved cycle/recreation pathway.  I was caught off guard and surprised several times to encounter cars and light trucks driving on the same pavement.  Generally Tim and Maggie were out front on their road bikes for most rides.  Along with them were the near-speedy group of George and Amy along with Jerry (who, due to some name confusion was often referred to as "Larry-Jerry") and Fireman Mike, both from New York.  Following the route sheet's directions was a bit uncomfortable at first.  Clearly we were not accustomed to the area, and executing the often rapid-fire turns took some mental adjustments.
As the warm-up ride concluded our route circled us back to The Rose hotel.  When we returned Zuzanna took notes on each of our bikes for any fine-tuning adjustments.  I needed the headset lowered so that the handlebars would be at a more natural position, and I had a dud for a bell that needed to be replaced.   VBT had arranged a wonderful tour of the castle and Baroque theater which are the key tourist attractions in Český Krumlov.  Stanislaus, our guide, gave us a wonderful walking tour and pointed out how gray everything (the buildings, the clothing, and even the people) was while living under the soviet communists.  1989 saw the reborn Czech Republic sloughing off the shackles of oppression and re-colorizing their lives.   Stanislaus apologized for his heavily accented English and informed us it would have been much better if only Eisenhower had listened to General Patton and pushed the Russians back to their original borders in 1945.  The man certainly has insight into world history and politics.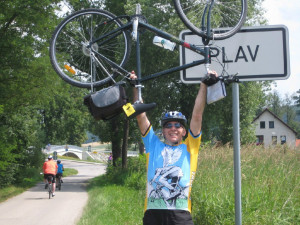 After a good night's sleep in some former Jesuit's room we were all ready for a day of biking.  This was June 30th and it was my birthday.  75 degrees, sunshine, clear skies, and a day on two wheels… what a great way to spend a birthday!  This day's route was much longer (31 miles or so), and we started out route meeting at 8:30 following VBT a substantial breakfast.  We biked out of town with a long climb into the peaceful Czech farm country.  Along the roadway and then onto another pseudo-bike path it seemed like we were only going up and up and up.  At about the 8 miles mark we met up with Zuzanna who was the van-driver for the day.  She had parked under a tree in the small village of Zlatá Koruna and set out petite tables of snacks (candy bars, granola, wafers, etc), fresh fruit and water.  There is a historic monastery in that town available for viewing by paid admission, but in truth we only used the restroom.  We all made a stop in the restroom, checked in with Zuzanna, had a snack, and a very short respite.
Following the route laid out for us we traversed a high ridge of houses and farms with wonderfully scenic vistas, then turning downhill after the monastery leveled off to ride next to a river and campground.  Shortly after that point on the route sheet are the words in bold capitol letters: WARNING: VERY STEEP INCLINE AND NARROW ROAD.  WATCH OUT FOR DOWNCOMING CYCLISTS AND CARS.  Andy had warned us at the morning meeting to get to a lower gear as we approached this point, but I was not convinced.  Since VBT rates this trip in the easy/moderate category I strongly suspected that their version of "steep" was going to be pretty wimpy.  I was wrong again, not for the last time either.  As we turned to the right, away from the river, the pathway jumped suddenly from virtually flat to an intensely steep 12% grade.  Luckily I managed to stay on my pedals and get by a few people who had come to a complete stop stalling out at the skirt of the hill.  The path snaked upward at that severe grade for over half a mile.  I worked hard to get into lower and lower gear combinations until I was finally on the smallest chain-ring in the front and the largest gear in the back.  I climbed slowly and had some trouble keeping my front wheel on the ground; I was in such a low gear that the bike wanted to go into "wheelie" mode.  When I cleared the rise, the pathway was cutting through a wheat field and under a lone tree in that sea of wheat was a bench to rest at.  Only Tim was there, and now me too.  Sucking air, but proud to have reached the summit without walking, we were joined a bit later by Fireman Mike.  We were the only three to beat the grade.  We thought that we got there due to our strength, endurance, and stamina. Our wives are convinced that we reached the top on 100% stubbornness alone.
Biking the rest of the morning brought us to the tiny Bohemian town of Plav where we would gather for lunch at a local farmhouse.  Yaakov (Jacob) the owner and his family had prepared a great lunch for us and had picnic style tables set in a shady courtyard between his home and barn.  Goulash soup, sliced meats, and salad made a delicious and filling lunch.  Following the more savory part of the meal he brought out fresh baked apple strudel.  Apparently his mother in the kitchen was the real culinary artist of the family, and kicked out some seriously amazing strudel.  I unapologetically devoured several sweet, warm, and scrumptious pieces.  When Yaakov heard that it was my birthday he brought out a bottle of home-made slivovitz, pear/plum brandy.  In reality Yaakov's slivovitz was Czech moon-shine or white-lightning, clear with extraordinarily high alcohol content.  Like the strudel, I had more than one shot of slivovitz also; hey, it was my birthday!  In the courtyard Yaakov's family had a setup for a game that he called Russian-Bowling.  Nine extra-large bowling pins setup in a pattern on dots are to be knocked down by a 10-pound concrete ball suspended by an 8-foot chain mounted to a steel pole-and-arm gizmo.  The idea is to swing the ball outward, and knock the pins over on the ball's return trip.  The winner is the one who takes the fewest swings to knock all the pins down.  It turns out that Amy is some kind of Russian-Bowling savant genius, taking only three turns to clear the pins.  I've got to look more closely into her family background some day, that's just not normal!  Full of goulash, strudel, and liquor my birthday lunch in Plav had been a howling success.  We spent the afternoon biking again through quiet Bohemian towns and villages under sunny skies and perfect weather. At the end of our ride as we entered picturesque Český Krumlov I once again heard bells.  There were bells ringing slowly and melodically from church towers.  The same bronze voices that sang to the kings, priests, and peasants for centuries were singing to me.  Wow, I am truly lucky and blessed.
This little article only talks about a day or two of a truly wonderful experience.  The rest of the week biking and touring with Zuzanna and Andy from VBT was equally amazing.   From the Czech Republic we biked through the corner of Germany and stayed in the lovely town of Passau.  On one sunny day we rode our bikes across the old Czech/German border, now simply marked by a few innocuous signs.  A creek runs through a green and peaceful valley where for over four decades stood what the locals refer to as "the Iron Wall".  It was a surprisingly moving experience for me, having lived through much of the cold war years.  We left Germany and enjoyed a few days riding along the Danube River through Austria's Wachau Valley.  The valley, lush with vineyards and apricot orchards, had a very approachable and welcoming feeling.  We sampled a variety of wines and spirits from the area and even managed to bring home a small bottle of sweet apricot liqueur.  Seemingly too soon, we said auf Wiedersehen to our new friends, our bikes, and the pastoral countryside as we boarded a bus for Vienna, Austria.  We toured the lively city that was home to composers, kings, and scientists for three glorious days before heading home. On that last day as we waited for our bus outside on the cobbled sidewalk I could hear several of Vienna's church bells tolling the morning hour.  The only message that I could glean from their wordless song was that they would be here long after I departed, and would be waiting for me when I return.
I would recommend this trip or one like it to anyone who even dabbles in cycling.  Please visit Vermont Bike Tour's website (www.VBT.com) as an excellent starting place for your biking adventure.
Published August 2011