Ironman – An Awesome (and exhausting!) Day
by Mike Clousing & Shelly Longhorn
I made it, I completed the self-induced insanity of the ironman Triathlon.  I completed this feat in 13:59:00, which is 3 hrs 1 minute before the cutoff time.  1:27:30 for the 2.4 mile swim, 6:17:05 for the 112 mile bike ride, and 5:53:11 for the 26.2 mile run.  The run I fell apart due to pain in my feet with every step and consistent nauseous for the first 7 miles.  I was successful in finishing this before the magic time of 17 hrs 00 minutes …if you finish 1 second after that you will be marked as DNF (Did Not Finish).
OK, what brought me to this point, almost exactly 2 years ago I was talking to some people who were doing IM Wisconsin and I looked at it and said, you know I can do that.  Now think of the fat guy 3 years out from a heart attack going for one of the ultimate in endurance events.  At that point in time running 100 yards was a herculean task for me, and swimming a length of the pool (25 yards) was not so much of an act of swimming but more of floating with thrashing of arms and legs.
So within 1 month of that announcement to myself, I had picked up a tri-bike and had the awesome fitting done by Brent Emery at Emery's.  He does such a good job that 6 months later when Shelly picked up her Tri-Bike (Quinny) from SBR in St. Louis and had the guru fit done, the fitter thought his system was better than anything that anyone else could do.  I took him up on his challenge and signed up for a fitting.  When he was done, he had to refund my fitting fees because he could not make any adjustments on the fit
The Swimming Part
I also signed up for swimming lessons, and then picked up my first of many, many, many pairs of running shoes.  (Only wore out 3 pair, but I went through about 14 pair trying to find a pair that doesn't hurt my strangely deformed feet, thanks mom and dad).
I can just about imagine the poor thoughts running thru the head of my swim instructor (Jennifer) when she first saw me swimming.  The thought of what "Oh No…. what have I gotten myself into" must have crossed her mind, but she was a saint and got me breathing properly and a quasi normal stroke.  I say quasi because to this day she can still glance in the pool and still pick me out from my swim stroke.  After 10 lessons she had it to the point that I could swim a couple of lengths of the pool without stopping and it kept going from there.  Knowing that if I don't get out of the water in the limited 2 hrs 20 minutes I can't even think about riding the bike,I focused quite a bit of time on swimming.  Within 5 months of swimming probably 3 – 4 times per week I was able to swim the distance of a half ironman (1.2 mile swim) in 1 hour 7 minutes.  I was so excited because that means I made it under the time limit for the half ironman I had signed up for in early June of 2013 (time limit being 1 hour 10 minutes).

The Running Part
During the same time I was trying to learn to swim, I was also trying to learn to run.  I went to go see Anna who spent hours with me trying to find my first pair of running shoes.  She was also a saint.  Not only dealing with Steve on a daily basis, but also for taking the time I needed to find a pair of shoes that worked.  She was also so supportive of my crazy ambitions, and since at the time she was the fiancé to one of the coworkers at Emery's bike shop (where I help out at in Milwaukee), I was able to abuse her husband-to-be with questions I had for her.  Oh and she also did the Ironman Wisconsin last year.
The Biking Part
Since this is a triathlon there is also the question of the bike.  Now my bike, an awesome Trek Speed Concept, is the source of much ridicule among the folks at Emery's.  Not because a 'fat guy' was buying a bike designed to go freakin' fast (Jimmy John's has nothing on these bikes), but because when I got the bike I decided the white tape and white cable housing that came on the bike just did not trip the trigger for me.  I wanted to go with Neon Green to match the accent color on the bike.  Well I did really good with the vast majority of it, however there is 6 inches of cable housing that is 4 feet away from all other cable housing on the bike that is a slightly different shade of green.  Whenever I have any issue with the bike the first response is "Well you know what your problem is, it's that mismatched cable housing".  Even when I have issues with one of my other bikes, the problem is the cable housing on my tri bike.
Just because I can ride bikes and I used to race mountain bikes doesn't mean I was ready to ride a tri bike.  Tri bikes are designed for pure unadulterated speed, and to get that speed means you are suppose to lay out in what is called the Aero position.  Instead of  normal handle bars these bikes have aero bars which allow you to basically put your elbows on what would be the normal location of the center of the bars of a road bike and have your forearms out over the front wheel, each hand about 3 inches off center which makes them inherently twitchy.  The first time a person rides a tri bike, they are immediately feel like they are back to 5 years old learning to ride a bike for the first time.  The slightest twitch of the arm and the bike may move over 3 feet.  Once you get past that, these things are wicked fun to ride.
Half Crazy – The Beginning
So I had mentioned the half Ironman, I signed up for that to occur 6 months after my great declaration.  That was the infamous Ironman 70.3 in Kansas.  If anyone doesn't know why it was infamous, just let me know.  Shelly has a really great story detailing the day.  Well one of the things that is recommended before doing a half or full ironman is to do a shorter distance event first.  So I found a Tri Tri in  Edwardsville IL, I thought this will be great a 300 yard pool swim, followed by a 20 mile bike with a 4 mile run.  I started that day thinking "I got this".  Well I learned the first rule of races that day (RACE YOUR OWN RACE).  During the swim I swam the first 50 yards WAY to hard, by 100 yards I was struggling to stay afloat, by 200 yards my swim stroke looked worse than the first day I started with Jennifer (Shelly has it on video, to be used as an example of what not to do).  By the end of the 300 yard swim I was just happy that the life guards didn't dive in to drag my floundering body out of the pool.  I must have looked horrendous because all Shelly could think of, was to remind me at least the bike was next.  Well that was my savior.  I got on the bike thinking CALM DOWN, take it easy go slow, well that lasted about 1 mile.  If anyone knows me they know my place is on the bike.  I got on the bike and I was in my happy place.  After 1 mile, I felt like taking it easy now sucks and I cranked up my bike and it was glorious.  I finished the day with the 4 mile "Run."  Now my plan was to walk the majority of it, but I was happy to learn I actually ran about 1/3 of it.  Because of my swim and run I finished towards the back, but this was my first race and I was excited.  During the race I even had a cheering section, when Dave, Nick, Sim, and Kiera joined Shelly (in the rain no less) to cheer me on out of T2 and into the run.
So I got my first race done and I was preparing for my half ironman event in Kansas.   I was training and losing weight and I was feeling great, but the thought of Kansas brought up a new concern and again it was the swim.  No not swimming too fast, I learned that lesson and I promised myself not to do that again.  This was an OWS (Open Water Swim).  Now 99% of the people who do OWS, will say the last place you want to do your first OWS was in a race, and I was concerned about this.  Well Shelly to the rescue again.  She found a place just north west of St. Louis that has OWS swims every Saturday morning in May and June.  So the first weekend in May I get ready to do one.  I had to break out the wet suit that I bought in the previous October, and when I bought it I bought a size I could not try on because at the time I weighed way too much to fit in it.  Well it took some effort in putting it on for the first time and a little bit of contortionist activities to get it zipped up, but I was ready.  I get to the lake and I walk in, I have listened to Brent (Owner of Emery's) and I got into the water pulled the neck of the wet suit out and let the frigid water into the wet suit.  No this is not a torture act but actually serves some good purposes.  The water you let in will warm quickly from your body heat and will keep you warmer in the water, and also the water acts as a lubricant and the tight constricting pile of neoprene will move around and all of a sudden you can breathe and move.  So I am in the lake and ready to start, and I start swimming just like I do in the pool, but it was NOTHING like the pool, I couldn't see my hand in front of my face and I couldn't handle it.  I swam the first lap (.62 miles) with my head out of the water because I could not figure out how to swim.  Thankfully this OWS session Shelly found caters to getting people over these OWS freak-outs.  I stopped after one lap and talked to one of the swim crew.  As expected, this is the exact scenario that almost everyone has in their first open water swim.  Her suggestion to me was to focus on swimming drills instead of the actual act of swimming.  I tried it and I was ecstatic that I was able to swim normally for the full second lap.  2 weeks later, I did another OWS and was happy to see that I could do the 1.2 mile OWS in 55 minutes.
2 Weeks later was my first attempt at Ironman 70.3 Kansas.  Again, I cannot do this day justice compared to what Shelly had written up, so if anyone hasn't heard this entertaining story just let me know and I can forward it.  Needless to say that day was not the results expected with my first and hopefully only DNF.
Half Crazy – Second attempt
After Kansas I needed retribution on the triathlon gods.  I signed up for both the Pewaukee Olympic distance triathlon (.9 Mile Swim, 25 mile Ride, 6.2 mile run) and another Ironman 70.3 (Steelhead) this one in Lake Michigan at Benton Harbor Michigan.  Pewaukee went great, and Steelhead was a rousing success!  Shelly also has a great story for Ironman Steelhead.  Apparently 'Iron Sherpas' (i.e., the official cheering sections) have a lot of time on their hands to make up stories to describe race day.
The First Step Toward Full Crazy
At this point I was back at Ironman Wisconsin 2013.  One year after my epiphany of this task, I was down 60 lbs and I could run and swim and of course bike.  I had signed up as a volunteer for this so that I was guaranteed an opportunity to sign up for a spot for 2014.  Even though this is considered one of the hardest Ironman Events (5 years ago it was the second hardest in the world based on average finishing times) it historically sells out in minutes.  The volunteering was intoxicating.  I was working the runners special needs bag area (no this is not implying that all people doing this are short bus special, although a strong argument can be made for that).  I got to see and interact with people that were 13.1 miles away from achieving a task that was only a dream a year previous.  The following day I stood in line outside of the Monona Terrace at 7 a.m. to sign up for IM WI 2014.  I paid my fees and started myself on this journey.
Shortly after this pivotal moment, I was surfing the forum sites and came across one poster who made the comment "Any who can't swim 100 yards in under 2 minutes has no right being in the water", now this struck me as odd, because the Ironman Cut off times assumes a 3 minute 18 second 100 yard time.  At this point in time I was averaging 2 minutes 20 second 100's.  Now I took this off handed comment as a slap to the face, because I was astonished by the comment.  How can I get faster if I should not be allowed in the water?  Well I continued to work on my swim.  Finally after another 5 months of training, I hit that magic number on a 30 minute swim.  I did 1500 yards in 30 minutes.  I wanted to say @#$@# to that person but by that point those comments were more motivational to me, so why can I be mad anymore.
During this same period of working on my swim, I also made great strides in my running.  Now I am nowhere near a speed demon while running, but I have improved my run durations.  What I used to see as a long run, a 5.7 mile run that I can do from my condo, to  Pewaukee lake, around the park and back home, I now considered my quick lunch time run.  I also convinced Shelly that doing the Go St. Louis Marathon was a good idea.  She only partially agreed with me, so she only did the half marathon.  But I was convinced I needed to do a full marathon, because there is no feeling like what your body does to you between mile 16 and 20 on a marathon.
Now we are into early January of 2014 and I am looking at the calendar and the realization hit me.  I have 9 months to this day.  I am close to the weight I want to be at, but I don't think I am anywhere close to where I need to be physically, and more importantly mentally for completing the Ironman.  I have talked to many people that have completed an Ironman and they all have said the physical strength to complete this is less than 40% of the total needs to complete.  Mental and Nutritional aspects play a bigger role than physical needs when it comes to completing this.  There are times during this day that you will just want to throw in the towel and say I GIVE, but you have to tell yourself to HTFU and get past it.  And yes HTFU is a technical term used widely.  At this point I remembered back a year to when I was able to go to a masters swim class at the Y.  It was a great class and taught by an excellent coach, who also happens to be a physical training coach.  So on an early Tuesday morning I got up early and went to the Y to track down this Masters Swim Class coach.  I got his contact information and started one of the most productive relationships of this quest.
I started working with Coach Dwight Sandvold (262-719-7893) at FAST Fitness Sports and Training.  Now I had already had a Ironman training plan so I didn't need a full coaching suite of services.  What I needed was someone to go over my questions and concerns about the mental and nutritional aspects of the race.  I soon found out that he was worth every second of his time.  My first time I met with him was 2 weeks prior to the St. Louis Go Marathon.  We talked about what I am doing and what I plan on doing and what my concerns are.  It was most definitely a fruitful relationship.  He introduced me to the wonders of ECAPS (salt tablets…although I think Shelly's idea may work better, instead of salt tablets, just run to Fleet Farm and get a salt lick to mount to your aero bars, more than enough for the race).  He also helped me calculate how many calories I need to take in for a race and I discovered I was severely mal-nourished (at least during the race).
Marathon Time
April 6th comes around and it was time for the Marathon.  I had calculated the speed I want to run for the finish time I was hoping for.  Well I guess I didn't extrapolate my swimming failures from the Tri Tri to the run.  I went out on the run and ran the first 13 miles at a pace that was 45 seconds per mile faster than my pace time.  I was thinking this is great I will do awesome, and then I hit the wall.  I got into Forest Park and there was an uphill wall.  For the entire 13 miles prior to this I took 0 Gels, 0 Ecaps, and 1 cup of water (this race was BEFORE Coach Dwight talked to me about those so this was all on me).  I completed the first 13 miles in just over 2 hours the second 13 miles was just under 3 hours.  I completely fell apart.  But I finished and I learned from it… and to me, that is all that matters.  Shelly did a much better job and finished her half marathon faster than she expected.  But she ran her plan.
Full Crazy Training
After the marathon, my Ironman training plan started kicking in and that is when it really got real for me.  I started dealing with weeks of training that consist of 12 – 18 hrs of exercise.  My life started revolving around training, my weekends were dedicated to it.  I abused my mother consistently by having her watch Ryan and Allie every Wednesday night so that I could get my training in.  People at work knew that during my lunch hours I was nowhere to be found since I was either swimming, biking and running.  In fact most days I would get back from lunch and Trisha would ping me with her guess of what my activity of the day was.
It then came time for tune up my OWS again and I went to the same lake Shelly found last year and did a couple of OWS sessions.  But this time I decided I was going to do the entire 2.4 miles that I will need to do the Ironman.  I wanted to make sure I would have no issues with the 2 hr 20 minute time limit.  Well I swam the 2.4 miles in 1.5 hrs and I was ecstatic.  I can do the swim without concerns of the clock.  Plus with the additional weight that I have lost, I was able to get my wetsuit on without as many issues as I did the year before.
Before I knew it I was back at the Kansas Ironman 70.3 event.  This is the same one that I had a major bike self-destruction and a DNF so I needed to have a solid event at this course.  I started out with a good swim (about 6 minutes faster than the year before).  I got on the bike and after making it past the point I did the year before (which was only about 1/2 mile into the course) I let the bike go and I had fun.  I was practicing the nutrition and hydration strategies that Coach Dwight and I came up with.  I had my bottles setup on my bike so that I could have water or Perform whenever I needed it, and gel packs every 10 miles.  I was having a blast on the bike and talking to people on the course.  I completed the bike ride and I went for the run.  2 hrs after starting the run I was done.  I had conquered the course that tried to suck the will to live out of me the year before.
Now the rest of the summer was almost completely dedicated to training until we get to the last full week of July.  It was a recovery week for me, so what do I do but the annual pilgrimage from the western border of Iowa to the Mississippi river.  Shelly and I looked at this week going "it should be ok…it's one of the flattest and shortest RAGBRAI's …this will be good".  Well someone on the ride really p'd off Mother Nature, because there was no rest for us.  The first 2 days were 10 to 15 mph headwinds out of the south and east, which was exactly the direction we were going.  On the third day we were to head north and were excited it would be a tail wind day… WRONG… all of our prayers from the previous 2 days to have the wind from the other direction were finally answered and added to, the wind that day was 30 mph out of the north.  It is truly an interesting day when we were fighting to go 8 mph on road bikes DOWN HILL.  It continued like that for the rest of the week until the last day when we actually had little wind but now 2 large hills.  The final day was also a strange twist of cosmic comic relief.  As we were about 8 miles out of the end town we see someone on the side of the road with a derailleur that had broken off.  Knowing how this felt when it happened to me in Kansas, I debated with myself and told Shelly to go on while I try to help out this stranger.  Luckily since my mishap in Kansas I kept a chain tool on my road bike.  Me and another helpful stranger took about 15 minutes to get this guy back on the road.  At times, free good will feels good.
When we got back from RAGBRAI my training schedule really kicked up.  This was scheduled to be the hardest 3 weeks in my calendar and it was long days of training.  I was out riding the Ironman Madison Bike course twice so I was able to learn the course, and test my nutrition plan repeatedly.  Also with the increase in my training schedule I had a new problem with my weight loss plans.  I had hit my goal and I needed to stabilize, but I couldn't stop losing weight.   What a strange problem to have.
Now it comes to today when I finished this part of my journey but hopefully this is just a stepping stone to more things in the future.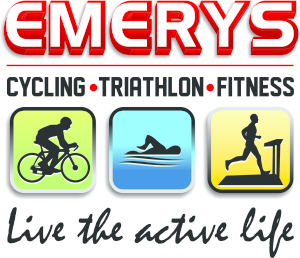 Emerys Cycle Triathlon Fitness Fast Fitness and Training (262) 719-7893

Published October 2014