Summer Vacation at Keystone
by John Schneider
My kids and wife never experienced the mountains before so I was anxious to show them the beauty and fun that they hold.  Can you imagine living in the United States and never spending time in the mountains?  Well, just like Clark Griswold did years ago in the National Lampoon's Vacation movie, I packed everyone up in the SUV and drove 1,000-Plus miles for our summer family vacation.  We did not go to "Walley World" (Disney) like the Griswolds; we headed west to the Colorado Rockies.
Our vacation "home" was based in River Run Village, right in the middle of Keystone Resort.  From this convenient central location, our family of four had time to take in almost everything that the mountains had to offer.  Grace (10) and Mya (7) are used to vacations that focus on beaches or pools so this was going to be different trip.  The mountains are certainly not the same as the beach.  They offered a completely new set of active experiences which gave the whole family many great memories that will last forever.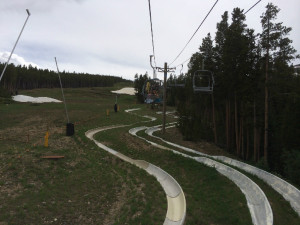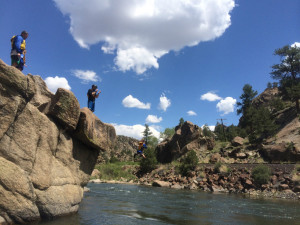 During our stay at Keystone Resort we went horseback riding, snow tubing, hiking, rafting, zip lining, gold panning, and alpine sliding.  There is so much to do in Keystone or within a short drive that you have to consciously make time to relax.  Otherwise once you get home you will need a vacation from your vacation.
We had an opportunity to take a 2-hour horseback trail ride through the White River National Forest.  Ella and Brian were our "wranglers" from Keystone Resort. They put us all on horses that were appropriate for each of our sizes and off we went.  This was the first experience that Grace and Mya had riding unguided horses besides their occasional pony rides at the fair. They handled "Dusty" and "Jefferson" with ease (much better that I handled "Nip" and Lynn handled "Poncho").  Mom was pleased that her horse was "besties" with the girl's horses so that they stayed close together without getting feisty.  This was a wonderful way to enjoy the beautiful scenery and get away from everything.
Back home in Wisconsin the previous winter had been brutal with over 30 days of temperatures hitting zero or below.  The thought of having fun in snow was not anywhere in our minds for this summer vacation.  However, in July Keystone still had some snow on the upper portions of the mountain.  This allowed us the ability to go snow tubing – yes, snow tubing in July.  It was roughly 60 degrees, but we all were flying down the mountain on inflatable tubes.  This was an absolute thrill for kids and parents alike.  After a quick ride up the chair lift we got to the tubing runs.  There, we were able to take 10 runs each within an hour due to short wait times during our visit. At Keystone there is no need to worry about walking back up the hill pulling your tube behind you because they have a relaxing magic carpet ride waiting to take you to your next run.  While you can go single or together (holding on the each other's tubes), the kids agreed that group runs were the biggest blast.  This is an activity that brings out the kid in anyone.
.
.
Like most of the skiing resorts, Keystone does offer mountain biking in the summer months.  Our family did not take in that activity, but we saw many happy faces from kids and adults alike.  There are over 100 miles of trails available to bike adventure seekers. Keystone has become known as the destination for extreme mountain bikers in the Rockies.  Their on-mountain trails have elevated bridges, platforms, teeter-totters, jumps and drops.  And while these attract experts and extreme-sports types, there are more tame pathways for beginners as well.
Given that it is almost illegal to not take the kids swimming while on vacation, Grace and Mya took an afternoon off from mountain activities to ensure the condo pool was properly broken in.  While the kids needed swimming, I needed golfing.  So, with happy girls splashing in the pool, I took that opportunity to fill a tee time at the Keystone Resort golf course.  My buddy George happened to be in Colorado on a separate vacation so we met up at The River Course at Keystone.  Golfing in the mountains was as beautiful as it was fun.  First Light Sports article "Golf at 9,300 Feet; The River Course at Keystone"  covers that experience with some excellent scenic golf photos.
No summer trip to the mountains would be complete without going white water rafting.  Working with Jenna at Good Times Rafting our family booked a half day trip through Brown's Canyon on the Arkansas River.  We were in a raft that Andy expertly guided through the multiple rapids and we had a thrilling time.  Andy made sure that the kids were safe, but also ensured that we got wet and experienced the rapids the river had to offer.  Each of the girls and I also participated the river runner's tradition of jumping off a 25 foot rock platform into the icy water.  Good Times Rafting has many different options for thrill seekers and scenic floaters too.  Our family, being complete rookies, took in the intermediate experience. They offer trips for beginners to advanced rafters.
After rafting we traveled over to Vail and rode the Eagle Bahn Gondola in Lionshead up to Adventure Ridge activity center.  Being on top of the mountain, I was able to point out my favorite ski runs to the kids.  The girls, who are brand new Wisconsin skiers, were shocked that people ski down runs this big and long (at home we have runs with vertical drops of only a couple hundred feet).  The true excitement happened when we zip-lined down part of the mountain, flying high over runs that I skied many times in winter.  What a blast it is being 50 feet above the ground while soaring through the sky!
Breckenridge resort offers a family fun park that is basically a theme park on the mountain.  At the park you can purchase a ticket to get unlimited theme park type activities.  The family favorites were the Gold Runner Coaster (a roller coaster that careens and races down the mountain on rails) and the Alpine Superslide (bobsliding down the mountain on a small cart).  The kids reached the top of the Rock Climbing Wall and had a great time on the Superbungee Trampoline.  Besides the thrill adventures, you can go for hikes, run through the maze, putt around on the mini golf course, and jump in the bounce house.
Within a short beautiful drive from Keystone to Glenwood Canyon we also took a hike up to Hanging Lake.  This is a 1.2 mile hike that takes you 1,100 feet up to a lake that is fed from water coming out of Spouting Rock, a flow from the middle of a mountain wall.  This beautiful trek will keep your heart pumping.  After our hike we went over to Glenwood Springs to take in the hot springs pools, the hot mineral infused water felt great.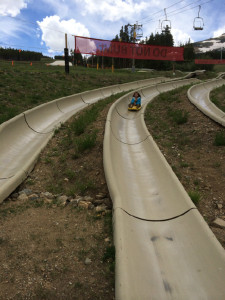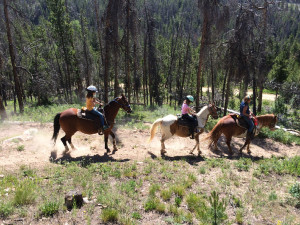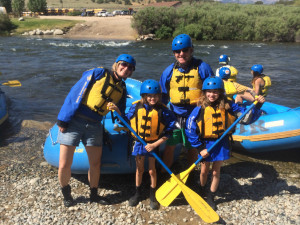 In Idaho Springs we stopped at the Argo Gold Mine for a gold mine tour and to test our luck at gold mining – unfortunately we did not find the 10 pound gold chunk that I was hoping for.
Our family vacation in the mountains was a complete success.  Both kids and parents alike had fun playing in the mountains and taking in the beauty.  This is a trip that will forever be in our memories and was well worth the planning and drive.

Published September 2014