Tucked away quietly high in the Colorado Rockies is Camp Hale, the historic site of the WW II home training base for the famed 10th Army division.  Long retired from military service, Camp Hale now functions as the base of operations for Nova Guides snowmobile outfitters.  Nova Guides is the premier provider of snowmobiling services throughout the White Forest regions of Colorado.  They offer guided tours for a variety of skill and adventure levels as well as unguided snowmobile rentals.  On the afternoon we arrived a wispy gray vapor of inversion hung over the dish shaped basin promising snow and adventure.
Our snowmobile adventure started when I and my group of three other Wisconsinites were picked up by van at our rental condo in East Vail.  We had arrived at the condo just scant minutes earlier by way of Denver's airport, a grocery store, Apple Jacks liquor store, and some stutteringly slow traffic.  When the van from Nova Guides arrived at our doorstep we jumped in and sat back, enjoying the chauffeur service. Before leaving the Vail area our driver Colin stopped at one of Vail's newer on-mountain condos to pick up a family from Switzerland.  Dad (Phillipe), his wife, 14-year old son, and 16-year old daughter would all be accompanying us in a day in the high country.  The sky was a steely gray and snow had been falling for some time already.  The road surface snow covered and was I was glad that someone else was behind the wheel piloting the 45 minute drive to Camp Hale.
The newly built Nova Guide facility has a warm and comfortable feel inside and out.  Its log cabin construction seems naturally attuned to the surrounding pine forest and lofty mountain peaks.  Inside we took care of our logistics which included the standard liability and risk acceptance paperwork that one had grown to expect in America.  But the staff made everything seemed to make everything smooth, easy and manageable.  We chose to utilize the one-piece suits that Nova provided, but noticed that our Swedish friends had come in their ski garb.  Helmets are required and we were offered a selection of styles and sizes.  If you wear a helmet and goggles for skiing, it would be a good idea to bring those along for ease and comfort.  Booted, helmeted, gloved, goggled, and suited, we were now ready for the first phase of our actual snowmobiling activities.  Outside to the sleds!!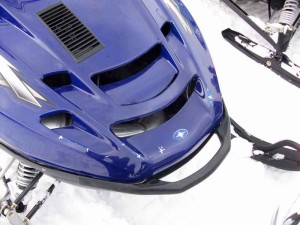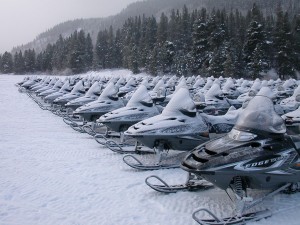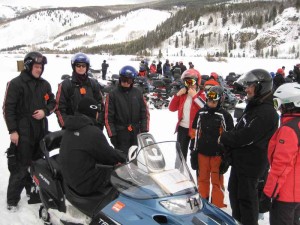 There was a hush over the flat bottomed valley of Camp Hale when we stepped out the door of the building. The bracing 24-degree temperature felt good to us; bundled up in thermal attire our internal furnaces had begun to roast us.  Just outside the door, parked in-line like locomotive engines sat the snowmobiles that we would be riding.  The Polaris 550 sleds were silent and cold, but seemed to be anxiously anticipating the rush to life.   Our driver-turned-guide, Colin, oriented us to the sleds.  He showed us how to perform all the basic mechanical functions and then gave us lessons on hand signals for the ride.  While safety was the first order of business, he certainly wanted all of us to have a fun day of speed and adventure.  "Above all," Colin told us, "follow my instructions and go only where I tell you it's safe."  This sound advice would regrettably be squelched by an adrenaline rush within a few hours.
I pulled the Run-Stop plunger out to the run position and pushed the start button on my Polaris.  As the engine jumped to life I feathered the thumb throttle feeling the powerful engine revving.  The sum total of my snowmobile three-time riding experience took place in Colorado.  But I had not been on a snow machine for several years.  I was excited for the day's adventure but also had a low dose of nervousness accompanying me; a good recipe for staying alert and having fun.
All the engines were running and Colin took off like a bolt across the snowy valley floor.  Each of us revved our throttles and our sleds jumped to life like a thoroughbred out of the gates at Churchill Downs.   Although the 550s are not Nova Guides highest power machines they pack a punch when there's only one rider.  Seemingly without effort we were speeding at 35 miles-per-hour down the pathway across the flats.  I was instantaneously glad that I had pre-warmed the sled's heated hand grips.  Even with the falling snow and cloudy sky my hands were toasty warm and comfortable.  Navigating across the valley floor on a wide but bumpy trail we started to gently climb.  Colin signaled a stop and we pulled in behind his sled.  He checked with each of us to see that our machines were operating properly and that we could all control ourselves.  Our little wagon train of seven snowmobiles was locked and loaded for the day.  Colin sped off up the trail disappearing quickly in the falling snow.
I, like many drivers, am a bit of a control freak when it comes to driving or riding.  Sports cars and motorcycles have been a part of my driving spectrum for many years.  Though snowmobile handling has similarities to cycling, there are clearly some differences.  The main thing to know about handing a snowmobile does not bank or tilt like a motorcycle, it stays mostly flat through turns.  A cautionary tale indicates that the darn things will flip over to the outside radius if you try to turn too fast or don't shift your weight properly.  So you've really got to get your weight down and into the inside of the turn and off the outside.  The learning curve is pretty quick and with some pointers from Colin we were all speeding along and negotiating serpentine turns with acceptable accuracy, although perhaps not beautifully.  Watching Colin effortlessly operate his sled provided some style pointers which were helpful too.
As we climbed to higher elevations we ascended in and out of the cloud layer which was delivering more and more perfect powder snow.  High on a lonely peak we could see what looked like a small weather information station.  Colin stopped us for a moment and told us to follow him carefully up the long steep slope.  He advised us to follow directly in his path and to stay on the throttle all the way up.  At that point it became crystal clear that this was wild country and we were directly responsible for our own safely and fun.  There were no guard rails, traffic signals, or French restaurants anywhere nearby.   What from a distance had appeared to be a steep slope seemed nearly vertical when ascending to the peak.  I kept steady thumb pressure on the throttle and looked forward past the nose of my sled as it climbed seemingly into the snowy sky.  At the peak we took a moment to stop our machines and look around.  The view was awesome!  Quickly moving clouds overhead were delivering fresh snow and wispy clusters of vapor below invited images of cotton candy adrift in the breeze.   Mountains surrounded us and we could feel the very heartbeat of the Colorado Rockies. We made our way down the same slope that we had previously ascended.  Nose-down subtly feathering our brakes we descended in line and returned to the path.
Zooming along the trial following our guide, I had no real idea where we might be.  We had arrived at our starting point at Camp Hale by a lengthy van ride starting west from Vail.  An oddly familiar feeling crept up on me as we reached a turnaround point high on the path.  We had approached the Vail Pass rest stop on Hwy-70 which was several miles east of our condo in the town of Vail itself.  I was extremely glad to have an experienced guide to lead us through the beautiful but confounding pathways.  In addition to driving past this point earlier that same day, I had hiked the Shrine Ridge trail from a trail head there only just the previous summer.  Summer there at nearly 11,000 feet of elevation was wonderful, winter was enchanted.
Back on the trail Colin had brought us to a somewhat protected open glade. Long but narrow it opened before us with almost a foot of fresh power snow on the flat.  It was bordered on the right by a high mountain precipice called Machine-Gun Ridge and on the left by an open hollow punctuated by pine and spruce trees.  During WW II the US Army's famous 10th Mountain Division used this area for live-fire exercises and maneuvers.  At least this day we wouldn't be dodging .50 caliber armor-piercing bullets.  Colin stopped his sled in the middle of the glade, gathered us around and told us that this could be our "park time".  He pointed out an elliptical route that we could race around, push our limits a bit, and still be safe with our sleds.  He warned us to stay within the bounds of the ellipse.  For some reason in my head I heard the words of Glenda the good witch of Wizard of Oz fame saying "Remember, stay on the yellow brick road."  This was perhaps good advice, although nearly immediately ignored.  The falling snow had made a wonderful fluffy cushion of powder for us to literally float our sleds through.  Our speed even in the straight-away sections was only moderate due to the depth of the snow; but so fun. And the turns seemed to creep a bit wider and wider with each lap. That's when I heard the yelling start.  "No!  Don't go there…" Colin had advised us all. But one of my friends had swung quite far to the right on the back-stretch approaching the lower section near the pine trees.  I watched helpless as he transformed his machine from a sled, to a boat, and finally to a submarine.  Yet another movie reference: imagine mechanical horns sounding followed by a commanding voice "Dive, dive, dive…" After disappearing completely into four feet of powder my friend surfaced, but the snowmobile was nowhere to be seen.
Thus began the great hike to his aid and the extraction of his machine.  In addition to being sunken, the sled had come to a rest tipped-over on its side, not on its skis.  It took two of our guys plus Colin to dig out and right the sled.  Eventually after much time and effort Colin was able to pilot the machine out while the other two lifted, pushed, and pulled. Did I mention earlier that it was a good idea to have a professional guide on an adventure like this?
The ride back to Camp Hale was particularly fun.  Since we departed on our tour a snow cat had been busy manicuring the trail to a smooth corduroyed surface.  It was like riding in a fast boat on a calm still lake.  On our earlier passage of this portion of the trail we managed a neck bobbing staccato 35-mph.  Now, with the surface smoothed out we were easily reaching speeds at or above 50-mph. It was an amazing feeling to eat up the snow at that pace.  Speeding forward, individual pines surrendered their detail and combined into panoramic impressionist blurs.  We arrived back at Nova Guide home both tired and exhilarated.
If you find yourself in the Vail area during winter, I highly recommend a day snowmobiling in the high country.  Be sure to get hire one of the expert and experienced guides from Nova Guides to make your day successful.
A word about Nova Guides…
Nova Guides provides year round, full service, outdoor recreation activities.  During the snowy winter months they guide and rent snowmobiles, and also have excursions in their scenic snow coach.  During the summer they host a variety of whitewater rafting, and backwoods Jeep tours in the area.  This part of Colorado is also famous for its many gold medal trout streams.  Nova Guides has expert fly fishing guides to help visiting fishermen (and fisherwomen!) catch and land several species of trout.  They also have some very cool cabins in the Camp Hale basin for rent.  Check them out, these are good folks.

Published March 2010