Mardi Gras otherwise known as Fat Tuesday is the high water mark of the calendar for partying, fun, and gaudy beads. While many may think New Orleans is the optimal place and holy ground to celebrate this pseudo-pagan holiday, I chose a higher ground, literally. Beaver Creek (BC) ski resort is over 2 miles higher in elevation, 11,440 ft. at its peak to be exact, than the Big Easy and is just a few short miles west of Vail Colorado. On my day skiing this elegant mountain I couldn't imagine a better time anywhere in world.
Never one to miss a trick, there were plenty of kitschy beads being handed out at the ticket counters and lift lines throughout the resort by the BC staffers. The normal N'Orlens "price" for these plastic one-day-treasures was not in play here in the 20 degree weather with everyone bundled up, but the BC folks did their best to make it a fun day for everyone. The sun was shining and the wind was subdued on a day when the sapphire blue Colorado sky called "come and play."
My friend Joe who had been a skier for many years decided that this year he would make the switch and take up boarding. On the previous day he had taken a full-day lesson from the ski school at Vail, but this day he was signed up for a lesson at BC. (More on Joe's day later) I drove the sinuous and scenic road from the town of Avon up to Beaver Creek village, dropped him off and headed back down to the East Lot to park my car. Our small group of guys met there and picked up the free shuttle back up to BC. We were politely deposited into a newly-built modern reproduction of a cozy old-world European village. Shops and restaurants nestled in curving pedestrian thoroughfares and a large open town-square with a skating rink combine to define this quaint village's unique aura. Certainly not a place of Spartan hardship, there are electric escalators which lift skiers from the town-square level up to the elevation of the first chair lift. There is also a powered moving-walkway over the bridge between the Centennial Lift and the Strawberry Park for skiers who don't want to trudge or ski/skate from lift to lift. It seemed strange and excessive at first to have these luxuries, but after a while they seemed to be emblematic of the premiere treatment BC heaps on its patrons. Fat Tuesday, indeed!
Beaver Creek is superb in its chic pedigree, layout, great amenities, and its meticulous grooming. BC may be considered Vail's little sister, but don't sell her short. She's got a lot to offer in terms of style and panache that you won't find anywhere else, she's a world class act. There's an approachable mountain for all levels of skiers offering widely varied terrain with broad picturesque vistas, plus an upscale lifestyle in-and-around the BC village which provides a colorful backdrop for dining, shopping, and nightlife. Check out the fabulous houses around BC village and in the Bachelor Gulch area, but out of politeness follow the old rule: If you have to ask how much it costs, you don't have enough.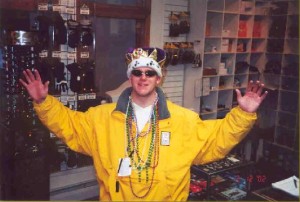 I headed up the Centennial lift with my brother-in-law, Chuck, and we began to ski the mountain. Even though there's a lot of ground to cover (1,625 acres) there are plenty of lifts and on this mid-week day lift lines took no more than a few minutes, some with virtually no lift line at all. A blue-then-black run called Harrier skied hard and icy in the morning's shade, so we sought sunnier runs and found some fun snow serviced by the Larkspur lift. Although this lift is a non-accelerated 2-man lift it took us up to newly corduroyed blue runs called Yarrow, Larkspur, Lupine, and a black run called Loco. The BC grooming vehicles put on a tour de force on Yarrow as we rode up, ten big cats were grooming in parade fashion down the run, softening and widening as they slowly churned down the mountain. Although Colorado is the snow capitol of the country, this year's mid-winter harvest of the white stuff was not excessive. I'm totally in favor of 6 inches of nightly snow (every night, please) for days of comfortable ego skiing, but without Mother Nature's cooperation machinery is an acceptable substitute.
After a while we just let ourselves get lost on the mountain following our skis wherever they chose to lead, ending up at noon for lunch at the Spruce Saddle. "The Saddle" is the key meeting place mid-mountain, which offers food, warmth, and a place to revive tired bodies. With ham sandwiches (smooshed and deformed from our pockets) in hand and a hot cocoa from the cafeteria style restaurant we enjoyed our lunch with the company of some newly found friends. We met a 50+ year old couple from Germany, some folks from the New York, and a couple sisters from Denver. Everybody was from different walks of life and locations but we had a great conversation and enjoyed a moment of dynamic camaraderie. Some lighthearted bead trading took place and I ended up leaving the Spruce Saddle several strands lighter than when I entered, such is the price of a gregarious personality.
After lunch I split off from Chuck and met up with John (my photographer) and Neil (aka Papa) for his recent penchant for older women) to run more of the mountain. "Where's Joe?" you ask? we'll find him later, I promise. The two of us skied (Neil boarded) the runs serviced by the Centennial and Westfall lifts for a while. After that we took the motorized-walkway (we were getting into the BC frame of mind) over the bridge to the Strawberry Park lift. The lift was virtually deserted! Zero wait time! We skied and enjoyed the open cruising runs of Pitchfork and Stacker utilizing a Top-Gun attack motif. A misguided snow-spraying contest on Pitchfork left us all covered in white as we neared the end of our day.
The plan was to meet for après-ski at a place called the Rendezvous at the base of the Centennial lift for drinks. That's the place where "the world" meets after skiing BC, and adventurers from all points of the globe gather to revel in their victories, lick their wounds, and order drinks. The mountain at the end of the day still looks inviting, but all the scenery looks great from this vantage point. Truly, after a couple of hot cocoas (with peppermint schnapps, of course), and watching the sun of a beautiful Colorado day waning its way west-and-down, all was right with the world.
One-by-one we met at a patio table until all five of us were together. We hadn't seen Joe since the early hours of the morning, he had had an exceptional day! His full-day snowboard lesson had started out with six people, but attrition due to tiredness, injury, and frustration had left him the sole student for part of the afternoon. His instructor had taken him to the boarder's half-pipe park and worked with him one-on-one, a rare opportunity. Although his feet were aching (and most other paces as well) he had a great time with a phenomenal instructor.
Bedecked with beads and warmed by the day's activity, Mardi Gras at Beaver Creek seemed so totally appropriate. Of co urse, any day on the mountain is a pretty good day. So if you're celebrating Valentine's Day, President's Day, St. Patrick's Day, or even your great-aunt Toula's birthday get out on the mountain. If you can't think of something, don't worry, you don't need a special day, just go.

Published April 2002