Nike Jordan Golf Shoes – Waste of Money, Time, and Respect
Nike came out with Jordan ADG 2 golf shoes. Who could go wrong with Jordan golf shoes? Me, I guess.
I purchased these shoes in late fall 2020, but because I live in Wisconsin and there is no golf in winter I started using them around May 2021. At first they felt and performed great, I've owned plenty of Nike's before and these seemed like the quality that I and everyone else have come to expect from the Nike brand. The feel and comfort of this pair was exactly what I would expect given the $150 list price and Nike's / Nike Jordan's long reputation. As an avid golfer I play a lot of rounds and have several golf shoes in my normal wear rotation. I'm guessing I had 20-25 rounds in with the Nike Jordans by the time Spring of 2022 came around. It was then that I experienced a lot of moisture when golfing in the morning dew, a common aspect of any morning golf outings. Upon inspection I found that that toe tip that seals the sole to the upper part of the shoe has pealed away. This happened with just the left shoe; the right one was fine. There were no other signs of wear on the shoes and I have never had any of my multiple other golf shoes have this occur.
Being surprised, I looked up the Nike warranty and found that they warranty shoes for 2 years. Feeling like this was an easy situation I called them (1-800-344-6459) and that is where my real frustration started. I purchased these shoes from my golf course pro shop in October 2020 (even had the receipt) and figured since I started my discussions with Nike in July 2022 I was good to go and happy that I did not ignore the issue longer (they sat in my garage unused for a couple months already). With a Nike representative on the line I discussed the issue and showed multiple pictures. Nike politely explained that the warranty was 2 years from the shoes manufacturing date. Did you know that Nike shoes have a "born on" manufacturing date? I did not; and they showed me on the inside label deep into the shoe where I can find it. It was then I learned that the shoes that I purchased in October 2020 were manufactured in December 2019. So according to Nike, at purchase time the shoes were already 11 months old into a 24 month warranty. Ouch? Really…? With that Nike told me that since the failed shoe was older than 2 years they would not cover the issue. In detail I explained that I purchased these shoes a year after they were manufactured and they just sat in shipping, warehouses, and store shelved in that time. Pursuing the issues further, at my own expense, I mailed the shoes to Nike to show that it was just one shoe that must have had the glue or whatever give way. NOPE. NOPE. NOPE… Nike would have none of it. The date was the date and they would not stand behind their product any further.
Nike is not going to stand behind their product due to a delay of the eventual sale of the shoes. As you can guess, I am not pleased with Nike's decision and this extremely poor lack of customer commitment will make me think twice about purchasing a pair of their shoes again. My respect for Nike is gone and I am very disappointed.
If someone from Nike would like to discuss this further with me they are free to reach out to me. My claim number is 60723995.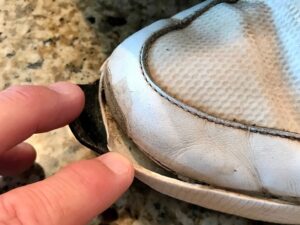 Published July 2022