Pedal with Your Heart / An Amazing Cycle Tour of Italy's Puglia Region
by George F. Karioris
The air was perfumed with a rich scent of jasmine and oleander on this hot and sunny day in southern Italy.  Breathing hard, I pedaled steeply uphill on a roadway overlooking the beautiful blue Ionian Sea.  Undaunted by a stiff headwind and the severe hill, pedal by pedal by pedal I was steadily working my way up toward the summit.  As I rounded a corner I found myself at a point where the land extended sharply like a stone spike into the sea.  The view from this high overlook exploded with a wonderful panorama of colors.  Far below, the water sparkled and shone with a thousand shades of blue ranging from iridescent turquoise to deep sapphire.  My heart rate was rapid and racing from exertion and excitement.  If I ever doubted that a cycle trip to Italy was worthwhile, this one singular moment erased any uncertainty.  There were many wonderful views and events during my cycle trip to Puglia; and this was only one moment…
PEDAL WITH YOUR HEART
There are times in everyone's lives that are memorable because of the place, time, and people fused together into a concise moment of experience.  Once that moment is set it's like fresh baked bread; the end result is amazing but the individual ingredients and processing are obscured.  The morning sky was clear when I was cycling on a rolling stretch of quiet road that overlooked the pastoral Italian countryside.  Riding next to me at that time, Giuliano looked over at my gear selection.  My front derailleur was set at the crank's large chain wheel.  Giuliano asked if he could offer me a suggestion; of course.  He advised down-shifting to the smaller crank and increasing my pedal cadence. Then he finished his thought by saying "pedal with your heart".  That brief and simple multi-edged phrase immediately stirred and inspired me; I thought about it for the rest of the cycle trip.
ITALIAN LESSONS
My wife and I started planning our June Italian cycle trip shortly after Christmas in the cold of a Wisconsin winter.  Our tour company of choice, Vermont Bicycle Tours (VBT.com) offered several different options, with lots of dates and locations within Italy.  Our summer timeframes are constricted with personal obligations and family events so it was wonderful to have so many possible combinations of travel opportunities.  Our final decision was to lock into VBT's trip to Puglia (south eastern Italy, the heel of Italy's boot). VBT rates it as easy cycling but what sold us was the peaceful atmosphere of the countryside.  We were drawn in by the historic towns, picturesque agricultural settings, and of course; the sea.  The beautiful blue sea, I love it.
We added the pre-trip (Matera) and the post-trip (Rome) tours to our cycle trip through VBT's excellent planning and travel service.  And while they were both amazing and memorable, this article is focused on the week we spent in Puglia on our bikes. Here's my one thought on pre- and post- trip options; they are definitely fun, worthwhile, and cost effective as an add-on to a base VBT trip.
On our first day in Puglia we arrived at spectacular the 5-star Masseria Torre Coccaro hotel.  This venue was originally operated as a working Masseria (a walled and fortified farm) but has now been converted into a fabulous hotel resort.  Before lunch at the gazebo overlooking the walled gardens we met our fellow cyclists and our guides.  Our VBT guides for this adventure were Edoardo and Giuliano.  Edoardo (sometimes called "Eddo") is a warm and affable Sicilian with a quick and hilarious sense of humor.  Giuliano, from Tuscany, is a bit more subtle but volleys cuts and jabs with Edoardo in a delightfully funny way.  The importance of the tour guides for a trip like this cannot be overstated.  They can make or break the entire trip.  Our two guides definitely worked diligently to ensure that each and every traveler in the group had an A+ experience.  They were continually watching for our safety when cycling on the roadways and always available with the support van for a drink or snack.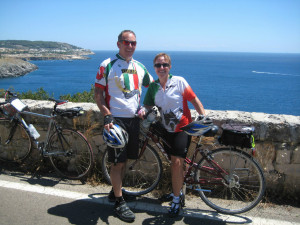 .
Edoardo and Giuliano seem to know everyone in Puglia.  Whether it's the waitress serving dinner, or the gardener at the masseria, or the woman who owns the best restaurant in town; these guys know them all.  Their effusive and very Italian personalities helped to make our tour fun.  They also know where to find the best breads, wines, meals, and perhaps most importantly the best gelato in every town and village we visited.  Our VBT week in Italy flew by in a blur of sunshine, olive groves, seashores, and laughter
EVERY OLIVE TREE IS A SCULPTURE
One of the true joys of cycling through Puglia is riding through miles and miles of olive groves.  There are over 60 million olive trees here which produce monumentally delicious olive oil from the region's many olive presses.   40% of Italy's olive oil comes from Puglia.  Olive trees grow very slowly in the Italian heat and can live well over 1,000 years.  Each tree is uniquely gnarled and twisted into exotic and rococo figures.  Edoardo's told us his grandfather in Sicily says that every olive tree is a sculpture.  It's true.  Most of our olive grove rides took us by way of very small paved roads which were not much wider than most recreation paths in the US.  Olive groves are mostly in flat or lightly rolling terrain, so our pedaling was delightfully light and rhythmic.  We rode safely with very little vehicular traffic.  When we did encounter cars or light trucks the drivers were impressively considerate to our group of cyclists.   During our week on bikes in Puglia we spent several days in and out of the beautiful olive groves.  There are seemingly endless miles of easy riding throughout Puglia painted a magnificent silvery-green with the olive leaves.
I WANT TO BE A MASSARO
The master of a masseria is called the Massaro, he is in charge of everything that happens within his fortified walls.  One day our morning ride took us to the truly splendid Masseria Frantoio where VBT had arranged for a group lunch.  We were greeted by Armondo the massaro who gave us a personal tour of his walled world.  His lush gardens included citrus, tomatoes, spices of all kinds, and even a banana tree.  The acreage outside the walls was filled with beautiful olive trees, their shimmering leaves rippling in the mid-day breezes.  An olive press in the cellar of the old main farm house produced several types of wonderful olive oils.  Olive oil is the currency of success here in Puglia; taste, care, and respect are of paramount concern to those who make it.   At lunch we would be astounded by the variety and diversity of the oil flavors.  To most Americans lunch is likely a sandwich, burger, or some other quick thing to get a bit of fuel and move on.  Here in southern Italy lunch was an event; a really "wow" event.
TRULLI AMAZING
Our day of cycling began as others had; navigating the narrow streets and access roads wandering through olive groves.  But this day's destination had a decidedly different highlight.  We were on our way to the tiny town of Alberobello to see the Trulli houses.  The sun was high and the weather had turned from warm to hot by the time we arrived at the town.  As we neared Alberobello we couldn't help but notice the increasing number of Trulli houses and buildings.  Cycling is the perfect way to experience a historic and visually interesting place like this.  We could stop along the way and take photos or just moderate our pace to enjoy the sights.   VBT had arranged a guided tour for our group through town, and we were enthralled by the whimsical architecture and religious symbolism of the Trullo.  The key features of these Smurf-like dwellings are the dry-laid stone roofs concentrically rising to a decorative peak.  Our guide invited us to compare them to an igloo in their construction.  In the heat of the Italian afternoon I would have loved a few minutes hanging out in a nice cool igloo.  But we were soon back on our bikes again pedaling our way out of Trulli country and back to the olive groves.
The Trulli were a big part of our selection for this Puglia trip.  The fanciful rooflines that dot the region give it an exotic an alien look.  When on a bike there's always plenty of time to stop and snap photos, or just casually pedal by absorb the environment.  Cycling is the ideal way to see this kind of area.
SHORCUT TO OSTUNI
The sun in Puglia was an unrelenting furnace and the road pavement was groaning from heat at we neared the completion of this day's ride.  We had enjoyed a variety of terrains and environments from shady olive groves and seaside pathways to open and rolling fields.  But now we were on an open stretch of roadway headed for the quaint town of Ostuni.  We turned a corner and cycled across some very hot steel bridgework when Ostuni came startlingly into view.  From this vantage point the initial vista was nearly unreal.  Buildings and churches perched high within the city's old fortified walls all shone with a brilliant white washed radiance.  It was immediately clear why it is referred to as "the White Town" ("La Città Bianca", in Italian).
We had a flat mile or so to ride before making the climb into the city center to our wonderful hotel.  Edoardo was riding with us and just before entering town received a phone call from his VBT guide partner Giuliano.  There was a problem on the designated route into town and we would need to go by an alternate path.  No problem, we'll abandon our maps and just follow Edoardo.  We navigated through the town making a circuitous and semi-steep climb winding along the narrow roadways.   A sharp 90-degree turn brought us to one of the steepest and most intimidating pathways that I have ever encountered.  It angled upward at a dizzying angle and for a moment I thought my bike would just stop in place.  I managed to downshift to my very lowest gear combination and stood up into my pedals.  Although it was only a few hundred meters long, Edoardo's shortcut seemed like a vertically climb.  Standing and pumping slowly into my pedals, I slowly made my way slowly up the hill.  I was pedaling with my legs, feet, my arms, but mostly I was pedaling with my heart.  At the crest of the hill Edoardo and I both rolled weakly to a stop in the shade of an almond tree.  Gasping for air but smiling, we had both managed to stay on our bikes for the whole climb.  Fun and challenge are characteristics of any cycle trip.
THE NEW FLEET
For the 2012 cycle touring season VBT has replaced its entire fleet of bicycles.  For several prior years they utilized privately labeled units (identified simply as "VBT" on the bikes).  They are now using Fuji as their manufacturer vendor.  VBT selected three different models for their riders; a road bike, a men's hybrid bike and a low-stepover women's hybrid bike.  On our trip to Italy I chose a road bike, but I also got a chance to see the other two models used by other riders. Fuji road-bike Road-bike gear cassette 11-25 tooth-count Road-bike compact (50/34) double crankset Fuji hybrid bike.
My Fuji road bike had very serviceable saddle and sturdy components.  The overall geometry was very similar to my regular ride (Cannondale Six13 with a carbon frame and fork) so I was very comfortable riding. Cyclists who ride Trek Madone's or other bikes with a more upright seat-post angle may feel a bit odd at first.  The Fuji bike was equipped with a compact crank-set (50/34 tooth) which made riding very manageable through most terrains.  The rear gear cassette (9 rings 11-25 tooth) that they had installed was touring-friendly enough to make ascents reasonable and way fast enough to handle our modest cruising speeds.  All the shifting components were Shimano 105 and were tuned well and operated flawlessly.  I should note that with the gear combinations available to me I never had to get off to walk uphill.  The head-set on my Fuji was a wrench adjustable unit; with a bit of test riding I easily found a setting that made for easy riding.  My only squawk about the whole setup was that the headset mechanism creaked a bit on steep uphill climbs.  Overall I was super happy, ache-free, and comfortable all week.


































































I brought my own clip-in pedals and cycle shoes to Italy, which Edoardo and Giuliano were happy to put on my bike.  I also brought a really inexpensive (approximately $5) cycle computer which I had purchased from ebay before the trip.  Both of those elements made the trip better for me.  I would recommend both of them for anyone taking a week long cycle trip.
My traveling companions all rode the Fuji hybrid bikes; they really seemed to like the bikes.  The triple crank-set gearing was extremely friendly for both flat land riding and hill climbing.  There was always a "granny" gear combination available for the steeper sections.  Since the trip was really designed as a scenic tour and not a race, no one was looking to set any land speed records anyway.
FINAL THOUGHTS
Spending a summer week cycling though Italy is a truly idyllic experience.  My memories and images from this recent trip to Puglia are incredibly vivid and beautiful.  The scenes most memorable to me are sunny days pedaling through olive groves and along seaside vistas. These images are warm, happy, and sweetly scented.  I tried to come up with a way to express my overall Italian cycle trip experience. After some thought I just couldn't state it better than Giuliano; Pedal with your heart!
Published September 2012