Perfectly Park City
by Peg Van Scotter
How pleasantly surprised I was to receive a FREE ski pass on the day of my arrival at the Park City Mountain Resort ticket window (An $86* savings!). Check out the Quickstart prompt at www.parkcityinfo.com  for information regarding skiing free simply by showing your airline boarding pass for the same day you arrive at the ticket window. Ski hours are daily from 9 a.m. to 4 p.m. with nightskiing from 4-7:30 p.m. It's a sweet promotion offered by the Park City Chamber of Commerce and a perk worth considering when booking your earliest arrival.
The Park City Mountain Resort Center hosts several eateries, numerous rental shops and its own ice skating pond.   I chose Jake's Ski & Snowboard Rental, advertised as being "incredibly hassle-free", since I chose not to haul my equipment onboard the airlines.  I believe in supporting locally-owned shopkeepers and the young guys running Jake's were all about customer service. Prices were very reasonable and they made sure my equipment fit extremely well.  For $20/day I had a sport package that included boots, poles, and skis.  Free cubbies housed my after-ski boots while I was skiing. At the day's end, as long as I rented from Jake's, they stored my skis & poles overnight at no charge. It was incredibly sensible (and hassle-free) not to haul anything far from the lifts. Coin lockers allowed me to store my boots for a buck (yes, one dollar).  Snowboards with boots rent for $26/day and demos for $38/day. Check them out online at www.jakesskirental.com or toll free 1-800-545-2754.
Park City's 15 ski lifts proved to be fast and efficient at moving skiers up the mountain so I was able to spend less time sitting on my bottom and more time shushing down the slopes.  The views of the Wasatch Range of the Rocky Mountains is a majestic reminder of the seven peaks  and nine bowls with 108 trails starting at a base elevation  of 6900 feet (2014 meters) and rising to the summit at 10,000 feet (3049 meters).  The majority of ski runs are 'more difficult '(51%), followed by 32% 'most difficult', and 17% 'easier'. Each day a few inches of new powder fell and I'd stumbled upon a 'favorite run' for the day:  Keystone, Dynamite, Widowmaker, Fool's Gold, and Assessment to recall a few. A stop midday at the Snow Hut (at the base of the Silverlode lift) for a sandwich or bowl of hot chili replenished my energies for my afternoon's adventure.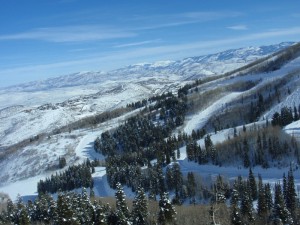 At the end of a hard day of skiing, Homerun allowed me to ski the 3.5 miles down to the resort center with grace and ease. With skis and boot stored for the night, I ventured to the après hot spot The Legends Bar & Grill at the base of the PayDay lift.  Utah liquor law requires guests to purchase food in order to enjoy an alcoholic beverage.  I recommend their nachos appetizer and a cold beer. Cocktails can only contain 1.5 ox of alcohol and a glass of wine cannot exceed 5 ounces. The Legends is an inviting gathering hole for winter enthusiasts to recoup after a long day of burning calories on the slopes.
Fortunate for me, the Sundance Film Festival was all the rage on Main Street in Park City while I was visiting and fewer visitors took the time to grace the slopes. Locals said it's the best week to ski because so many come to shop and participate in the events offered only for the festival.  Once Sundance wrapped up its week long run, I headed to Main Street to stroll the outstanding art and photo galleries.  Free rides on the biodiesel buses operate from the resort center to nearby resorts and the Park City historic district from 6 a.m. to 2 p.m. daily. There is also a trolley that runs along Main Street from 10 a.m. to 11 p.m. so shopping and sightseeing is again hassle-free.
The Park City area also has perfect opportunities for winter sleigh rides, hot air balloon rides, snowshoeing and heli-skiing.  I chose to take the alpine coaster ride (located at the base of the PayDay lift) for $20 and plenty of speed. It is a mini-bobsled ride that allowed me to scream halfway down the mountainside. Fun for all ages-even us kids at heart!
Park City has more to offer than I had time this ski trip. The mountain resort groomed different runs each night and left others undisturbed by Mother Nature's blanket of heavenly whiteness. I look forward to returning next winter to challenge my ski technique in Perfectly pleasant Park City.
General Information: (435) 649-8111 or 800-222-PARK (7275)
FAX: (435) 647-5374
Snow Report: (435) 647-5449
Email: [email protected]
www.parkcitymountain.com | mobile.pcmr.com | www.pcride.com
Twitter: twitter.com/pcski
Facebook: facebook.com/parkcitymountainresort
*Peg's Savings tip: Purchase a Park City booklet of 5 lift tickets from Costco stores prior to coming to the resort. The day passes costs $52/each which is a substantial savings over the price at the ticket window. It also includes a coupon for 20% off your rental fees.  Canyon Sports in Salt Lake City also offers day passes for $65/day when purchased ahead of time.

Published March 2010