How About a Round of 27?   Let's Play Ironwood
by  John Schneider
Located in Sussex, Wisconsin, Ironwood Golf Course is a venue that contains 27 holes of beauty, enjoyment, challenge, and frustration.   The course has three different sets of 9 hole courses that are assembled in several clever combinations to help make each golfing adventure unique.  Ironwood was first established in 1995 with the completion of the "Callow" course.  Over the next several years the "Meath" and "Birr" courses were added.  Each of the 9 hole courses start and end at Ironwood's large and comfortable clubhouse.  While Ironwood has 27 separate holes, it is not a course where you feel like you are playing repetitive or cookie-cutter holes; no two holes are alike.
Ironwood will challenge the experienced golfer, while making sure the day still is full of fun moments for golfers of all levels.  Callow to Meath has a rating of 71.5 and a slope of 126, Meath to Birr is 71/124, and Birr to Callow is 70.9/125.
The Callow (Riverside Meadow) course has several holes that allow opportunities to score, but then it wraps up with a three hole bang of demanding doglegs and elevation changes.  Hole 7 is the toughest hole of the entire 27.  This 500 yard hole is tree lined the entire way on both sides.  If that is not enough to scare the dimples off your Titleists, the fairway that takes you uphill is only a skinny 20 yards wide.  Getting past this hole with a bogie is definitely a good day for me.  Double digit scores on hole 7 are an unfortunate, but not uncommon, reality.  When you reach the green on top of hole 7 you are rewarded with a panoramic view of most of the Meath course.  Hole 8 takes you right back down the hill and carries forward the tree lined fairway theme.  This hole, however, has a sharp dogleg left.  A good tee shot will come to rest in the landing area, roughly 200 yards downhill (don't hit it too far and find the trees).  From there you will have a good look at the green and you should be home free with a good chance for par or better.  After several holes of seemingly forested play hole 9 takes you out of the trees.  Before leaving you need to hit your drive up the tree lined fairway.  If you crush your drive with a slight fade the dogleg right fairway will give you a nice view of the green.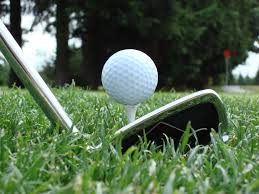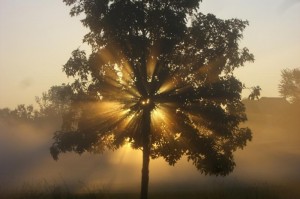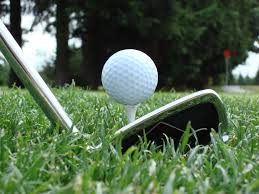 The Meath (Middle Place) course flows in, out, and around a wide valley.  Many of the holes on this course have great risk / reward opportunities and some repetitive experience will help you to determine your best targets.  Number 3 would be my choice as the signature hole; an elevated tee placement will give you an opportunity to go for the green for this very drivable down hill par 4 (roughly 275 yards).  The green, surrounded by water, sand traps, and waste area, is a tough golf shot.  The safe play is a 200 yards shot down to fairway for a chance at an up-and-down birdie.  However taking the 3 wood out for a chance at the eagle (or double-eagle dreams) is very tempting.  Par 5 hole 6 takes you 550 yards back down into the valley, while the next hole, par 3 #7, takes you right back up to a multi-tiered green surrounded by several deep sand traps.  Hole 8 is a dogleg left par 5.  If you can hit a high and long drive you might consider going over the forest; a great drive will place you only 150 yards from the green (for a true eagle opportunity). But, if you miss your mark you will be hitting 3 from the tee box.
The Birr (Water Place) course was the most recent, and last, addition to Ironwood.  Water comes into play on all but two holes here.  To add to the fun and frustration the fairways tend to slope to the water often causing what initially was thought to be a great drive into a penalty.  With that said, there are many scoring opportunities on this course as well.  If you have managed to lose that nasty slice and have not replaced it with a pushy hook, your straight drive is going to help you record a lot of pars here.  Bogies and beyond might be in your future if your drive is slicing.  On an earlier occasion, in the same day, I carded a score of 50, but after seeing the light finished the round in the high 30s.  Hole 2 is a short par 4 where big hitters might be able to reach the green.  The next hole, par 5 #3, is a long straight hole with water running down the right side the entire way.  Bombing the drive might give you the opportunity to reach the green in 2, but water is on the left, right, and rear of the green.  Hole 7 is a 460 yard par 4 where reaching this green in 2 is a very nice accomplishment.  Finally hole 9 is a dogleg left that is begging you to hit over the old barn/silo.
The three separate courses, driving range, and large clubhouse make Ironwood ideally suited to host group outings and leagues, while at the same time allowing space for the general public to play.  Ironwood offers a full-service clubhouse with a variety of room venues for gatherings and banquets.   The largest banquet room seats 220.  The open-air party barn can hold 150 people.  Both venues provide great views of the courses, Holy Hill, and the surrounding countryside.   On any given day you can plan on seeing some sort of group outing in progress.  If you are located in the Milwaukee suburbs and are planning a corporate or charity golf outing I strongly recommend you give Mike Lehmann, Ironwood's Director of Golf, a call (262-538-9900; http://ironwoodgolfcourse.com ) to give him the opportunity to win your business.
Golf prices at Ironwood generally fall inline with the other privately owned / publicly played courses in the Lake Country area.  Tee times are usually available due to the existence of the 27 holes.  I recommend that you make some time during the golf season to give this wonderful course a try.

Published April 2011