The Pulse at PowMow (Powder Mountain, Utah)
by George F. Karioris
What makes a great ski mountain? That's the fundamental and elemental question vexing skiers here in the 2020's. There's a delicate harmony of attributes like songs composed of varying melodic threads and compelling lyrics. Each mountain has its own vibe. Each has its own personality. Its own pulse and charisma. Recently I had the wonderful opportunity to visit and ski Powder Mountain in Eden, Utah. Local lingo often slangs the mountain's name to "PowMow", and to local locals it's sometimes just "Powder". I've been to many other ski mountains and resorts, and this one is different and very special. The size and scale of the skiable terrain compare well with many large ski resort destinations. But Powder Mountain has a very personal, natural, skier-based vibe which is definitely not the artificially manufactured feel of some of the others.
.
My day began at the Adventure Yurt at the base of the Timberline ski lift. A very knowledgeable and friendly Julia greeted me at the Yurt's ticket and information window. In a strange turn of 6-degrees-of-seperation Julia and I actually know a couple of the same people back in Wisconsin… Not Kevin Bacon, but other folks. With my new RF ID card in hand, I met Dan and Andy who were to be blue-jacketed mountain guides for my first day skiing. Affable, warm, and funny both of these guys had both been skiing this mountain for decades.
.
At the entry to the Poma lift, a gray bearded lift operator named Tim had selected the music being broadcast to those boarding. Willie Nelson's velvety voice could be heard emanating from Tim's classic 1980s stereo system. Tim smiled and gave me a fist-bump as I positioned into the snowy grooved poma pathway. Overhead huge flywheels were turning and cables were cycling curvy poles with funky mushrooms towards me. Totally still for just those few seconds, I would soon to be pulled forward. I enjoyed the music and took a serene breath, living in a moment of quiet thought. "You were always on my mind…" Yeah, this is where my mind often goes. To the sunshine, the snow, the skis, and the mountains. I doubt Willie Nelson intended this scene when he wrote that song, but I think he would probably approve.
.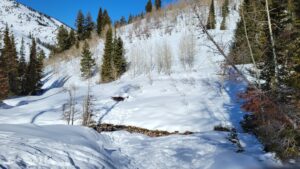 .
To say that the locals, the good working folk, and volunteers at PowMow are proud of their mountain is a gross understatement. These people rabidly gush with boundless pride when singing the praises about this place. Arriving as a newbie here, I was somewhat skeptical. But getting a few facts about PowMow and having the opportunity to ski the mountain, it's easy to see why. First and foremost on the prideful hit list is the concept of lift lines. I specifically use "concept" here in the theoretical sense only. There are virtually no lift lines Powder Mountain. Sure, shortly after the lunch hour and near the end of the ski day there is, in fact, a short line at the Hidden Lake lift. But in my week's experience it amounted to less than a three minute wait to board this lift. While skiing with mountain guide, Dan, we stopped and looked out over distant Cottonwood canyon. Dan pointed out several other ski resorts that were within view from our mountain top vantage point. He smiled, winked, and said "See that area? That's the A~~~ ski resort. The snow is great there too, but from here if you listen real closely you can hear the lift lines!" After spending nearly fifty years here, I think that Dan has Powder Mountain snow running through his veins.
.
The second component of Powder Mountain's trifecta of special attributes is that they only utilize natural (real, like from God) snow. There is no man-made snow anywhere on PowMow. The current dogma in place is that this is a "skier's mountain" and artificial snow is not allowed, period. When a snow drought happens, as during my visit, they rely upon expert grooming and management of their exiting snow. In my opinion they do a wonderful job.
.
The third and probably most important piece of the PowMow success puzzle is that they have a strict limit upon the number of day-skiers allowed on the mountain. To accomplish this they have a twofold approach. First they sell a limited number of annual passes, for which there is usually a waiting list. And second there is a firm limit to the number of day passes they sell. I have skied at many large ski resorts including the one with the short name that starts with "V' and the one with the long name that starts with "B". These behemoths and others have been in the news recently because of the many complaints about oversold lift passes, huge crowds, and grotesquely long lift lines. No such issues here at Powder Mountain. Even with only one high-speed lift in the stable, it seemed like I often had runs all to myself to ski, and virtually no one ahead of me in line when I got to the lift.
.
PowMow's bragging rights also include being able to state that they are the largest (by skiable acreage) ski mountain in North America. This is true because they operate snow-cats which can take skiers and boarders (for a fee in addition to regular a regular lift pass) out to several area ridges. It's then possible from those locations to navigate ungroomed mountain runs back to the lift-serviced areas of the mountain. Unfortunately, the drought during my visit did not allow for enough snow base for them to run the snow-cats.
.
Back in the early days when I first learned to ski, paper trail maps were "a thing." Of course, in those times so were stone knives, buffalo hide tents, and bearskin ski pants. Perhaps I exaggerate. Technology has replaced much of the paper and question-and-answer type of information exchange. I am a fan of functional and streamlined automation and PowMow has a nice user friendly smart phone app which I like very much. It's got a Goldilocks interface and content base which is not too busy, and not too Spartan, but seemingly just right. There's no unnecessary graphic animation or advertising bloatware, just function. On this app (available in iOS and Android) users can get trail maps, current weather & forecasts, buy lift passes, get information on which lifts are running, and importantly a button to dial the Ski Patrol+ if an emergency problem happens. While positioned near the top of the app, I was glad that I didn't have to press it during my week at PowMow.
.
The timing on this visit to Powder Mountain had been on my calendar for over a year. In the previous year or two the Snow Gods dumped tons and tons of powdery marshmallow fluff on Utah nearly every day in January and February. But when I showed up a day before Valentine's Day, it hadn't snowed at all for over a month. Here, in mid-February, northern Utah was experiencing a very weird and unprecedented drought. Nearly every person I met on the mountain during my ski week, especially the locals, had some kind of apology for the lack of fresh powder. In truth I was totally undaunted by "lack of powder". Every evening the amazing grooming team at PowMow would transform much of the open mountain into wide parkways of stunning pearly corduroy. Arriving early each day to ski we found these magical surfaces soft, super skiable, fast, and fun. With rides this good we nearly forgot that there was no fresh powder. The mountain is so expansive and there are so few skiers that even after 3pm I could find pristine groomed corduroy. Again, this year was an anomaly – Powder Mountain got its name from the snow itself and usually has a very deep base with frequent snowy additions. Powder hounds on fat-boy skis or riders on colorful snowboards will be happy here.
.
My visit to PowMow was precipitated by a friend from my day-job employer who had recently moved to Utah. Chris and his lovely wife, I call her N3, moved to Eden several miles from the base of Powder Mountain. From their cozy casa it's a 14 minute drive in good weather with dry roads to the Hidden Lake parking area. After our initial day skiing with mountain guide Dan, Chris and N3 took over the guide business for me. It was a real pleasure to have locals like Dan, Chris, and N3 who know this gigantic mountain show me around. We covered tons of terrain and got great beautiful scenic views from around every turn and every peak. A couple of notable runs for me were in the Mary's Bowl area. Both Cherry Ridge and Illusion provided amazing cruising runs while putting on a show of the Wasatch Mountain range and the Cache Valley. The runs of Upper and Lower Sanctuary provided lots of room to run and meander steeply. They were a leg-burning tour de force at PowMow. These are a few of the runs that stand out in my mind, but all the runs were truly amazing. The wide selection of terrain serviced by the Hidden Lake lift alone could keep a skier challenged and entertained all day. Chris and N3 have a personal link to the Mushroom Valley run and rarely miss a day to ski it.
.






































.
History buffs will appreciate how close the living history of the mountain is to its current residents. Originally a sheep grazing area in summers, the mountain was first skied by Dr. Alvin Cobabe the shepard's son. Here's a link to the full and interesting history. The story manifests itself into current time and life by meeting and skiing with mountain guide Dan. We were so pleased to find out that he personally knew "Dr. C." and his family. In fact Dan feels that he is himself, part of the Powder Mountain family. Although new owners now operate PowMow, much of the paid and volunteer staff has been around since Dr. C. and they love their mountain with the same fire that the Cobabe family did dating back to 1902.
.
I truly enjoyed several glorious days skiing at Powder Mountain. I got to revel in a couple of Utah's bluebird days, with clear skies and sunshine. And later in the week we had a flurry or two of snow up high on the mountain, with clouds and swirling ethereal mists. Every day on PowMow has its own weather magic. On my last day there I prepared to board the Hidden Lake lift for the last time. For his own entertainment and those skiers on the lift, the young goggle-clad lift operator had a Bluetooth speaker playing tunes. I had a moment of poignant reflection as I heard Carry on Wayward Son by the band Kansas digitally pounding out of his speaker. It seemed like an appropriate song. Melodies and lyrics from decades past seem perfectly at home here and truly capture the mood and mindset of this place.
.
The snow folks here feel like truly belong… that they're family. Powder Mountain is a modern and timely and relevant ski mountain with amazing terrain and conditions. But the heart of the mountain gets its pulse from the people who ski and truly live for the mountain.
Play… Willie Nelson: Always on My Mind
Published PFebruary 2022
Play… Kansas: Carry on Wayward Son