As I kid I remember watching Sea Hunt, Flipper, and The Undersea World of Jacques Cousteau on my parents black-and-white TV. But decades later we had reached the age of 50 and had never considered SCUBA an activity that might be for us. Well, we were soon to be proven wrong on that!
In 2009 Amy and I took a trip to Mexico's Rivera Maya for a getaway to an all-inclusive resort. Our kids were both out of high school and either in college or graduated by that time. Looking for something to do off the resort, we spotted a sign that said "Discover SCUBA Diving (Learn to SCUBA Dive)". We were intrigued. So one sunny day we took some lessons in the swimming pool and were shuttled to the ocean for a dive. I can say that I was not at all sure this was going to be something that I would like. In truth I had some fear of this unknown process. We were super lucky in that our DSD "class" was just the two of us and our instructor was a very calm and capable guy. A small dive boat took us out to a shallow reef and we prepared to dive. I distinctly remember a moment sitting on the side of that small vessel with pulses racing, we prepared to back-roll into the ocean. My world changed radically in the 10-seconds it took me to enter the water and acclimate to the new environment. Looking around at the fantastic new universe, we were both surprised at how calming and expansive it felt to be underwater. We had a wonderful first SCUBA experience.
































In 2010 we got a call from Amy's brother Tim. "Hey, we've got a timeshare unit on the island of Kauai in Hawaii in January. Would you like to come with us?" He followed that up by saying "Oh yeah… Since we're SCUBA certified, we plan to do some diving. We'd like you to do that with us." He didn't need to ask us twice; we said yes immediately, and the next call we made was to Aquatic Adventures in Brookfield. We enrolled at the first opportunity for the PADI Open Water Diver program and began studying and doing pool work. At AAI we had Jerry, Zach, and Maureen for our instructors. On our Wedding Anniversary, October-10th, that year we completed our final test-off dives at Pearl Lake in South Beloit, IL and earned our first PADI certification.
January 2011 found us on the magical Island Hawaiian of Kauai in the Pacific. It's sometimes called the Jungle Island or Nature Island in Hawaii's chain of volcanic islands. It was beautiful, and we did lots of swimming, snorkeling, hiking, and importantly diving! We dove with a company called Seasport Divers who were located very close to our timeshare. They took us on daytime dives to coral heads and reefs loaded with parrot fish, angelfish, snowflake moray eels and green sea turtles. As new divers we were totally absorbed by the abundance and beauty of the sea life there. Feeling like we had gotten our dive mojo pretty well in order, we planned a night dive also. Maybe our confidence had gotten us too far ahead of ourselves? Hmmm… not sure about that. We got on the dive boat just as the sun was setting and headed out to the same reef we had seen a day earlier. Equipped with marker lights and flashlights we got a briefing from out dive master and boy-oh-boy did we listen closely! It was a literal leap of faith for us to giant-stride off that very safe boat into the inky black dark unknown of the Pacific Ocean. Blackness… bubbles… and a moment of clumsily orientation… But after a moment for our eyes to adjust to the ethereal lighting, much like our experience with our DSD class our fears evaporated and were replaced with the calm fascination of the sea. Wow, just wow.
On that same trip Amy & I found ourselves on the Big Island of Hawaii for a dive that we really wanted to do. Diving with the Manta Rays! That was to be the second dive on a two tank outing orchestrated by the Kona Dive Company. It's still one of the most memorable experiences of our lives. On that dark night dive the gigantic creatures swooped and looped just over our heads for almost 45 minutes. In the dark billions of tiny plankton were attracted to our shining dive lights, and the Manta Rays had come to feed. One of the huge behemoths actually bumped into me while passing and let his long tail trail across my shoulder. Very cool indeed. (Check out my earlier story… SCUBA Diving With Manta Rays in Hawaii)
Amy & I have been lucky enough to take many dive vacations to Cozumel. While we generally stay at the Iberostar Resort and dive with Dressel Divers, we always try to plan a day to join our AAI friends at SCUBA Club Cozumel if they're in town. One of my favorite things to do there is dive the C53 Wreck of the Felipe Xicotencatl. On our trip to Cozumel in 2013 Amy & I completed our PADI Advanced Water Certification with Jerry & Jenny. We squeezed in a lot of certification dives in one day and wrapping that up was my compass and navigation dive. I'll admit that I had to "go around the square" more than most folks, but I completed the task before it got dark or ran out of air (…or at least that's how Jenny tells it).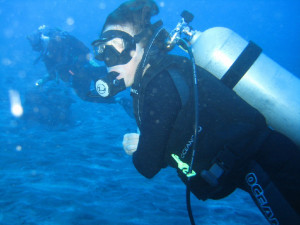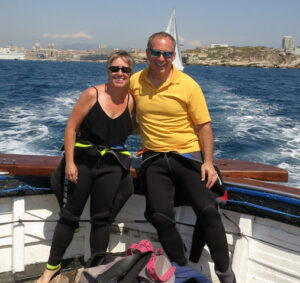 Since then we've been adding a SCUBA component to our other travels. We have taken several bicycle trips through a cycle touring company and ended up places close to a sea. Our SCUBA add-on adventures include: Savelletri, Italy – Otranto, Italy – Marseille, France – and Syracuse, Sicily. And, of course, back to Mexico to dive in the ocean and even in a fresh-water cenote (underground cavern). Language has rarely been any problem or issue. Dive people are always welcoming and inviting no matter what country they're in or what country you're from. Our dive story has allowed us to experience fantastic sights, places, and people everywhere we go.

Published November 2019