Colorado winters have always meant skiing to me; catching a fast chair-lift to the summit and carving turns to the bottom.  Lift, ski, repeat… lift ski, repeat.  It's been my snowy "Go-To" activity for years, and I'm not planning to give it up.  But this winter my group and I had an opportunity to expand our adventure horizons with two new and very cool outdoor activities; snowmobiling, and dog sledding.  Knowing that our day would be full of off-the-chart fun, it was hard to decide which activity to do first; snowmobile or dog sled? What a wonderful conundrum!  Luckily for us Good Times Adventure Tours, located just a short drive from downtown Breckenridge, offers both. We heard the sled-dogs yelping, but the powerful growl from the machines drew us in and we opted for engines first.
Just off of Hwy-9 we drove six miles down Tiger Road's scenic and twisting paved-then-gravel roadway.  While on our way, we spotted five huge elk only 100 yards away at the crest of a rise.  They watched us with calm disinterest as we neared the large new building that is home to Good Times Adventures. Looking up to the beautiful Colorado Rockies, our blood started to pump with excited energy as Our guide, Natewe entered.  After checking in with managers Eric and Elizabeth, we headed back for equipment fitting.  Helmets, snowmobile suits as well as comfy warm boots are all provided by Good Times.  The friendly, helpful staff made sure all were appropriately attired, safe and ready for adventure.  Suited and booted we walked out to the snowmobile staging area where we were greeted by row upon row of bright red, shiny, sleek, brand new Polaris 550cc touring sleds. They were ready and raring to go, and so were we.  Each year Good Times replaces 100% of their snowmobile fleet with new top-end Polaris models, so every rider is sure to have a great experience.  They have their own maintenance and mechanic staff onsite that keeps these beautiful machines tuned and purring throughout the snowy season.
We met up with Nate, our guide, who began the day with an orientation to the machines; Mount Guyot even the novice drivers in our small group felt secure with operation after his instructions. Time for some action!  We cautiously drove our sleds over to the oval practice track to get more familiar with the feel of the controls.  We leaned into turns, learned the feel of the throttle, and generally became more comfortable with the operation of these powerful machines.  Nate gave us about 10 minutes of practice time to make sure we all were ready to handle the trails and then joked that we all had left-hand turns down pat!  With Nate in the lead, six sleds zipped to the trailhead.  Heated grips and foot cubbies made for toasty warm conditions on our bright, sunny, but chilly morning. Good Times grooms and maintains 42 miles of trails daily using the 2,500 pound blue towed groomer The Blue Ox – trail groomerknown as "The Ox".  This winter's snowfall has been much below average, yet with the professional daily maintenance; the trails were heavily snow packed and smooth.    We wound our way through fragrant evergreens interspersed with sleek gray-green towering aspen clusters and rocketed up the trail climbing to an elevation of 11,585 feet at the Georgia Pass. I gasped with wonder and awe at the spectacular views when we arrived!  Mount Guyot (13,297 ft) looked to be close enough to touch.  Oodles of pictures were snapped from every possible angle to try to capture the magical views from this ridge on top of the Continental Divide.  After our short break it was time to mount up for the return trip; we jumped back on and revved our engines for the descent.  As much fun as it was to climb up, going down was an absolute gas! We zipped and careened through tight tree-lined corners and hit some straight-aways that let the adrenaline junkies really rip.
If you ain't the lead dog, the view never changesAmy, Tim, and Maggie at the Georgia PassWe maneuvered our way back by way of the Storybook Trail; aptly named as we twisted, turned and rollercoastered through the narrow path to complete our 17 mile excursion.  I never considered snowmobiling an "active" sport, but after hanging my backside off the edge of the machine through corners and bracing my feet in the pockets to lift off the seat over the bumps—my thighs and I amend my previous erroneous misconceptions.  Experienced and first-time snowmobilers all arrived back at the cabin exhilarated with happy smiles.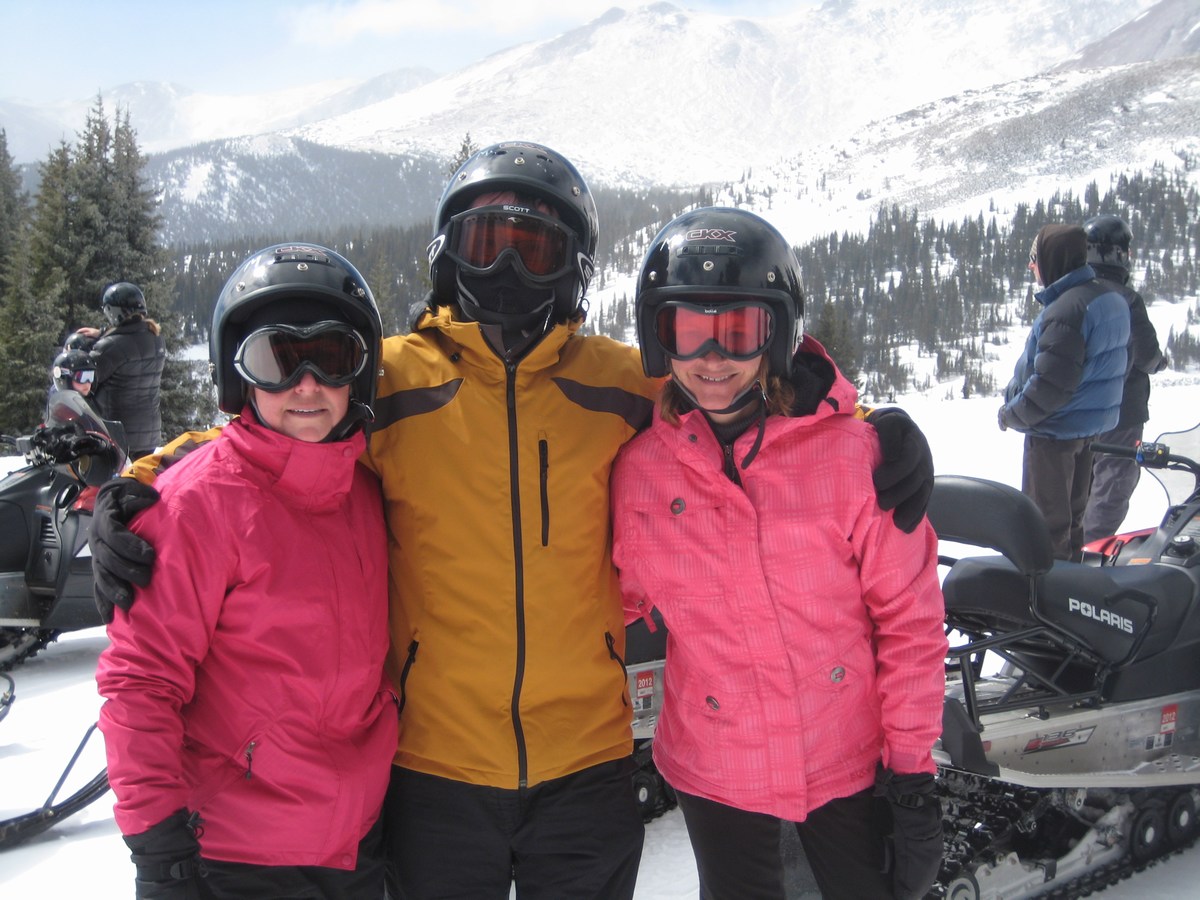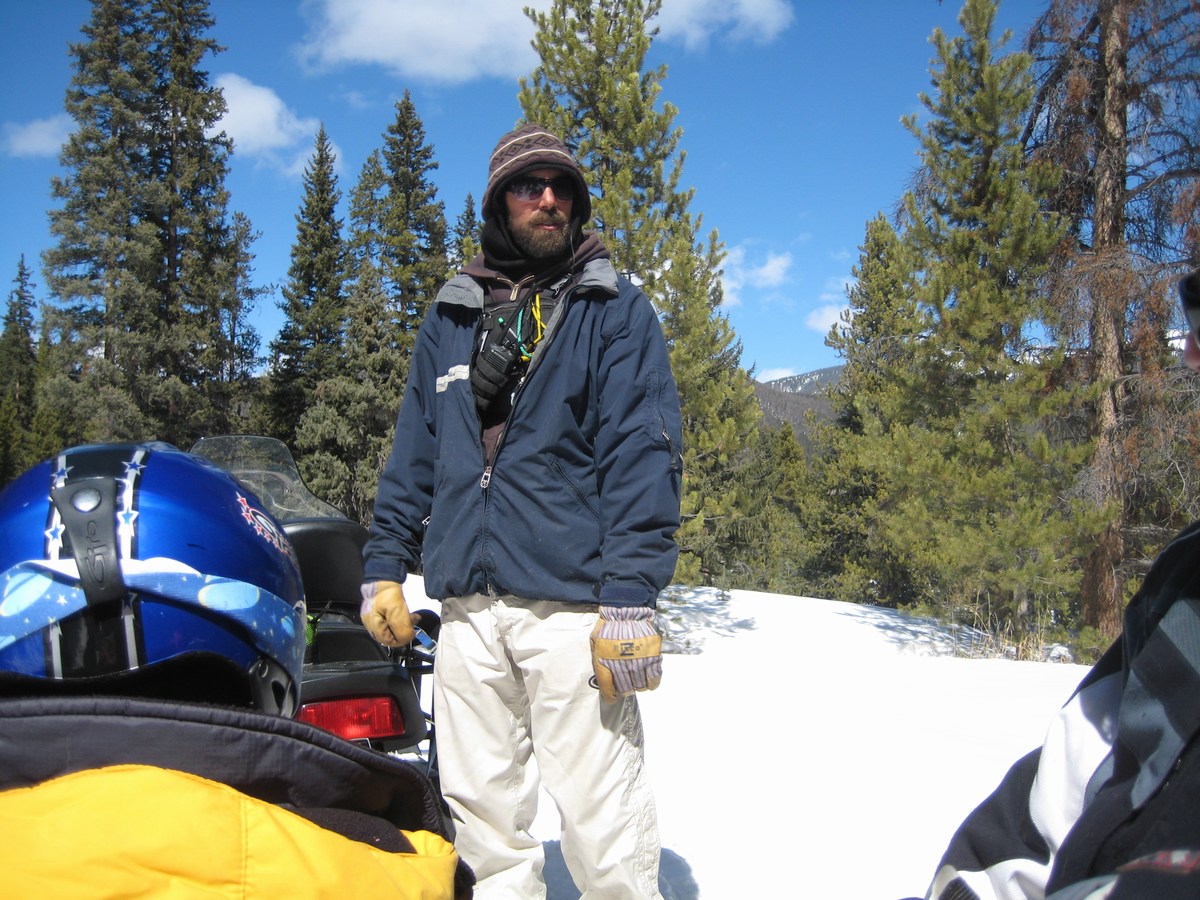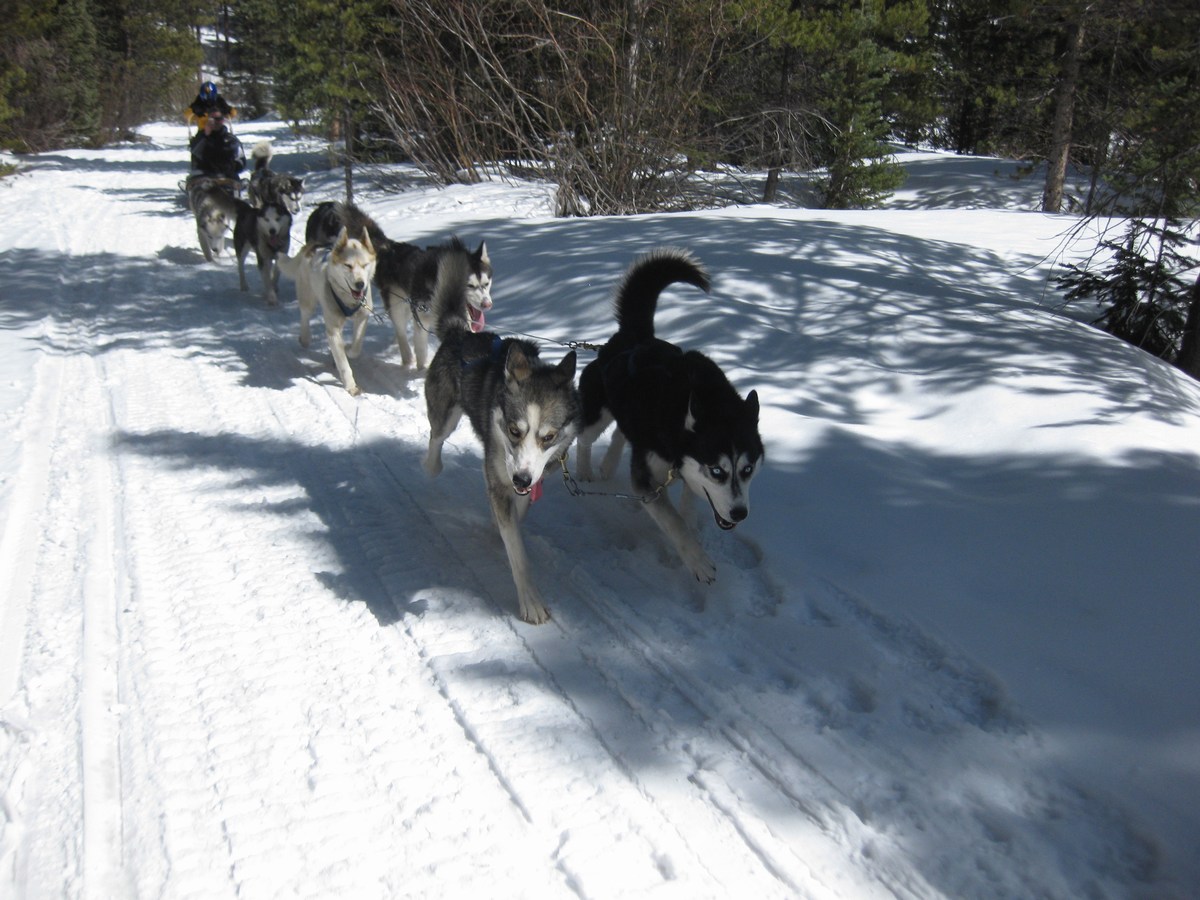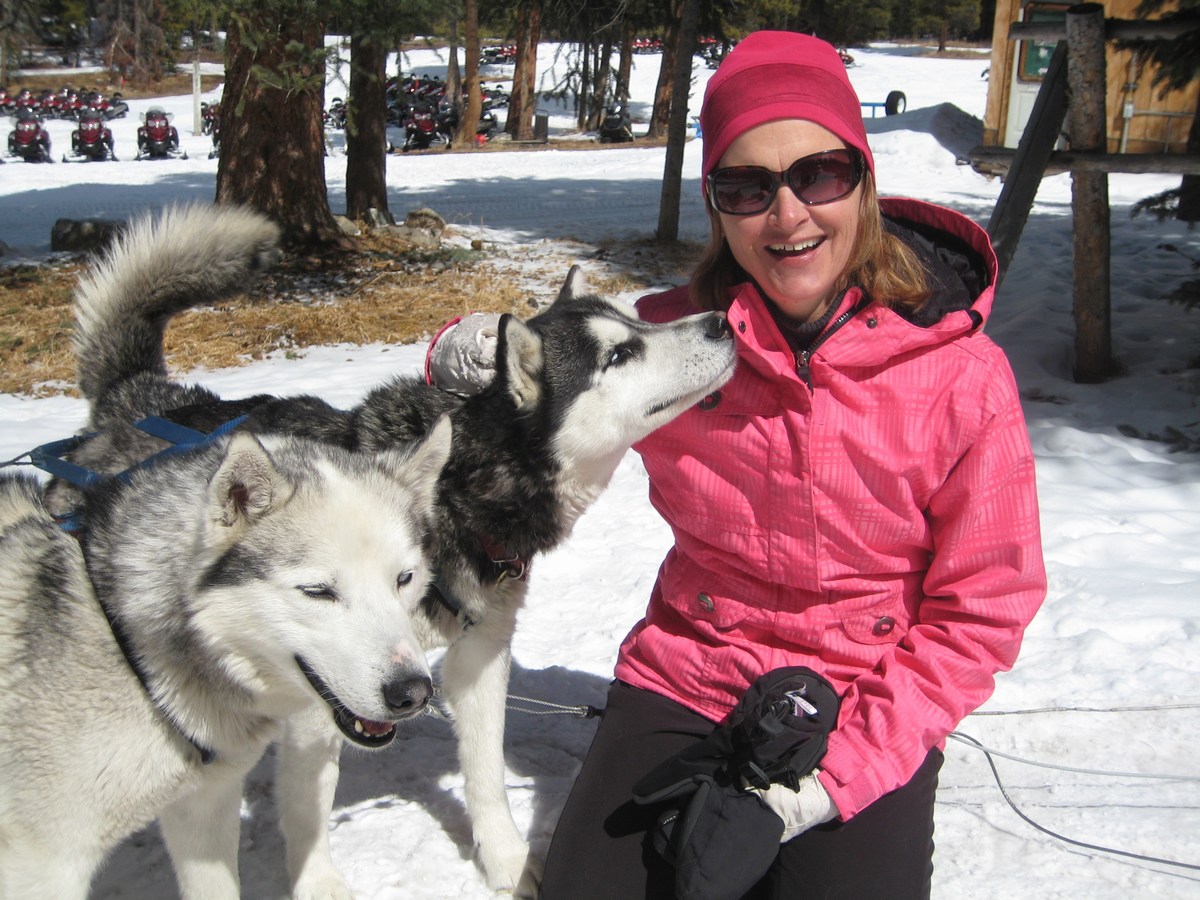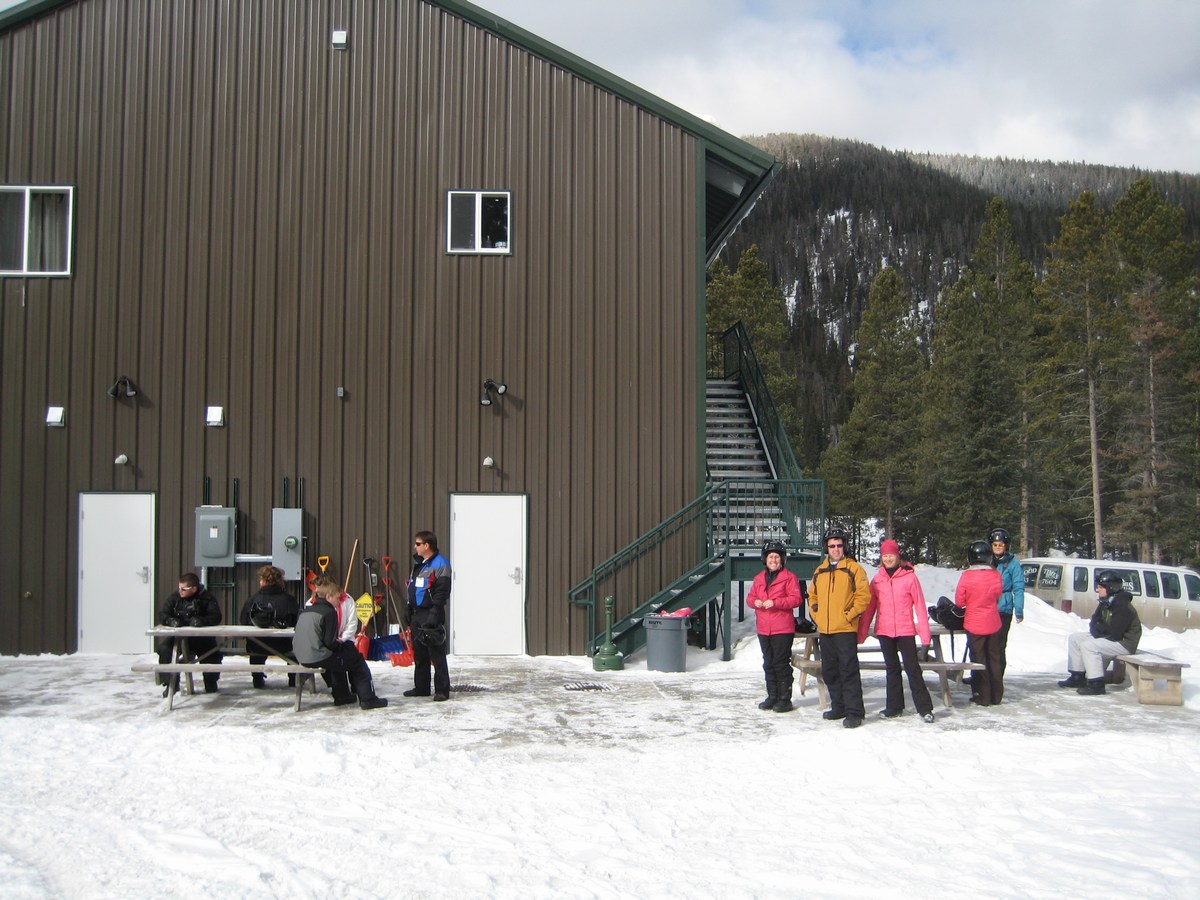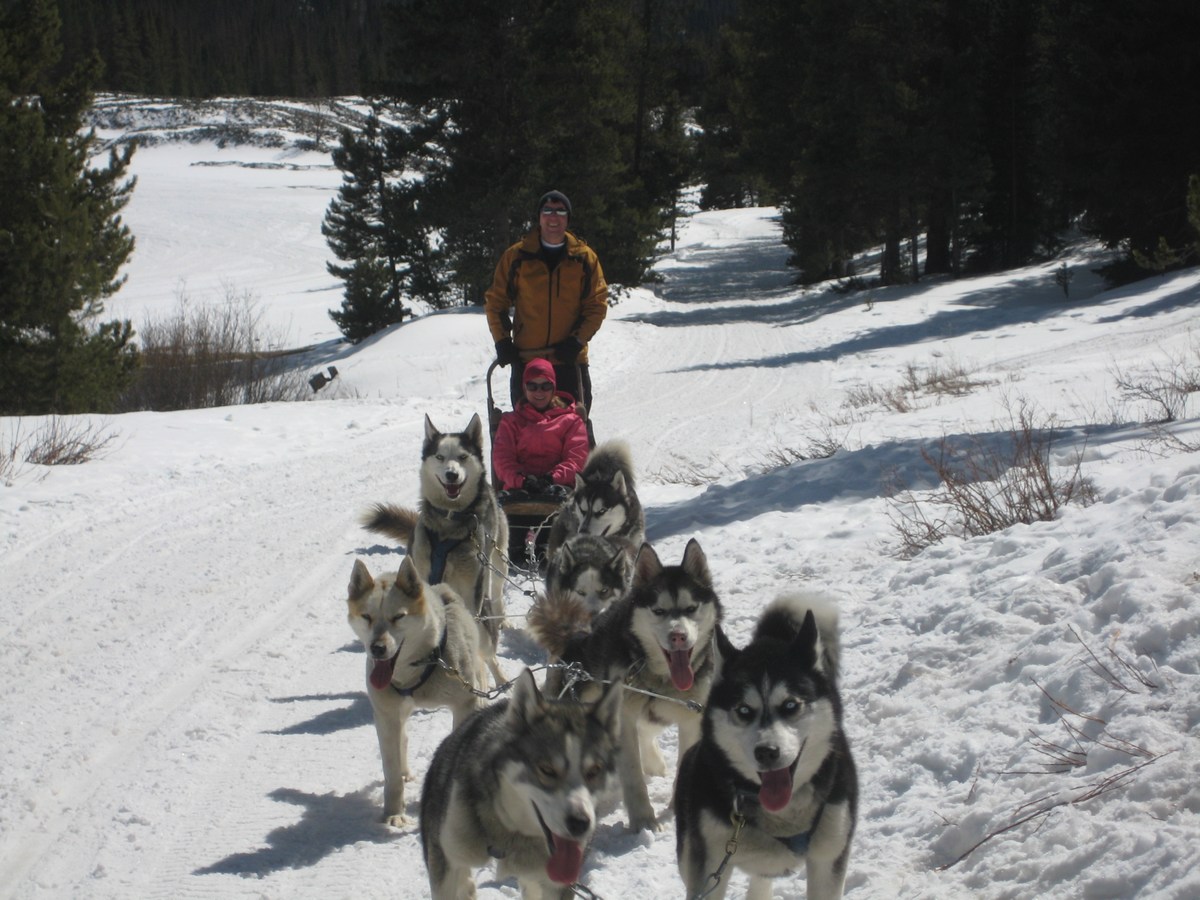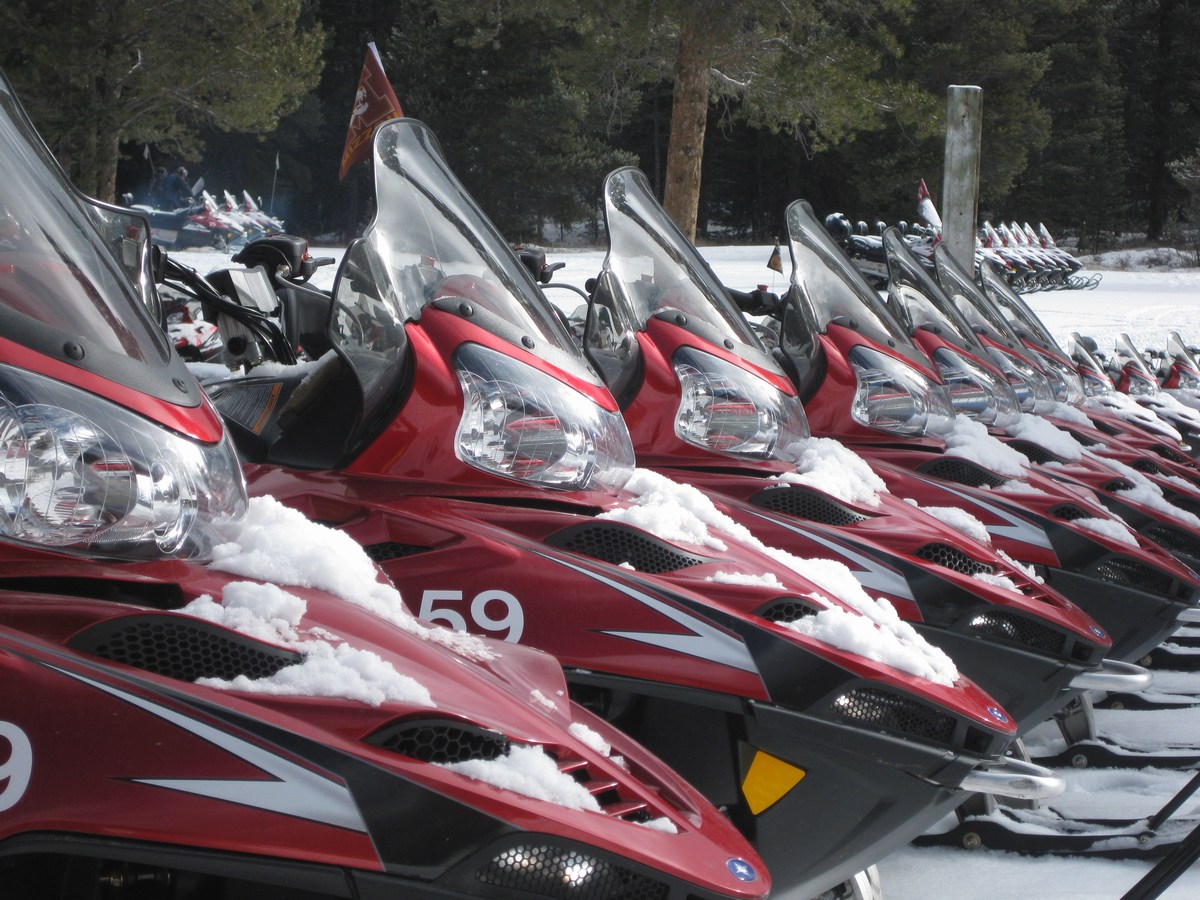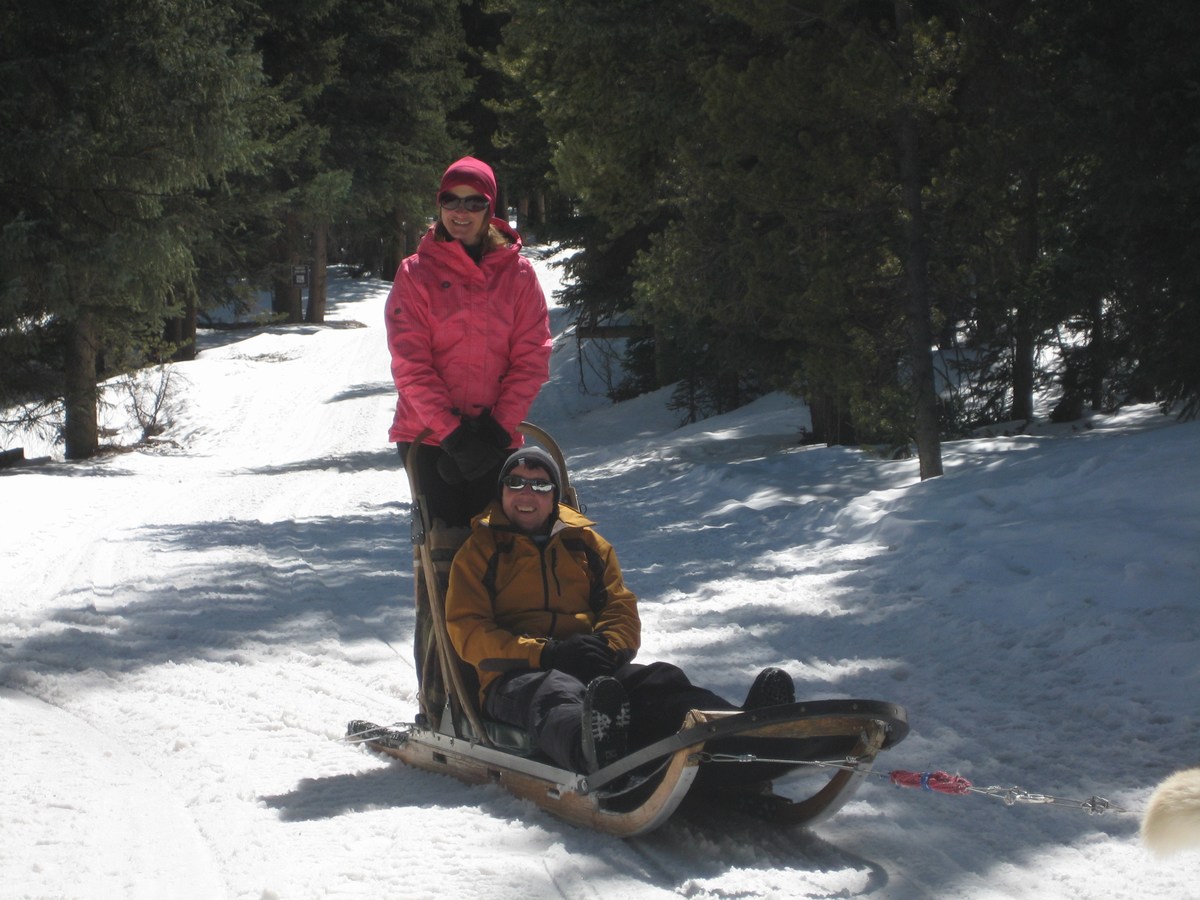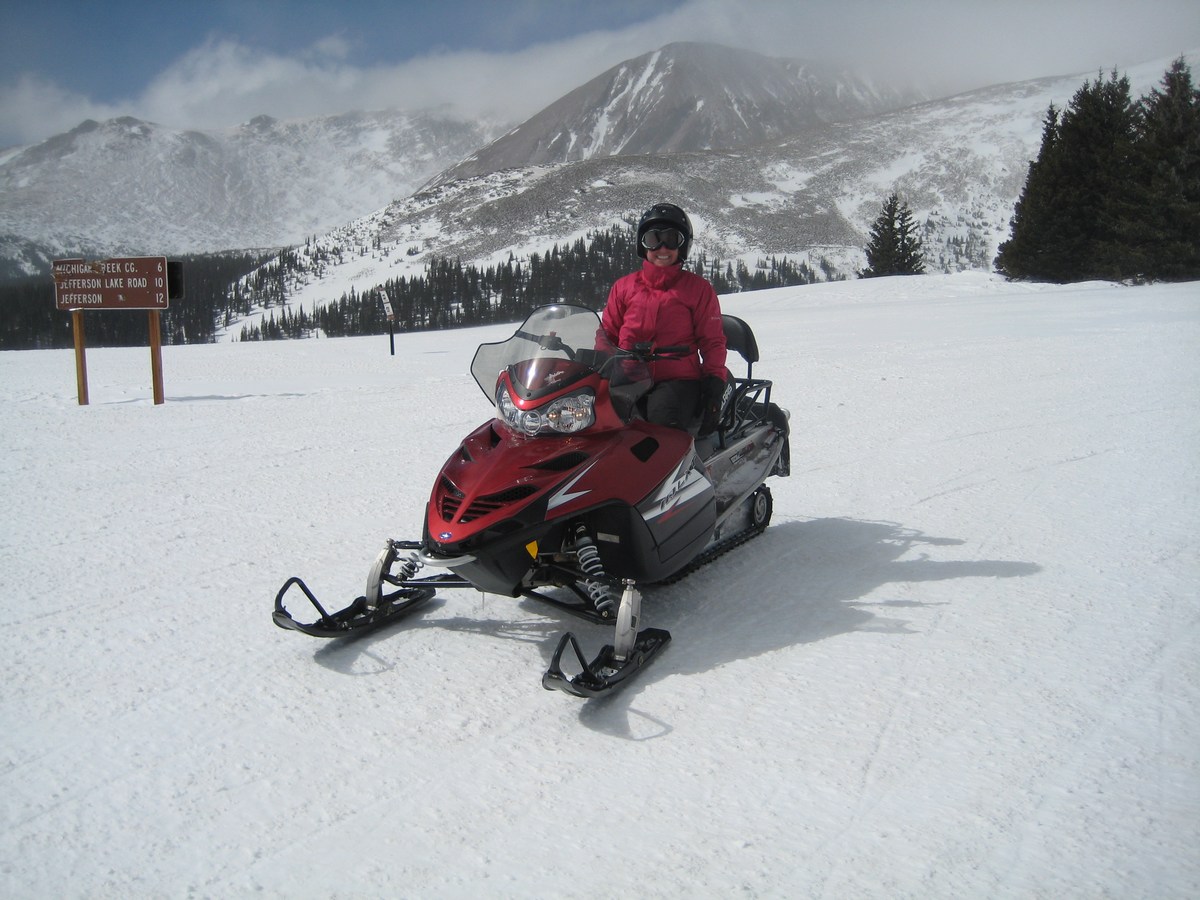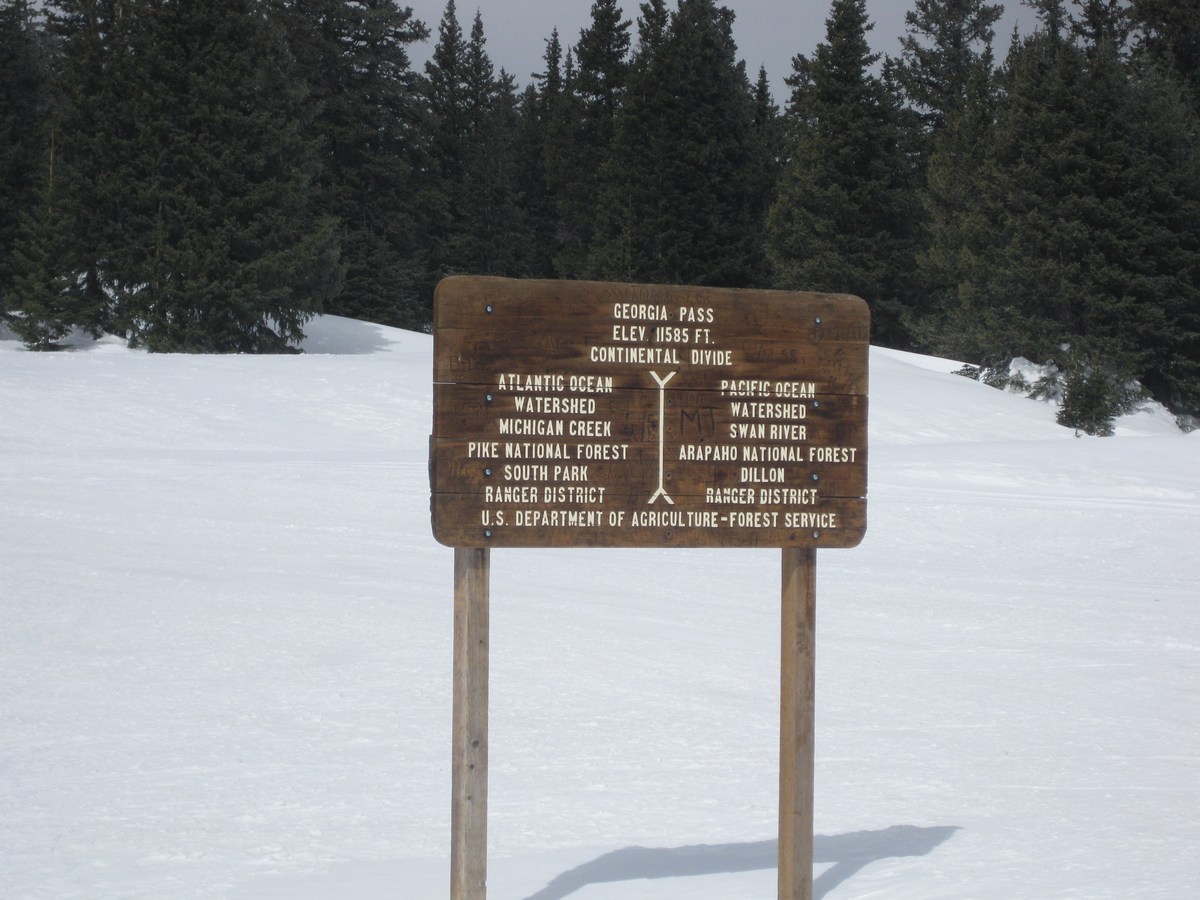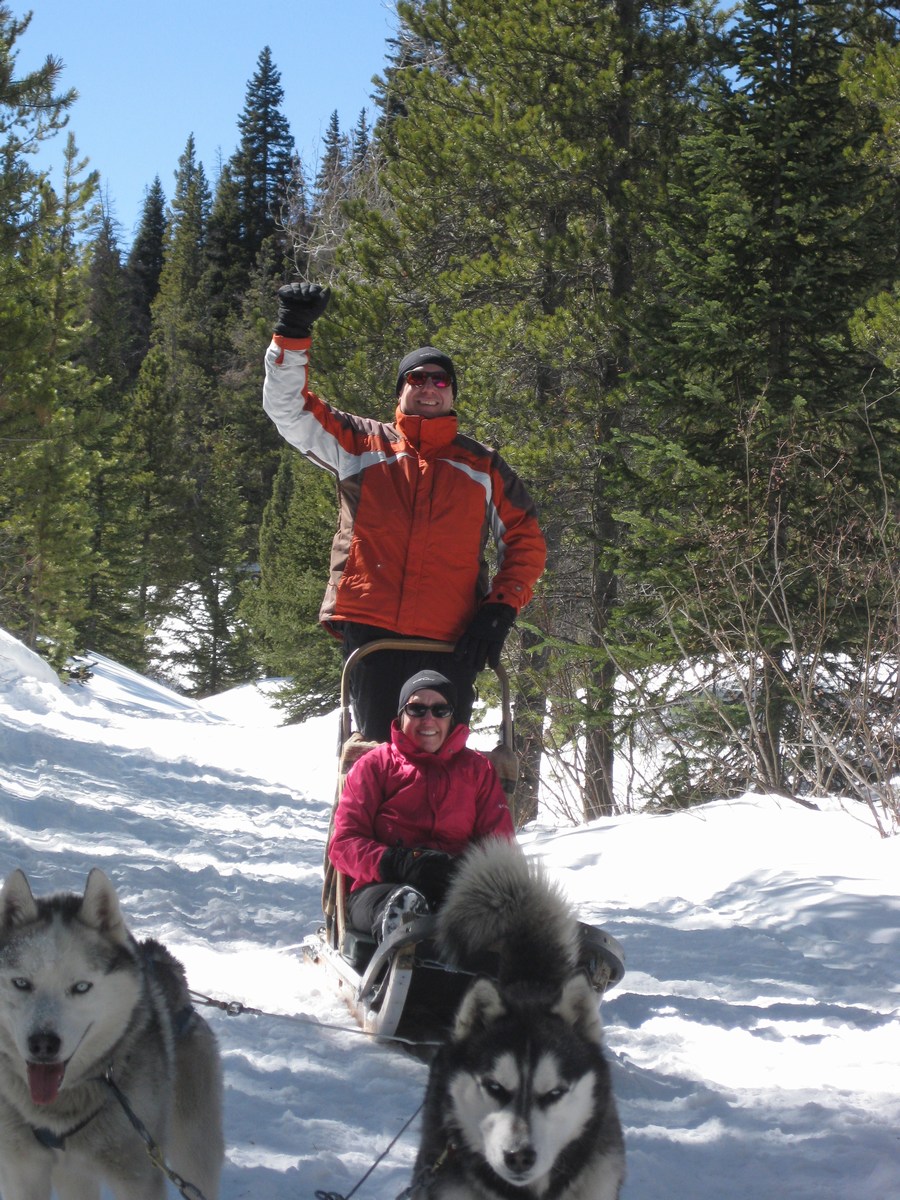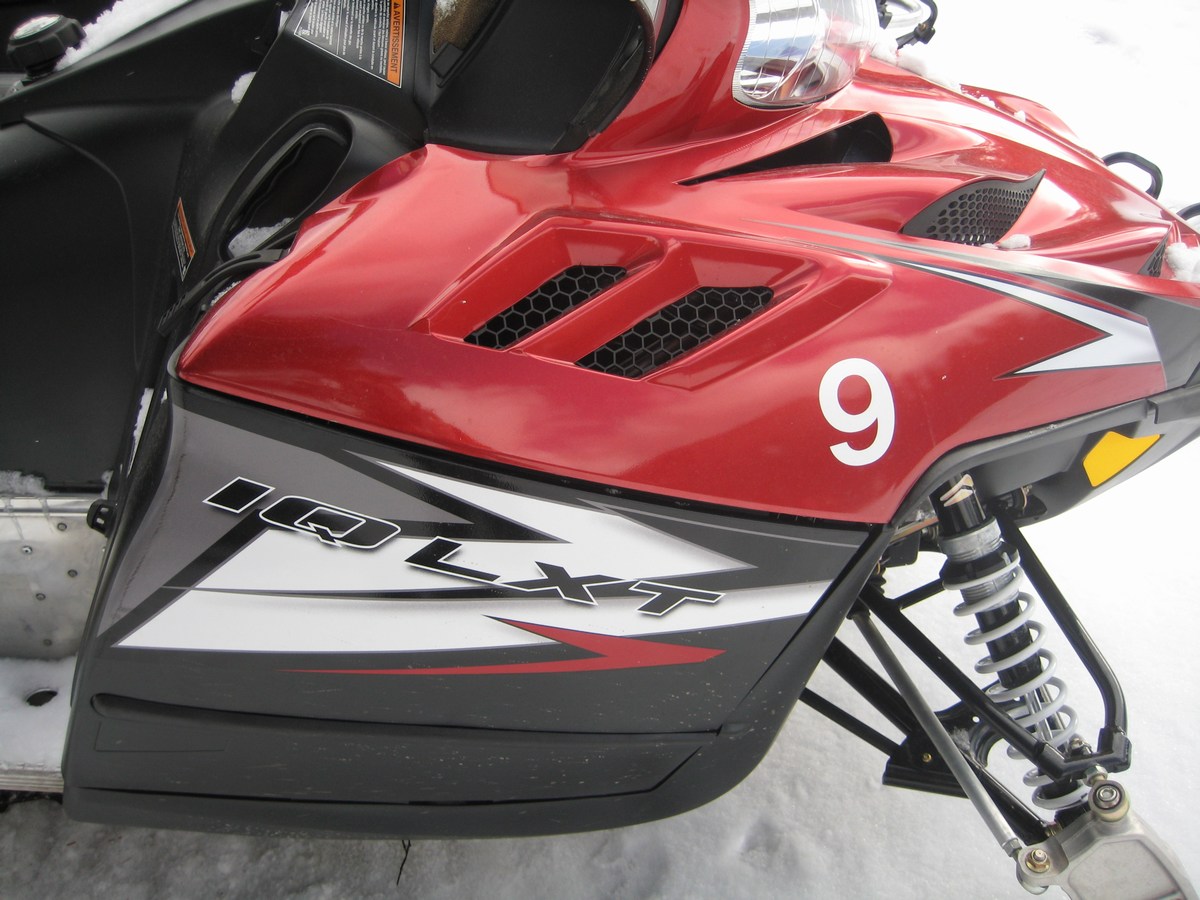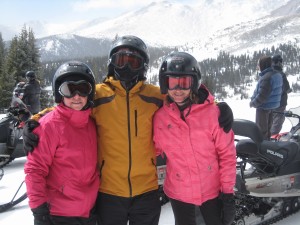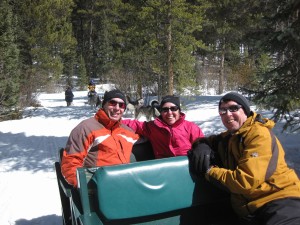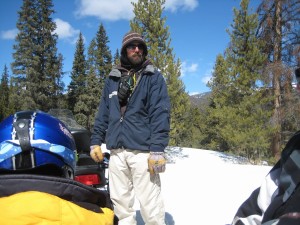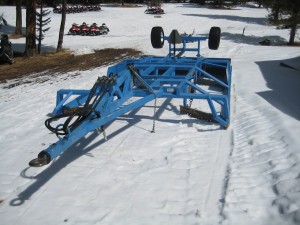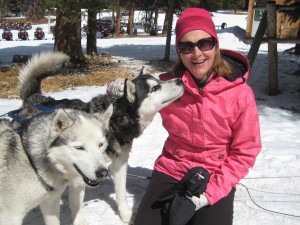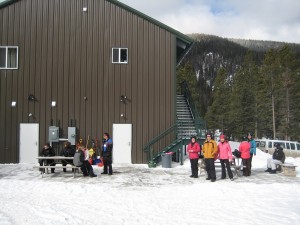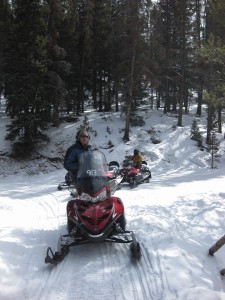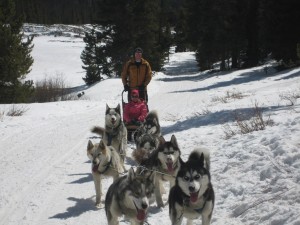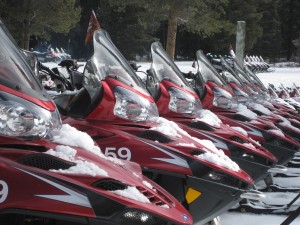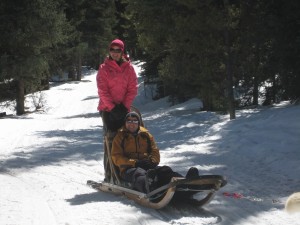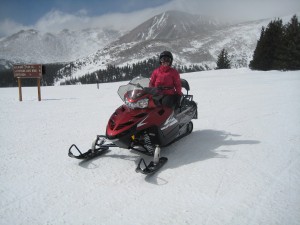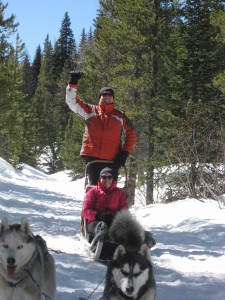 After sipping hot cocoa provided by Good Times and refueling with our picnic lunch in front of the crackling fire it was time to bring on the dogs!  Dog sledding was more intense, fun, and exhilarating than I had ever imagined it to be.  Dog aficionado or not, one can't help but fallMaggie loving the dogs in love with a team of Tim mushing with Maggie onboardsled-dogs with their piercing blue eyes and wagging tails.  We met up with our guide Dave who introduced and let us get acquainted with our team of eight excited, energetic, bright-eyed, and amazingly well-behaved Siberian Huskies.  He explained that sled dogs are born to pull and run; they don't know what to do with a stick, but get out a harness and they go crazy!  Good Times houses the largest kennel in the United States breeding purebred Siberian Huskies—over 130 dogs.  Our team of four pairs of dogs included Bullwinkle, a feisty, affectionate, black and white ball of fur and muscle; twin brothers; a hearing impaired female, Jenny; a rescue dog saved from a local shelter, and others.  The dog sled adventures are run on a six mile relay-style tour through the woods along the Swan River on soft, snow-packed groomed trails.
My hand was up before Dave asked for a volunteer to go first.  Climbing into the back of the sled, I learned the three most important rules for dog sledding: don't get off the sled, don't get off the sled, and don't get off the sled.  The musher stands on a spring-loaded Dave, our dogsledding guidebrake pedal in the rear of the sled to let the dogs know to stop.  Without the brake signaling them, they just keep pulling and running.  Both of my feet (and all my weight) were firmly on the brake as Dave took his place on the snowmobile pulling a 4-passenger sleigh ahead of the dogs.  Tim, my hubby, seemed slightly apprehensive about my naïve and enthusiastic volunteering as the lead-off driver.  He was comfortably seated in the sled (and hoping to stay there!) when the dogs started pulling against my brake set into the snow. "Hike it up!…" (dog-sled talk for "let's go!") and we were off like a shot.   Wa hoo!  This was some type of crazy fun and the grin never left my face as we burst from complete stop to a full run down the tree-lined snowy path.  Dogs barked and snow flew as the sled cruised along the trail. The dogs performed brilliantly–mushing through thick pine forests, speeding around corners and actually stopping when the brake was applied.
.
Our party of six rotated positions for mushing (driving while standing on the back of the sled), riding in the dog sled, and riding on the passenger sleigh.  Switching out positions allowed the dogs to rest a bit, eat snow and get lots of petting for a job well done.  Driving the sled was my favorite rotation, but watching Amy dump George over while attempting a sharp corner or seeing George recover from falling off while driving were definitely close seconds.  If you don't have dog sledding on your bucket list, I strongly encourage you to add it.
Good Times Adventures offers free pick-up service from Breckenridge and can be arranged when you make your reservation.  Check out their services online, and make your reservations early!

Published March 2012
.
.
A video from our visit…
[embedyt] http://www.youtube.com/watch?v=OPLbNiA2Jwk[/embedyt]