.
The weather in the mountains can be a bit unpredictable in spring.  On this day we had hoped for sun and blue skies we were, instead, greeted by gray ski and blustery  winds.The winds were so gusty that the gondola and Storm Peak Express lifts were closed.  Neither the weather nor the lift issues dampened our spirits.  Steamboat's friendly and engaging staff did an amazing job helping guide folks to the Christie Peak Express and Thunderhead Express zipping them up to same area where the gondola unloads.  Nearly 400 inches of snow this season have made for some fabulous winter activities high in the Rockies.  Just this week the resort surpassed the 400 inch mark for three of the past four years!  All of this wonderful white stuff means that you shouldn't  limit yourself to just skiing, Steamboat Resort and the surrounding area offer a plethora of winter adventures including guided gourmet snowshoe tours (guilt-free gourmet meals after burning off all the calories to come), snowmobiling, sleigh rides, hot spring soaks and free guided mountain tours.
.
Steamboat prides itself on maintaining the friendly village atmosphere based on its historical ranching roots.  Cowboy hats abound as well as laid back cowboy charm. We had the pleasure of riding the lift with a bona fide Steamboat Ambassador who gets to ski in the winter and, I'm not kidding, count grasshoppers in the summertime.  If you're wondering how one can actually get that kind of job—she inherited it from a friend who retired—it really is about who you know!
.
Rental equipment is readily available at six different locations in town, the professional staff of ski and snowboard experts will even come to your lodging and fit you there if you'd like.  If you rent from Steamboat Ski and Sport they'll even store your equipment overnight for free.  No need to lug around all that equipment back and forth… how great is that!  Kids' rental is free with a 5-day parent rental.  The staff even gave my skis a quick coat of wax before I headed out without even asking.  They just want to make sure that everyone gets the best experience possible on their mountain.   Sharp and fast, our K2 Ricter skis provided the ultimate performance on all conditions, soft or hard, perfect for the day.  My warm-up run down Heavenly Daze aptly described my state of mind.  While the day's cloud cover limited our views from above, we shushed down and listened to the delightful crisp snow under our skis.  Who needs anything more!  If you're skiing at Steamboat and Billy Kidd is in town, you can meet up and ski with him at the top of Heavenly Daze at 1 pm for a free 45-minute ski clinic.  Olympic medalist and local legend, Billy warmly greets visitors to Steamboat with a lesson in skiing, confidence, and life.
.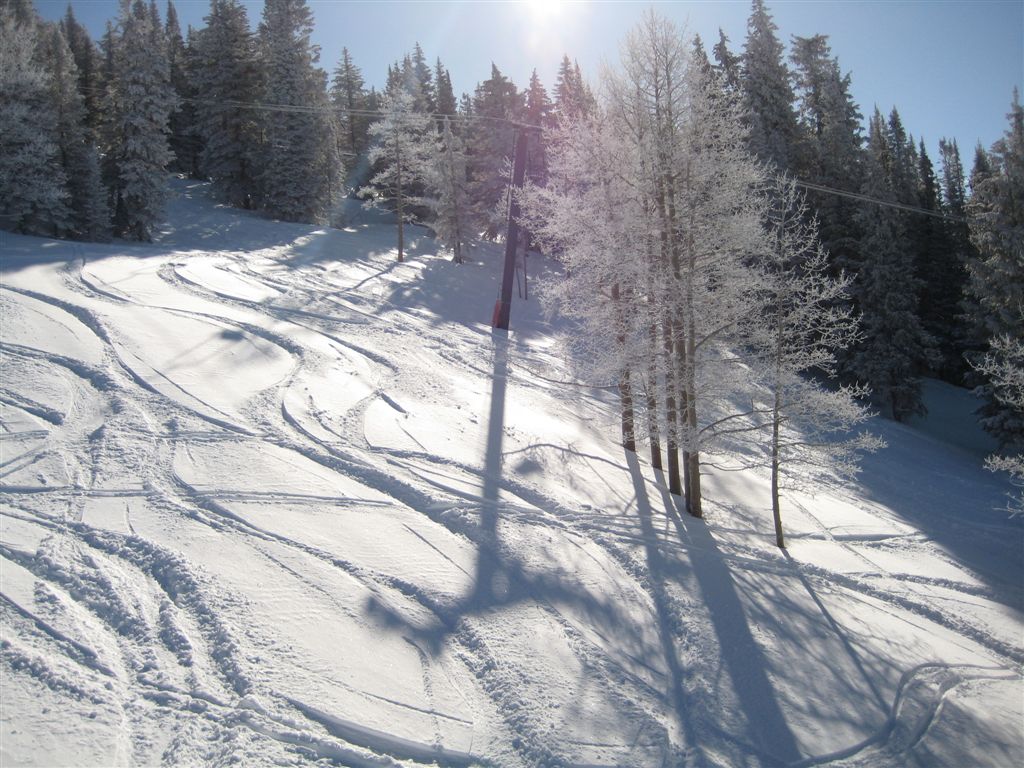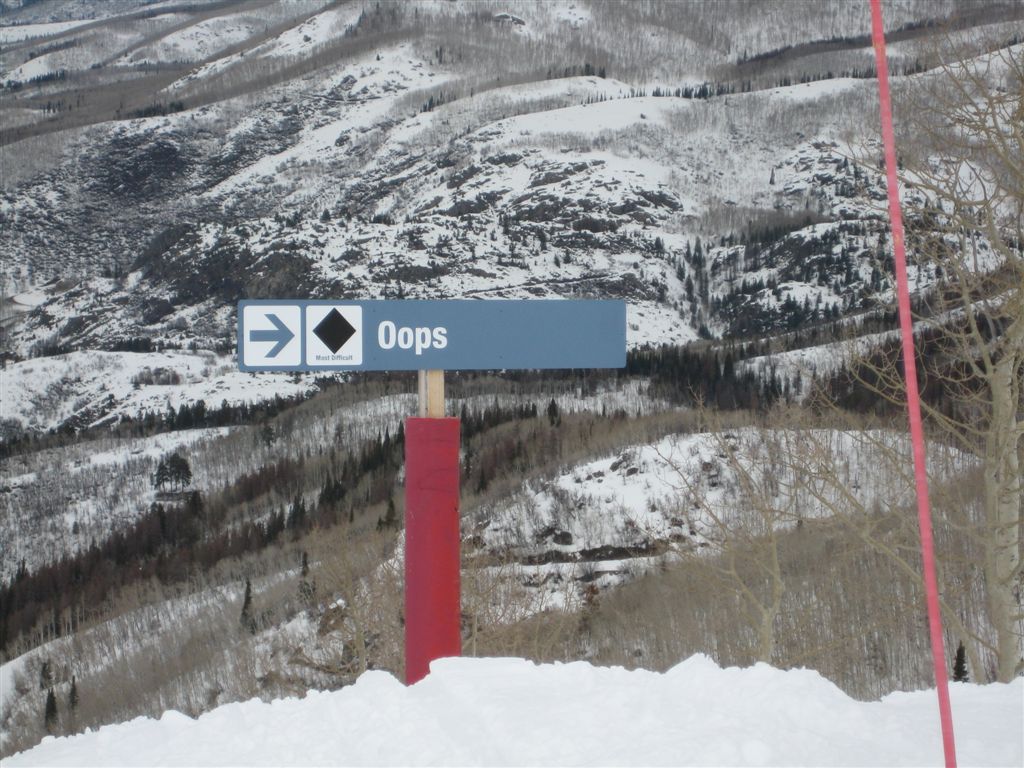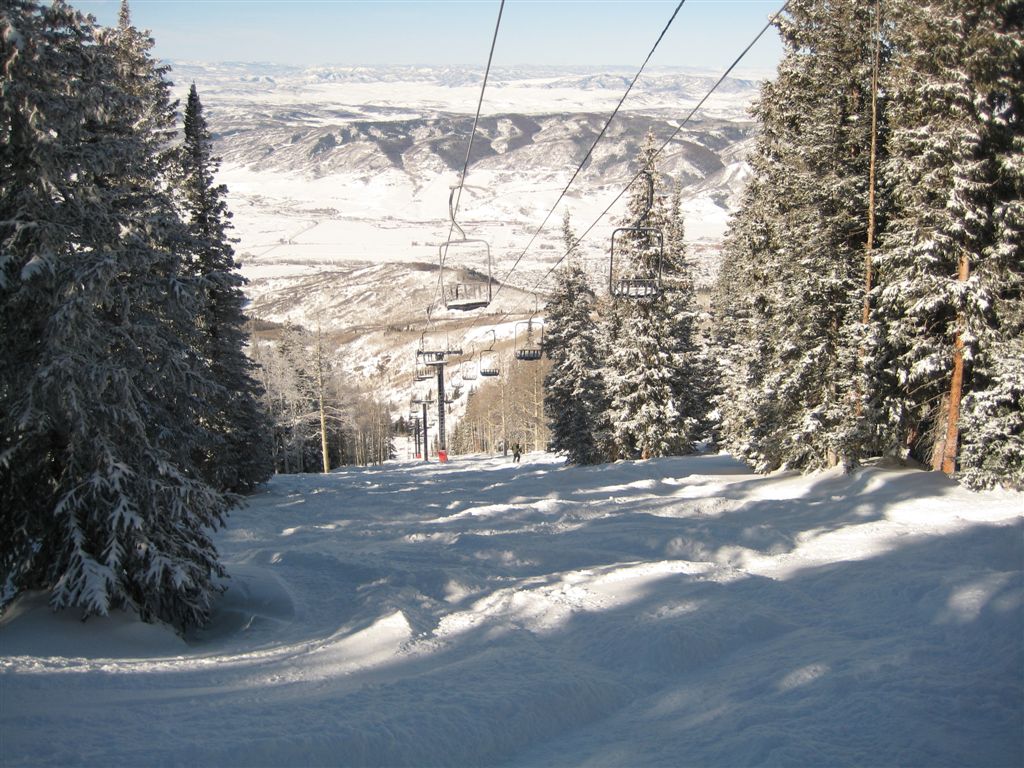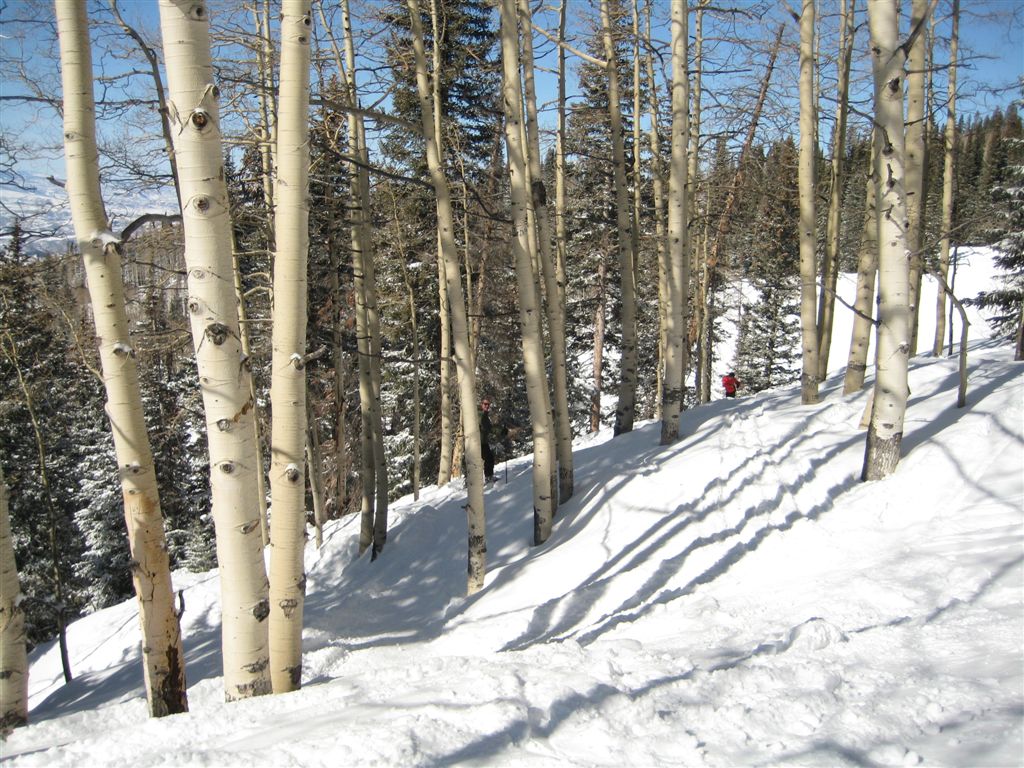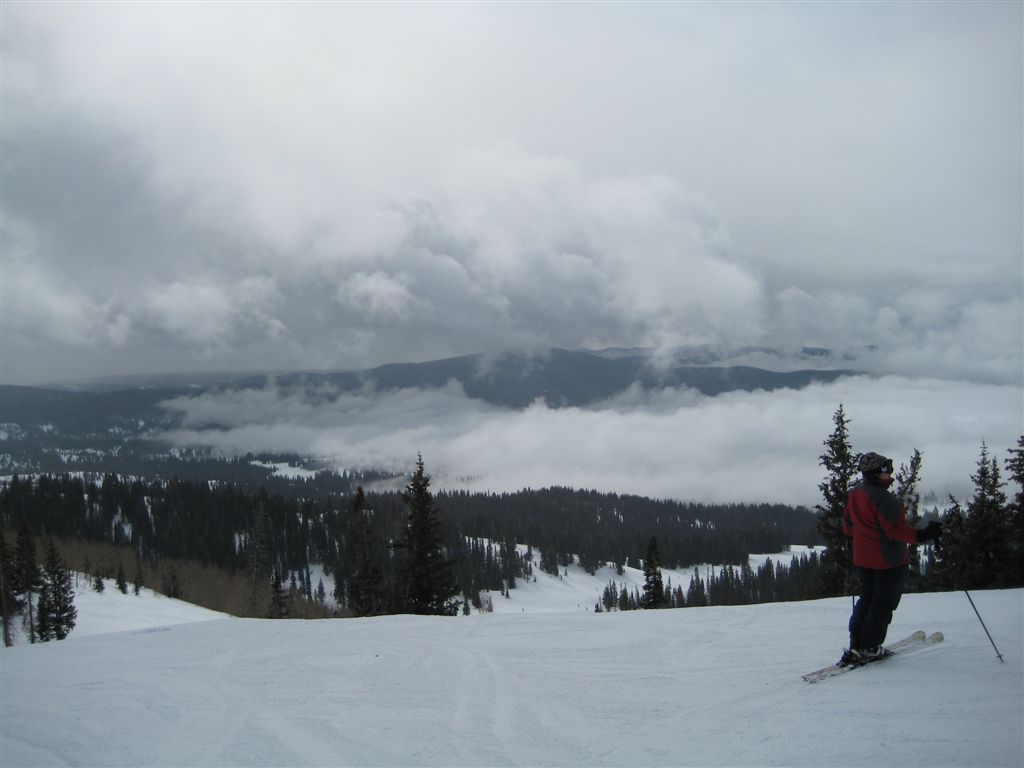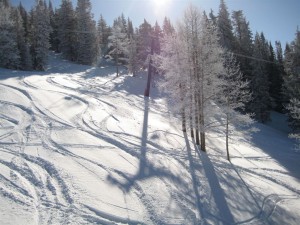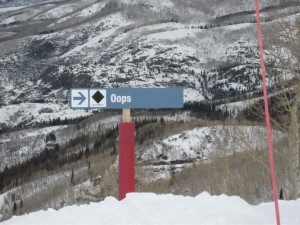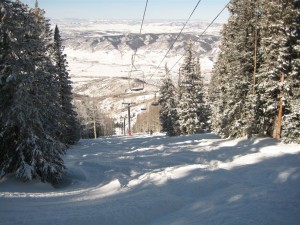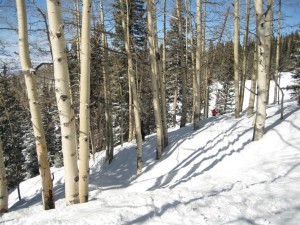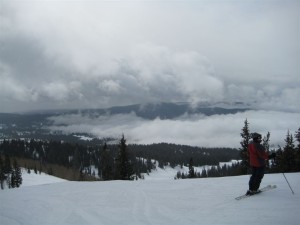 Steamboat Resort 's ski terrain is comprised of six different peaks and a total ski area of nearly 3,000 acres.  14% beginner, 42% intermediate, and 44% advanced runs mean fun for all levels.  Uphill lift capacity of more than 40,000 skiers per hour means more time on the snow, and hardly any time in lift lines.  Skiing was a bit challenging on this day, but great for refining carved turns and edge control practice.  The Pony Express lift provided a bit of shelter from the wind and lovely views through the woods on Longhorn and Chaps.  Our group included a couple of expert skiers and one snowboarder.  Our experts ran on the windy theme of the day and bumped down Hurricane and Twister.  The trees between these runs are nicknamed, "Twistercane"; the boles are spaced far enough apart that while we were occasionally whipped by rogue snow-covered branches our helmets didn't get a scratch.   Excellent whisper soft snow covered like a marshmallow carpet even deep within the trees.
.
We had enjoyed a full day of edge carving "S" turns  and a few roller-coaster rides through the mogul fields.   Our old and young legs didn't last as long as we would have liked (do they ever?)  We were delighted to find  quitting at 3:30 meant a table with a picturesque view overlooking Gondola Square and a cold glass of Hula beer.   The Rock-n-Roll/Country fusion group Lukas Nelson & The Promise of the Real were performing live as part of the "Bud Light Rocks the Boat" free  concert series.  Glimpses of his dad, Willie Nelson, were apparent in his voice he had the après ski crowd rocking.  Multiple concerts are offered here throughout the ski season covering a wide range of genres.  The fun doesn't stop on the slopes at Steamboat!
.
Morris Erickson writes, "A cowboy's friends are animals on the range running wild and free.  To ride all day with them not round could lonely be".  Come to Steamboat with all your friends—run wild and free on the lovely slopes.  We had an amazing experience and hope to return soon to once again experience the trademark "Champagne Powder" for which Steamboat is known for worldwide.
.
.
---
Steamboat Resort   http://steamboat.com
.
FACTS & FIGURES
LOCATION:
.
Steamboat, located in northwest Colorado, 160 miles/267kms northwest of Denver, is an easy three-hour drive from Denver. Take I-70 west through the Eisenhower Tunnel to the Silverthorne exit (#205), then go north on Colorado Highway 9 to the town of Kremmling, then west on US 40 over Rabbit Ears Pass. Steamboat is accessible by nonstop air service from seven major U.S. airports on American, Continental, Delta, Frontier and United Airlines in addition to connecting service from over 230 other domestic and international cities.
.
ABOUT SKI TOWN, U.S.A.®:
Certainly there are bigger mountains, places where the slopes are steeper or the runs longer. But nowhere do the various parts add up to create such an exceptional mix-one that distinctly sets Steamboat apart from the rest of the world. A mix that is rooted in a genuine friendliness and an authentic 100-year western heritage not often found in today's world of mega resort complexes that more closely resemble theme parks than true ski towns.
.
ABOUT THE MOUNTAIN:
Located within the Park Range of the Colorado Rocky Mountains, Steamboat is comprised of six peaks: Mt. Werner, Sunshine Peak, Storm Peak, Thunderhead Peak, Christie Peak and Pioneer Ridge®. 2,965 acres/1,200 hectares of terrain offer a diversity of trails for all ability levels. Gladed areas of Pioneer Ridge, Sunshine and Storm Peak are Steamboat's particular claim to fame, with Champagne Powder® snow in the trees for the most avid powderhounds. Remember, the term Champagne Powder was coined in Steamboat and this is the only place you'll find it!
.
Resort Official Opening: January 1963 Location: 40º 28' 35" N; 106º 49' 36" W
.
Season: November 24, 2010 – April 10, 2011 (138 days), typically from 8:30am to 3:30pm, daily
.
Elevations: Downtown Steamboat  6,695 feet     2,040 meters
Ski Area Base     6,900 feet     2,103 meters
Christie Peak Summit     8,015 feet     2,444 meters
Thunderhead/Mid-Mountain     9,080 feet     2,768 meters
Summit/Mt. Werner     10,568 feet     3,221 meters
Vertical Drop     3,668 feet     1,118 meters
Terrain: 2,965 acres/1,200 hectares (55.1 miles)
Trail System: 165 trails, including gladed tree areas
Tree Terrain: 1,790 acres or 61%
Trail Classification: 14% Easier
42% More Difficult
44% Most Difficult
.
Longest Run: Why Not, over 3 miles/4.8 kms
Bed Base: 17,325 pillows
8,489 pillows (within 300 yards from base)
.
Restaurants & Bars: 100+
Average Snowfall: 349″/886cm (15-year average)
400+ Inch Seasons: 08/09, 07/08, 05/06, 96/97, 95/96, 92/93, 83/84
Measured From: October to Mid April
Snowmaking: 375 acres/152 hectares
Snowboarding:
Terrain Parks: ………….4
Superpipes……………….1
Halfpipes…………………1
1st Lesson…………..1989
1st Halfpipe…………1990
1st Terrain Park……1993
PSIA/AASI Team…….4
.
Important Numbers:
Reservations…………..800.922.2722
Information……………970.879.6111
Snow Report………….970.879.7300
UK Toll Free………..0808.101.3798
AUS Toll Free………..1800.125.578
Twitter………………….SkiSteamboat
MediaTwitter…………SteamboatPR
.
Lift System:
Gondola (8-passenger)……………………………………1
High-Speed Six……………………………………………..1
High-Speed Quads………………………………………….5
Conventional Quad Chairlift……………………………1
Triple Chairlift……………………………………………….6
Double Chairlift……………………………………………..2
Surface Lifts………………………………………………….2
Total……………………………………………………….18
Uphill Capacity:………………………..41,465 per hour
VTF………………………………………………..42,592,795
.

.
Published April 2011