Steamboat – Powder and Trees
By  George F. Karioris
Photography by  Eric Cummings
.
"The mountains are calling and I must go."  John Muir
.
Traveling to the mountains is always a blessing for me.  I live in the beautiful rolling hills of Wisconsin, but both winter and summer my heart tugs me toward the soaring peaks of the Colorado Rockies.  I've been able to visit and ski at may resorts throughout the American west but I had never before been to Steamboat.  I planned my trip with high hopes and anticipation for Champagne power and lots of trees.
.
I arrived in Steamboat a.k.a. "Ski Town, USA" late on a Friday afternoon.  My flight into Denver had been uneventful and the 175 mile drive to Steamboat was beautiful under a sunny sky on dry roads.  On the gently snaking Hwy-40 to Steamboat we drove through the picturesque Yampa Valley and over the Rabbit-Ears pass.    We found our way to a comfortable ski-in condo just under the gondola and made arrangements for Saturday's skiing.
.
Friday's blue skies had been overlaid with thick, heavy clouds on Saturday morning.  Undaunted we set out to ski Steamboat's varied terrain even if we couldn't appreciate its views.  The clouds hung like an Irish lace veil on the mountain in the early hours of the morning.  There was virtually no wait at the gondola at 9am when we boarded and headed up the gossamer cable for our day.  At the top of the gondola we headed toward the 10,372 ft summit called Storm Peak.  On most days Storm Peak provides heart stopping views and adrenaline edged skiing.  We found ourselves on this day in a miasma of white vapor that seemed to have a life of its own.   We soon wandered into the trees and moguls that were runs Closet and Shadows.  The amazing thing about that hazy Saturday is that the skiing was great.  Although there was absolutely no sunshine, the temperature was moderate and the snow held and was forgiving.  The day took us to places that I really don't remember.  We were skiing blind sometimes and we just let the mountain take us wherever it wanted.  It's curious to say that a place, a piece of earth, a mountain, can have any kind of will or spirit; but that's sure what Steamboat felt like to me under that mystical haze.  Once during the day four men stopped us on skis and asked directions to the Rendezvous Saddle restaurant building.  We looked, and looked at a trail map and concluded that it must be nearby, but because of the thick clouds we had no real idea where it might be.  Just then a bit of breeze blew through and we all saw the Rendezvous Saddle about 50 feet away from where we were all standing!      At about 2:30 the warm temperature of the day stared to yield to the approaching evening.  As the cold descended on us the clouds gave up their moisture, and did the most wonderful thing clouds can do in the mountains; make snow.  Our first day's adventure ended seeing Steamboat's mountain under a snowy mantle preparing fresh power for the next day.
.
I like people, and generally buck at flash and pretence.   I was so pleased to find a family friendly and down to Earth attitude at Steamboat.  I like to talk to people everywhere I go.  Sometimes my traveling companions roll their eyes and pull at my sleeve when I get yakking with the folks I meet.  I met Kathy J. who does double duty at the ticket counter when she's not running the ski school or the mountain activity desk.  Not only did Kathy help to advise us on what routes to take on the mountain, but helped us find a place to eat dinner at a great Italian restaurant in town too.  She could not have been more helpful and friendly.  Virtually ever other person I met there, both Steamboat employees and skiers alike were cast in the same mold as Kathy. Besides the great skiing, it makes it easy to see why skiers flock to this cowboy-attitude resort.  I got a chance to sit down for a chat with Mike Lane, Steamboat's Public Relations director.  I half expected a hard-sell boasting the mountain's great attributes: the lifts, the restaurants, the grooming, whatever.  Mike had two questions for me: "Did I have fun?" and "What could Steamboat do better?"  If not for my three-day exposure to Steamboat before my meeting, I would have been surprised.  It's an everyday attitude and it clearly works.  The people are approachable, unpretentious, and genuine.  I felt that I could relax and be myself.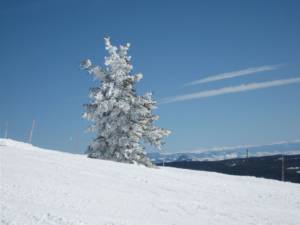 By Sunday morning the last vestiges of Saturday's cloud cover had vanished.  The sky was one unbroken London blue Topaz from horizon to horizon, the locals call this a "bluebird day".  After a hearty breakfast of potatoes and eggs, we started our day early and arrived at the gondola boarding area before any crowds.   The weather stayed perfect, warm, and sunny throughout the entire day.  We skied the mountain from Tomahawk to Cowboy Coffee, with plenty of stops in-between on runs like Rolex, Oops, Sunset, and Three O'clock to name a few.  The views that had been hidden from us on Saturday were in full splendor now, undulating vistas with snowy mountains in all directions.  Thunderhead, the building at the top of the gondola, welcomed skiers to a wonderful world of opportunities.   Steamboat likes to refer to the powder snow here as "Champaign Powder".  OK, I'll go with that.  Sunday morning started out with about 9-inches of fresh powder that was wonderfully light, had just a bit of body, and was really fun.  Like a good French Champaign? Sure.  The terrain had transformed itself into a playground of sorts.  We pushed down runs under the lifts and virtually everywhere on the mountain.
.
I had heard that Steamboat was famous for tree skiing.  Growing up in the Midwest means skiing on ice and crud, so tree skiing is not bred into my nature.  But my photographer, Eric, had originally learned to ski at Steamboat and was determined to make me a tree skiing convert.  So… into the trees we went.  At first I was a bit intimidated by the closeness and isolation of the treed environment.  But soon I got the feel and the rhythm of the blind turns, making some corners short and snappy, while other times letting my skis run fast.  I appreciated the 174-Cm Rossignol Bandit skis that I was on; they were short enough and shaped enough to make an easy day of thousands of turns.  My old 193-cm Dynastars lean unused in my closet at home, too long and straight relics of the past.  While starting down a black-diamond called Twister one skier wiped out at the cat path at the  crest.  His binding released one ski which then arced gracefully through the air down Twister where it came to rest some 300 yards down hill.  The fresh powder made it possible for him to get down this gnarly moguled run by sliding on his butt, leaving a most interesting track.
.
At the bottom of the mountain Steamboat organized an outdoor après ski concert.  They had booked a group called "Yo Mama's Big Fat Booty Band", which in deference to its name was really excellent.  Inexpensive beers were readily available thanks to sponsorship by Budweiser, and an instant party popped up.   The group played a variety of songs with lots of instrumental backup; there were even some groupies that came just for the band.  They used the band's identifiable round stickers and wore them in a unique way for the event.  I believe that Steamboat makes a tangible effort to appeal to everyone.
.
The town of Steamboat Springs is a throwback to cowboy days in its feel.  But there are the required T-shirt shops, bars, and lots of good restaurants there too.  From town, which is a couple miles away from the base of the gondola, you can easily see the ski mountain rising up as a reminder why you came.  There's plenty of lodging both expensive and reasonably-priced to be had at Steamboat, so don't be afraid to it's out of reach for the budget-minded.
.
By Monday the powder had been packed and groomed in most places to a comfortable cruising texture.  The day, again, was glorious with sun and blue skies.  Today was going to be a treat for me; I was going to ski with Olympic champion skier Billy Kidd.  Billy is a stalwart institution at Steamboat and carries enviable title "Director of Skiing."  Several days per week regular skiers at Steamboat can meet and ski with Billy Kidd.  There is a meeting place near the top of the gondola cleverly labeled "meet Billy here" with an electronic sign indicating whether or not Billy is skiing that day.  While I'm not normally a celebrity chaser, I really wanted to meet and ski with Billy.  There were about eighteen of us that day to for the event.  Billy Kidd must do this hundreds of times a year, but he's so affable and personable that you'd think this was the only time he'd ever offered the opportunity to the public.  Billy gave a wonderful talk about skiing, competition, and life in general.  Then we followed him down a run called Heavenly Daze, where he stopped several times and gave skiing tips.  Here's a brief summary of Billy's skiing advice:
.
Keep your skies comfortably apart
Keep your hands and arms out for balance (not at your side)
Face yourself downhill
When you ski in the trees, look at the spaces in-between (not the trees!)
Wear a helmet
Have fun!
Billy is a wonderful representative for Steamboat!  He personifies the attitude of the whole resort.  There were some younger skiers in the group that Billy took special effort to encourage.   It was fantastic to see him interact with everybody.
















.
Steamboat boasts the reputation and honor of being a very family friendly resort.  I can attest to the fact that there were tons of families on the mountain.  Lessons were being taken, kids were skiing with parents, and skiers of all ages from the very young to the never-getting-older were all having a great time.  Take your friends, take your families, or go with a group; you'll be very comfortable and have a great time at Steamboat.
.
FACTS & FIGURES
.
LOCATION:
Steamboat, located in northwest Colorado, 160 miles/267kms northwest of Denver, is an easy three-hour drive from Denver. Take I-70 west through the Eisenhower Tunnel to the Silverthorne exit (#205), then go north on Colorado Highway 9 to the town of Kremmling, then west on US 40 over Rabbit Ears Pass. Steamboat is accessible by nonstop air service from nine major U.S. airports on American, Continental, Delta, Frontier, Northwest and United Airlines in addition to connecting service from more than 200 other domestic and international cities.
.
ABOUT THE MOUNTAIN:
Located within the Park Range of the Colorado Rocky Mountains, Steamboat is comprised of six peaks: Mt. Werner, Sunshine Peak, Storm Peak, Thunderhead Peak, Christie Peak and Pioneer Ridge®. 2,965 acres/1,200 hectares of terrain offer a diversity of trails for all ability levels. Gladed areas of Pioneer Ridge, Sunshine and Storm Peak are Steamboat's particular claim to fame, with Champagne Powder™ snow in the trees for the most avid powder hounds. Remember, the term Champagne Powder was coined in Steamboat and this is the only place you'll find it!
.
Resort Official Opening: January 1963
.
Elevations:
Downtown Steamboat……………………………..6,695 feet
Ski Area Base…………………………………………6,900 feet
Christie Peak Summit…………………………8,015 feet
Thunderhead/Mid-Mountain…………………….9,080 feet
Summit/Mt. Werner………………………………10,568 feet
Vertical Drop…………………………………………3,668 feet
Terrain: 2,965 acres/1,200 hectares (55.1 miles)
Trail System: 165 trails, including gladed tree areas
Tree Terrain: 1,790 acres or 61%
Trail Classification:
14% Easier
42% More Difficult
44% Most Difficult
Longest Run: Why Not, over 3 miles
Snowmaking: 375 acres
Average Snowfall: 343"
Lift System:
Gondola (8-passenger)……………………………………………1
High-Speed Six……………………………………………………..1
High-Speed Quads………………………………………………….5
Conventional Quad Chairlift……………………………………1
Triple Chairlift……………………………………………………….6
Double Chairlift……………………………………………………..2
Surface Lifts………………………………………………………….2
Total……………………………………………………………….18
Uphill Capacity:………………………………..41,465 per hour
VTF……………………………………………………….42,592,795

Published April 2009