"It's a Colorado Rocky Mountain High,
     I've seen it raining fire in the sky
     The shadows from the starlight are softer than a lullaby."
           John Denver (Rocky Mountain High)
The sky was a mottle of steely gray and watery turquoise by the time we reached Belle's Camp at the top of Blue Sky Basin.  The Skyline Express lift had brought us here, as the last leg of a wandering trek which began on Vail's famous Eagle Bahn gondola in Lionshead village.  I had prepared all year for this trip to Vail and was anxious to set my skis on the white firmament of this snowy paradise.  Our day had started early, rising at first light with hopeful expectations for favorable weather.  While there is nothing certain or constant about the weather when skiing in Colorado we had our fingers crossed eager for a clear day.  When I made my plans for this week I had explicitly put in my order for snowy evenings and sunny blue-sky days.  Perhaps it was the time zone difference or just poor communications, but when I was on the mountain it was clearly overcast and snowing.  With my goggles donned, hat pulled tight, and fleece neck gator pulled up, I was prepared for any weather.
Here, at the farthest place from Vail's famous front side slopes, Blue Sky Basin was celebrating its tenth anniversary, having first opened to skiers in 2000.  Photographer John and travel companion Tim were with me as we began our exploration of this area.  Without any detailed plan of attack we began our assault of this amazing region on runs called Cloud-9 and Big Rock Park.  The falling snow was presenting us with a soft 4-6 inch base of new powder that allowed us to crisscross the mountain where the only sound heard was the music of the wind in our ears.  After a bit of further exploration we found our way onto the run called Into the Wuides.  Unlike Cloud-9 which was loosely forested with pine trees throughout, the Wuides is a very long wide open run which today was conditioned as snow covered moguls.  I stopped several times on my way down this sea of white to catch my breath and to have it taken away as well.  I've been to the Rockies many times and I am still often taken by the wonder and grandeur that they so casually and perennially evoke.  After this run on my first day at high altitude I was, in a word, gassed.  The amazing restorative powers of riding Earl's Express chair lift seemed to energize me for more and more ventures up and down in Blue Sky.
To people who have never been to Vail or in particular Blue Sky Basin, I advise them – start early and pack a lunch.  Seriously, when you organize a ski trip of your guy friends, food is a topic of extreme importance.  A high protein and high carbohydrate breakfast had been cooked by Tim this morning and inhaled by the rest of us.  In the high country ,exercise and elevation force frequent refueling and rehydration.  We were ready for lunch shortly after noon.  Oddly deformed turkey and cheese sandwiches, bags of trail mix, and other high energy food were extracted from our pockets and packs inside the tiny cabin called Belle's Camp.  Packed like herring with other skiers, we ate our lunches and chatted up Colorado locals and visitors from around the globe as we ate.  Good natured camaraderie and a like-minded synchronicity make these close quarters the perfect spot for a sojourned luncheon.  After lunch we made more runs in Blue Sky including runs in Pete's Bowl like The Grand Review, Star, and Hornsilver.  They were running soft and smooth and the lightly falling snow allowed us to make fresh tracks all day long.  In good conscience I could not give Vail the credit for the amazing conditions on this day, that credit goes to the Almighty alone.  In a correlated reflection, perhaps the Almighty has a special interest in ski conditions at Vail.  Who's to say?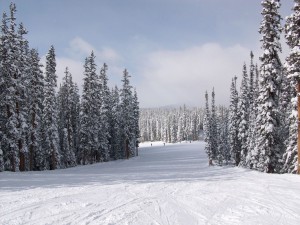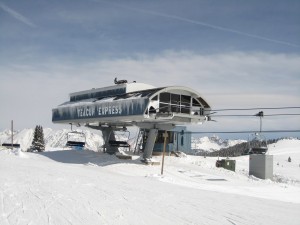 We were on Vail Mountain for three days of skiing.  The weather fluctuated some, and yet continued to deliver us blessings of snow each day.  During the days on the mountain we stayed bundled up, this was not yet spring ski season, but hey! Snow every day is a blessing.  The wind had been fairly quiet and the pine trees collected snow on their boughs as if banking it away for a time when skiers would need it on the slopes.  During the next few days those boughs with their accumulated stores of snow gave up their treasure to wind and gravity.  The falling snow in gossamer cascades of ivory lace decorated the mountain with a quiet magnificence.  Grand cathedrals and monuments made by the hands of man can not compare to the glory of this natural scenery.
Our traveling companion Eric elected to take snowboard lessons through Vail's ski school as his first day on the mountain.  The ski school is one of Vail's most beneficial enterprises whose instructors are expert skiers from all over the world.  Equipped with a rented snowboard and bolstered by memory of youthful years skateboarding, Eric started out early at the Eagle Bahn gondola for his lesson.  Working with his instructor Lisa, he progressed from level-1 to level-4 within the course of a single day.  By 3pm he was effectively starting, stopping, and navigating green runs with linked turns.  This single day of instruction gave him the skill and confidence to go out on his own, mixing a day of snowboarding in amongst his days on skis.
Only by the works of man are Vail's ski slopes accessible.  The mountain is run with an understated efficiency that allows the visitor to enjoy it without being generally overcome with "stuff" on the mountain.  Lift lines on Vail's front side can be a bit slow during weekends days, but by jumping up and over to the back side for the bowls and Blue Sky or its famous back bowls you will find almost no lift line delays.  Vail has also moved to a new Radio Frequency (RF) lift pass scanning technology.  This allows skiers to wear lift passes under their ski jackets and have the lift operator scan right through the jacket.  Very cool, it makes skiing easier and moves the lift lines along faster too.  Vail's lift systems are second to none; they are (almost) all high speed quad express lifts which silently transport skiers up the mountain very quickly.  The lifts give fatigued skiers the chance to recharge and revitalize before hitting another amazing run.  Vail also does an amazing job grooming the ski mountain.  They post daily information sheets on which runs have been groomed, plus there are indicators on many of the runs to let skiers know which have been groomed that day (or the night before).
Getting around Vail is pretty easy from anywhere in the Vail valley.  The city operates a free bus service which makes frequent circuits through all points of town.  The bus stop for us this visit was just steps from the door of our condo on the far side of East Vail.  Parking is limited and expensive at the Vail Village and Lionshead, however if you want to go there for dinner or an evening out, parking is free after 3pm.  There are several places to catch a drink at après ski time, including the ever popular Garfinkle's in Lionshead near the base of the gondola.  It's crowded with tourists and locals alike.  In its super-casual atmosphere you can meet and drink with wonderful people who are all willing to share stories of their ski day on the mountain.  In Vail Village the Red Lion is an after ski staple, full of folks decompressing, the Lion generally has live music to entertain the customers.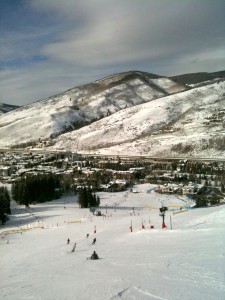 Vail mountain is a special place to me.  Its snowy vistas and its wide ranging terrain make it wonderfully appealing and approachable.  Old-timers and newbies alike find excitement, challenge, and damn-near pure joy at Vail.  Those accustomed to skiing in the icy east or mid-west will be absolutely amazed at the scale and grandeur of Vail's enormous 5,300 acres.  I first skied Vail about 17 years ago and have been lucky to get there many time since then.  I find myself coming home to Vail; a welcoming friend, a fierce challenger, and an undiscovered country.   When I ski other resorts I cannot stop myself from comparing it to Vail, it is the gold standard.  Her enticing Siren song lures me with a sweet indescribable melody.  I'm sure that I will return to Vail to lose myself in her embracing arms.
————————————————————————-
We thought that everyone traveling to Vail might need a little advice.
Here are 10 quick tips to make your trip more successful and fun.  Enjoy!
First Light Sports Tip # 1
Water is super important also, drink whenever you can.  If you have a camelback water pack, fill it in the morning and drink throughout the day.  It'll help keep you from cramping up and keeling over.   If you ski with guys like us, keeling over on the ski mountain just means that the others will spray you with snow as you lay there in your painful repose.  It's best to keep upright throughout the day!
First Light Sports Tip # 2
The effects of drinking alcohol at high altitude can be more efficacious and somewhat dehydrating than at lower levels.  Avoid drinking alcohol during your ski day!  After the sun goes down in Vail, go where the locals go, and have a couple drinks.  Try "The Club" Vail's famous downstairs hangout for some fun live music, but don't go there if you're a prude, or easily offended.  Also stop at "The George" on Bridge street, grab a drink and lounge near the pool tables and foosball in one of many leather uber-recliners.  After drinking a bit, have a couple glasses of water before going to bed, you'll be good as new to ski in the morning.
First Light Sports Tip # 3
If you start your day in Lionshead village and the line for the Eagle Bahn gondola is long in the morning (or whenever), get yourself onto the Born Free Express lift just to the left of the gondola.  It travels up the mountain at about the same speed as the gondola, and goes nearly as far up.  From there heat to the Avanti Express lift and get in some morning runs, the lift lines aren't generally too bad there, even on weekends.
First Light Sports Tip # 4
Pace your ski days, and avoid altitude sickness.  If you're from the flat lands of America, the altitude at Vail may sneak up on you.  Headaches, breathing issues, problems sleeping, dry eyes, and a plethora of other oddities may affect you.  The best remedies for virtually all of these maladies are water and rest, shored up with bolsters of ibuprofen if needed.  If you've got money to burn I suppose that you could try oxygen supplement.  Naaaah… just stick to drinking water, you'll be fine.
First Light Sports Tip # 5
Before you go to Vail, sign yourself up for the Peaks Program at www.snow.com/peaks.  It's a free program that allows you to pre-purchase multi-day lift passes at a discount.  You won't save a ton of cash, but anything you save you can spend on drinks, food, chichi t-shirts, or other chotchke.  You can pick up your Peaks card at any ticket office.
First Light Sports Tip # 6
Leave your skis at the condo and visit Vail village or catch a gondola ride up at night.  Vail operates the gondola free so that visitors can go to the Eagle's Nest for drinks or food.  There's also snow tubing and night bike-skiing available for a price at that same location.  If you can, pick a clear evening to ride the gondola the views are wonderful.  Be sure to take note of the snow grooming machines crawling all over the mountain with their lights on, it's very cool to see!
First Light Sports Tip # 7
While skiing or boarding will likely be your main objective, there are plenty of other things to do while staying in the Vail area.  There are excellent snowmobiling opportunities available thru Nova Guides www.NovaGuides.com at Camp Hale.  They can provide both guided tours and unguided snowmobile rentals for the more independent leaning drivers.  We highly recommend their Top of the Rockies guided tour, Nova will take you to places you'd never find on your own with dramatic and awe inspiring vistas.
First Light Sports Tip # 8
Don't be shy; take the empty seats at partially occupied tables for lunch and après ski.  You'll meet wonderful people and enjoy the company.
First Light Sports Tip # 9
Go take a hike.  A 50 minute drive west on I-70 will take you to the beautiful Glenwood Canyon where you can find the Hanging Lake trail head.  The trail is 1.2 miles in length and ascends steeply about 1,100 feet.  It's a narrow and snow covered climb to one of the most beautiful places in Colorado.  Take extra care on the last 100 yards as the trail rises precipitously just before arriving at Hanging Lake.  Be sure to hike the last ascent above the lake itself to Spouting Rock.  The falling waters there create a huge glacier-blue ice cone.  Come prepared for this hike with solid hiking boots, a hiking stick (a ski pole works well), water, snacks and some friends. Arriving at the trail head around 11am will give you plenty of time for this activity.  Don't forget your camera.
First Light Sports Tip # 10
Take a ski or snowboard lesson at Vail.  The highly skilled instructors at Vail's ski school train children and adults on proper form and execution.  From the never-ever entry level skier/boarder to the advanced practitioner looking for some fine tuning, everyone can benefit from lessons at Vail.  You'll learn from the best instructors as you practice on Vail's excellent groomed runs.  As an added perk, ski school students generally skip past most lift lines.
——————————————————————————————————————————————–
Vail Mountain Fact Sheet:
Visit Vail at their website Vail.com
Vail is the home mountain to 2010 Winter Olympic champion Lindsey Vonn.
On February 28, 2010 Vail renamed the "International" ski run to what will be known now as "Lindsey's"
Check out Vail's news story on Lindsay Vonn's new run.
Dates and Hours:
2009-10 Season: Friday, Nov. 20, 2009- Sunday, April 18, 2010
Hours of Operations (MST) 9 a.m. to 3:30 p.m. (Hours extend over the course of the season)
Elevations:
Base Elevation 8,120 ft./2,476 m
Peak Elevation 11,570 ft./3,527 m
Vertical Rise 3,450 ft./1,052 m
Snow:
Snowmaking 390 acres/158 hec
Average Annual Snowfall 350 inches/889 cm
Acreage:
Total Skiable Area 5,289 acres/2,141 hec
Front Side 1,627 acres/658 hec
Back Bowls 3,017 acres/1,221 hec
Blue Sky Basin 645 acres/ 261 hec
Trail Classification:
53% Expert/Advanced
29% Intermediate
18% Beginner
Conventional Trails 193
Longest Run Riva – 4 miles/6.4 km
Lifts:
Total number of lifts: 31
Gondola: 1
High-speed quads: 16
Fixed-grip quad: 1
Triple chairs: 3
Double chairs: 1
Surface lifts: 3
Conveyors: 6
Total Uphill Capacity: 54,963 people per hour
Terrain Parks:
3 Parks: Fly Zone, Flight School and Aviator that include small, medium and large features.
1 Superpipe
1 Halfpipe
Climate:
Winter (recorded on the mountain)
*Daytime low temperatures in the teens with averages in the 20's and 30's *below 30 degrees nighttime
Summer
*75 degrees daytime *45 degrees nighttime
*Vail sees more than 300 days of sunshine per year.

Published March 2010