The byline for the Today Show read, "Boy, age 8, experienced heaven."  Okay… so why didn't the Today Show call me?  Skiing at Winter Park affirmed the presence of heaven for me!  Our spring ski trip started with smooth sailing into Denver International Airport which boasts record-setting luggage retrieval time and a really cool separate carousel for snowboards and ski bags.  We made a quick hop into our rental car, pointed it uphill and up into the mountains we went.  Arriving on a weekday meant that we didn't have to struggle with traffic, a definite plus for shedding the shackles of work life.  On the road west of Denver be wary not to lose your precious "vacation mode" feeling by getting stressed out on the I-70 corridor.  If traffic clogs and hesitates because everyone decided to head to heaven; a good place to take a break, de-stress and get a great pizza is Beau Jo's in Idaho Springs (exit 240).  The restaurant has been featured on "Man vs. Food" and offers some quick and tasty bites.
Wonderland in Winter Park.  You could not have ordered more glorious conditions:  fresh snow with turquoise blue sunny skies and light winds. Incredibly easy to get to the mountain, Winter Park is located right off of highway 40 and there are several options for free parking along the complimentary shuttle route.  The Lone Tree and Blue Spruce lots are great for close access when you need to get to the main lodge area for tickets or rentals.  If you already have your lift ticket and equipment in hand, park at the Corona Siding or the Utah Junction lots.  Ample spots are available there and allow you to step on the hill, pick up the Challenger or Super Gauge lift, and then at the end of the day, slide on over to your car without having to ride a shuttle.
Winter Park Resort is comprised of several mountains, ridges, and bowls.  Mary Jane Mountain is named for a lady of ill repute who was financially savvy and used her earnings from the railroad workers to purchase the area that later became part of the resort.  MJ Mountain's slogan "No Pain, No Jane" comes from the numerous mogul runs located there.
Fitted with K2's and the most comfortable Head ski boots I've ever worn we ascended the mountain pulsing with a palpable anticipation.  The message board at the top of Super Gauge Express read:  "Couldn't get much better than this!"  What an understatement!  At the top of Mary Jane we decided to check out the fantastic fresh snow on a black diamond mogul run called "Trestle".  A black run is not generally my first choice because I've grown a bit more cautious over the years, but this ended up being Tim's favorite run.  New snow and shoulder high moguls surrounded on both sides by gorgeous pines were dusted in white.  The brilliant Colorado sun warmed our faces and gave us grins the entire (really long thigh burner) way down.  Spontaneous whoops of joy were heard from everywhere; we just couldn't help but squeal with delight.  It really was that good.  Our new snow term for the week was "marshmallow pie".   An especially apt description of what the snow felt like on Little Ten, another black diamond run.  I know, I said these weren't my favorite but with snow that felt like we were skiing on top of a cloud, I just couldn't help myself from going back several times.  Anyway, "No Pain, No Jane" right?
A visit to Winter Park just wouldn't be complete without a ride up the Panoramic Express lift to the peak elevation 12,060 feet on Parsenn Bowl.  The vista is breathtaking, even if you're acclimated to the altitude!.  Intermediate skiers will feel welcome with numerous blue runs to choose from.  Village Way in Vasquez Cirque is routinely groomed if you don't want to ride the face.  Duck into the trees at the face bottom for some laugh out loud fun runs.  Memories of amusement park roller coaster rides will be triggered as you wind your way down through the forest.  Juniper and Paintbrush give ample room for turns and a bit of elbow room while Kinnikinnic and Willett's Way are tighter and require a few crisp turns.  Stay alert in the woods!  It's a great place to work your sylvan ski magic and clear your mind.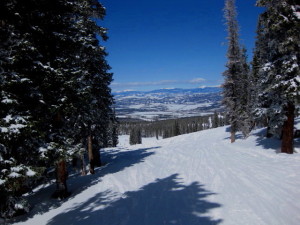 Winter Park fans the fantasy fire with the whimsically named runs Jabberwocky and Cheshire Cat. You just might believe that you'll see young Alice peeking out from around a snow dusted pine.  Skiing can only be this great in fantasyland.  Be sure to step off Lonesome Whistle on the right about halfway down the run to skittle down Dilly Dally Alley.  Dilly Dally Alley is a narrow lane with tickle-your-tummy bumps and twirls around trees, it's an absolute gas!  All take you down to the Olympia Express lift to zip up to the top of Winter Park Mountain with an elevation of 10,700 feet.  You can stop in at the Sunspot Lodge for a quick bite or break or keep on trucking down Winter Park Mountain.  You can get to Mary Jane from this point, but it's a fairly treacherous mogul run called "Outhouse".  While not for the weak of heart, it is the quickest way to Mary Jane, but only for advanced skiers.  I chose the longer Whistlestop to High Lonesome Express, a couple extra minutes but worth keeping my limbs intact.  Of course, Tim and young Zach had to take the short cut (but they only ran it once!)
New this year at Winter Park is the Private Lesson Center.  A stylish new building with mountain flair, it is complete with complimentary lockers, full concierge service, and private access to all lifts.  The center is conveniently located at the bottom of the Zephyr lift and boasts a performance lab with custom alignment and free Wi-Fi access.  Guests can relax after lessons on comfy leather couches while watching flat screen televisions and getting their boots dried with the automatic dryers.  You'll be back for more lessons with this pampering.
Our week ended with a celebratory dinner at the Brickhouse 40 restaurant located right on Main Street in Grandby; definitely worth a stop.  When you walk through the door, you know you're in store for a treat.  A large fireplace with comfy leather furniture greets you and entices you to relax and enjoy a pre-dinner cocktail.  The restaurant is located in a former home furnishings store and some of the displays are still present, the atmosphere is warm and welcoming.  The menu selections are of Greek/Mediterranean focus and reasonably priced with generous portions.  I was glad that downhill skiing burns 300-400 calories per hour because there were no leftovers!  I need to ask my editor if I can do this full-time or perhaps get a leg in on the grasshopper counting!  Happy skiing.
(Editor's Note:  Maggie, Don't give up your day job, but keep skiing, writing, and having fun.)
Published April 2011
—————————————————————————————————————–
WINTER PARK RESORT INFORMATION
Address:
Winter Park Resort
85 Parsenn Road
P.O. Box 36
Winter Park, Colorado 80482
Contact Numbers:
(970) 726-1564, Denver Direct (303) 316-1564
Snow Line (970) 726-SNOW, Denver Direct (303) 572-SNOW
Online:
Winter Park Resort website: www.winterparkresort.com
E-mail for general inquiries: [email protected]
Location:
Winter Park Resort is located 67 miles (108 kilometers) northwest of Denver and 85 miles (137 kilometers) from Denver International Airport (DIA).  Set in the Vasquez Mountains of the Arapaho National Forest, Winter Park Resort is the closest major ski resort to Denver (one and half hours driving time) via Interstate 70 West to exit 232 and onto U.S. Highway 40.
Owner/Manager:
Owner:  City and County of Denver
Manager:  Intrawest/Winter Park Operations Corporation: www.intrawest.com
Winter Park Resort is a private company
Season/Hours of Operation:
Wednesday, Nov. 17, 2010 – Sunday, April 24, 2011
9 a.m. – 4 p.m. weekdays
8:30 a.m. – 4 p.m. weekends and holidays
The Mountains:
Winter Park Resort consists of four adjacent areas: Winter Park, Mary Jane, (including Parsenn Bowl), Vasquez Cirque, and Vasquez Ridge.  A network of trails and chairlifts connects the four distinct mountains.  Winter Park Resort is the oldest continually operated resort in Colorado and the 2009/10 season marks its 70th season.
The Village at Winter Park Resort:
Winter Park Resort is excited to announce the completion of the major expansion and development of The Village at Winter Park.  This new base village, complete with a state-of-the-art Village Cabriolet, features three restaurants, an old-fashioned soda fountain and creperie, expanding retail offerings including Shirt Off My Back, an arcade, snowmobile rental and backcountry cat skiing outlet, 200 new condominium units in Fraser Crossing and Founders Pointe, 14 Village Lofts, a central pond, ice skating, an event gazebo, and a multi-level parking structure, all located within steps of base area chairlifts.  Combine that with the dining and retail options in Zephyr Mountain Lodge, and guests will find plenty to entertain, day or night.
Elevations:
Winter Park: Base 9,000 feet (2,743 meters); summit at Sunspot 10,700 feet (3,261 meters).  Vertical drop: 1,700 feet (518 meters).
Mary Jane: Base 9,450 feet (2,880 meters); summit at North Cone 12,060 feet  (3,676 meters).  Vertical drop: 2,610 feet (796 meters).
Vasquez Ridge: Base 9,486 feet (2,486 meters); summit 10,700 feet (3,261 meters). Vertical drop: 1,214 (370 meters).
Vasquez Cirque: Base 10,400 feet (3,170 meters); summit 11,900 feet (3,627 meters). Vertical drop: 1,500 (457 meters).
Combined: Vertical drop: 3,060 feet (933 meters); summit at North Cone to Winter Park base.
Terrain
Trails:
Total skiable acreage is 3,078 acres which includes 143 designated trails and 1,332 acres of off-piste terrain.
Longest Trail Per Mountain:
Winter Park:  1.3 miles (2.0 kilometers)
Mary Jane:  1.4 miles (2.3 kilometers)
Vasquez Ridge:  0.8 miles (1.2 kilometers)
Vasquez Cirque: 1.2 miles (1.9 kilometers)
Parsenn Bowl  1.2 miles (1.9 kilometers)
Village Way trail: 4.6 miles (7.4 kilometers);
Transportation:
Winter Park is accessible by car, shuttle service, or train.  By car, from Denver, take Interstate 70 West to exit 232 onto U.S. Hwy 40 to Winter Park.  The resort is 85 miles (137 km) from
Denver International Airport.
Hertz rental cars are available locally or in Denver.  Other rental car agencies are also available in Denver.  For more information, call Winter Park Central Reservations at (800) 729-5813.
Home James Transportation Services offers door-to-door private and group shuttle trips throughout the day from Denver International Airport to the Winter Park area during ski season.  For reservations, call Winter Park Central Reservations at (800) 729-5813 (U.S. & Canada) or (970) 726-5587.
Amtrak's California Zephyr serves Winter Park daily, with westbound service from Chicago and Omaha and eastbound service from Los Angeles, San Francisco, and Salt Lake City.  Sleeping accommodations are available on both routes.  Call Winter Park Central Reservations at (800) 729-5813 (U.S. & Canada) or (970) 726-5587 (international) for reservations.
"The Lift" is the free local shuttle service that runs to and from most lodging properties and activities in the valley and Winter Park Resort base area.  Buses run every 30 minutes from 7:30 a.m. to 10:30 p.m. during peak season.
Local taxi, group charter and wedding service throughout Grand County is also available through Valley Taxi. Valley Taxi is open 365 days a year.  For more information, visit www.WinterParkTaxi.com or call (970) 726-4940.
Chairlifts:
Winter Park Resort has 25 lifts, including the new Village Cabriolet, two high-speed six-pack lifts (the newest is the Panoramic Express, North America's highest high-speed six-person chairlift), seven high-speed express quads, four triples, six double chairlifts, three surface lifts, one platter, and one rope tow, for an uphill capacity of approximately 38,370 passengers per hour.   Friday and Saturday evenings, the Zephyr Express chairlift converts into a gondola for evening dinners at The Lodge at Sunspot.
Snowfall/Snowmaking:
Last 2009-10 season, Winter Park Resort received over 330 inches of snowfall and has snowmaking on 27 trails covering 313.1 acres (126.7 hectares).

Published Winter 2010